Flying a drone is a fun activity while capturing some great aerial footage. The abusive nature of consumer drones presents safety concerns. Drones turned into flying spies? Who will ensure the flight safety of drones? How to counter drones?
Since drones can fly invisibly through the air, they could potentially be used for spying, malicious attacks and criminal activities. In order to solve these problems, anti-drone jamming (Anti-Drone Jammer) technology came into being.
Anti-drone jamming technology is a technology that prevents drones from flying by sending electromagnetic interference signals. These signals can interfere with the drone's signaling and control systems, causing it to lose control of the flight or become disoriented. Anti-drone jamming technologies generally include the following types:
Frequency jamming: Sending electromagnetic jamming signals of specific frequencies to interfere with the communication and control systems of drones.
Directional jamming: Using directional antennas to send electromagnetic jamming signals directly to the drone's location to cause it to lose control or become disoriented.
Optical jamming: Using strong beams of light or lasers to interfere with a drone's sensors and cameras so that it cannot accurately perceive its surroundings.
Anti-drone jamming technology has been widely used, including military, civilian and commercial fields. For example, some airports and government agencies use anti-drone jamming technology to protect their airspace and facilities from malicious attacks and illegal intrusions.
Although anti-drone jamming technology can effectively prevent the illegal use of drones, it also has some problems, such as accidental injury and electromagnetic interference to surrounding equipment. Therefore, careful consideration and compliance with local regulations and regulations is required when using anti-drone jamming technology.
With the help of anti-drone technology, Skyfend proposed AFA100 (anti-drone gun) and PAR100 (drone radar) and Skyfend C2 control center, which will perfectly cover and block the potential danger of aerial drones and improve regional security capabilities .
In conclusion, anti-drone jamming technology is an important security tool that can help protect public safety and privacy. With the development of drone technology, anti-drone jamming technology will continue to improve and improve to meet the needs of various practical applications.
Contact us for Anti-drone Jammer Skyfend AFA100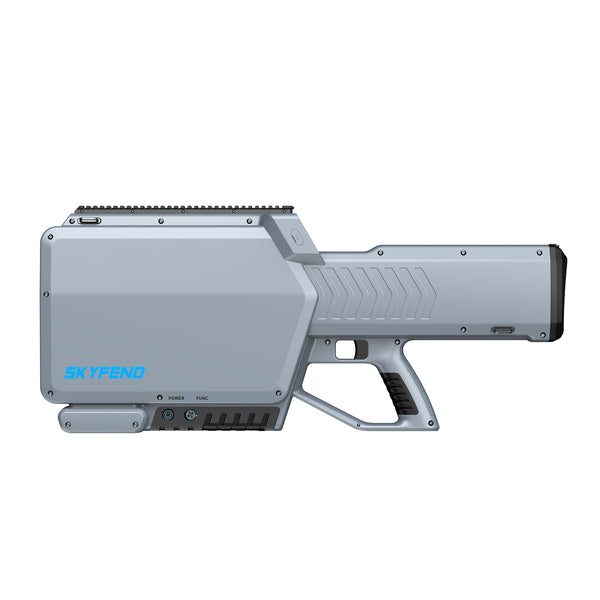 Skyfend Hunter AFA100 Anti-drone Jammer
All-in-One Detection and Jamming
3,000m Jamming Range
400MHz-6GHz Full-Bnad Coverage
Equipped With 3.5-Inch Touchscreen
Assisted Orientation
Intelligent Jamming
User Logs
Firmware Upgrades
View Skyfend AFA100