Anti-drone GNSS signal jammer Skyfend AFA100 is a device that can block GPS (Global Positioning System) drones. Skyfend AFA100 can interfere with and destroy GPS signals by emitting high-power jamming signals, making the drone lose its navigation and positioning functions, thereby affecting its flight or forcing it to return or land.
The main technology used by the high-power GNSS anti-drone signal jammer is frequency modulation jamming technology. The current drone signal jammer Skyfend AFA100 can shield all GNSS satellite positioning signals, and the GNSS frequency bands that can be interfered include GPS, GLONASS, Beidou, and Galileo.
Among them, Skyfend AFA100 also has a navigation decoy function, that is to say, a decoy module can be added to the anti-drone signal jammer, imitating the signal frequency band required by the drone GNSS system, and attracting GPS drones to approach actively to intercept GPS drone.
Skyfend AFA100 can not only block all GNSS satellite positioning signals, but also block drones in the 400Mhz to 6Ghz frequency band. The drone jammer is powerful, with a detection range of up to 2 kilometers and a jamming range of up to 3 kilometers.
What does losing a GPS signal mean for a drone?
For drones, the GPS system is an important technology for positioning, navigation and autonomous flight. By receiving GPS signals, the drone can calculate its own precise position, speed and heading, so as to realize autonomous flight control and navigation. At the same time, GPS can also transmit the position and motion status of the drone to the ground control center for easy monitoring and control.
Therefore, in the flight operation of the drone, the appearance of the anti-drone GNSS signal jammer will affect the GPS drone image transmission positioning, signal interruption and loss, thus taking over the drone, making the drone forced to land or return.
Contact us for Anti-drone Jammer Skyfend AFA100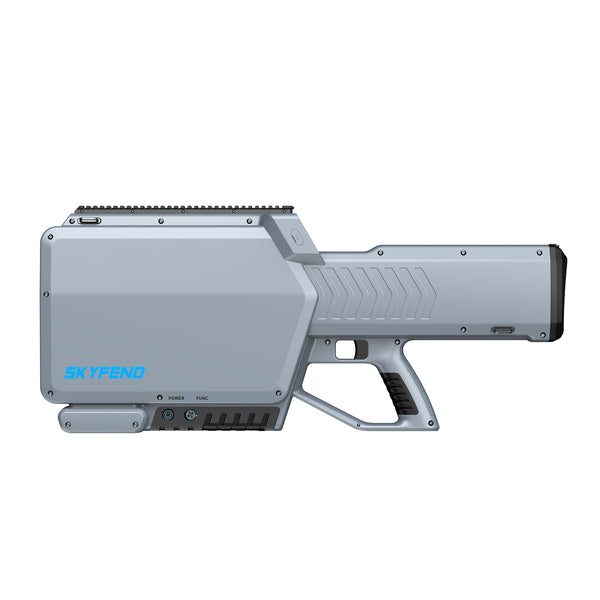 Skyfend Hunter AFA100 Anti-drone Jammer
All-in-One Detection and Jamming
3,000m Jamming Range
400MHz-6GHz Full-Bnad Coverage
Equipped With 3.5-Inch Touchscreen
Assisted Orientation
Intelligent Jamming
User Logs
Firmware Upgrades
View Skyfend AFA100