SkyFend, a leading provider of counter-unmanned aerial system (C-UAS) technology, has announced the launch of their first-generation C-UAS system.
The system includes SkyfendDefender, Skyfendhunter, SkyfendC2, SkyFend's commitment to providing state-of-the-art solutions to protect the skies has made them a leader in C-UAS technology.
SkyFend's C-UAS system helps governments and organizations alike address the threat of security breaches caused by unauthorized drone activity. This enables users to take proactive measures to protect critical infrastructure, military bases and public spaces.
At IDEX 2023, one of the largest defense exhibitions in the world, SkyFend showcased their first generation Counter Unmanned Aircraft System (C-UAS) jammer, the SkyfendDefender weighing just 2kg and the smart C2 software SkyfendGuider. SkyFend is exhibiting at booth 12-C51 in the China Pavilion.
The SkyfendDefender is an all-terrain low SWaP-C radar that accurately detects threats from a distance.
The SkyfendHunter is a compact and cost-effective all-in-one drone jammer that detects and defeats all advanced small unmanned aerial vehicle (SUAV) threats.
SkyfendGuider connects jammers, radars, and sensors to analyze threat levels and generate attack tactics based on detected information.
Through multi-sensor fusion and artificial intelligence, SkyFend's C-UAS solution realizes a systematic and intelligent C-UAS workflow. SkyFend CEO Zhongshan Lin will speak at IDEX 2023 to introduce stakeholders to AI-driven systems and discuss current global challenges facing C-UAS.
Contact us for Skyfend AFA100 Anti-drone Jammer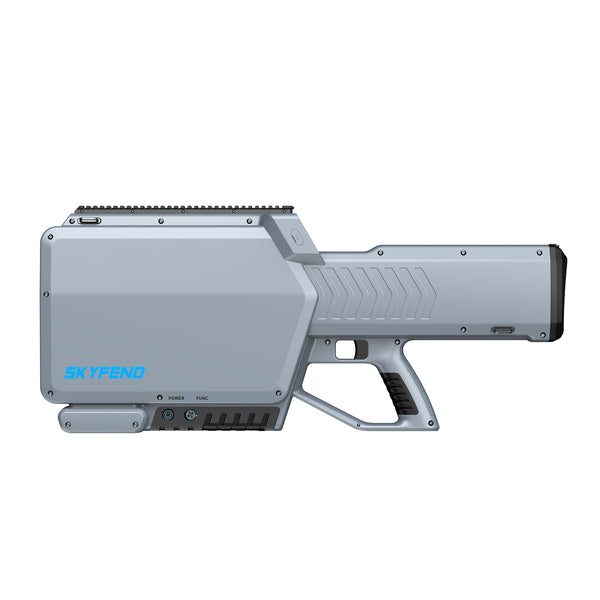 Skyfend Hunter AFA100 Anti-drone Jammer
All-in-One Detection and Jamming
3,000m Jamming Range
400MHz-6GHz Full-Bnad Coverage
Equipped With 3.5-Inch Touchscreen
Assisted Orientation
Intelligent Jamming
User Logs
Firmware Upgrades
View Skyfend AFA100