The soon-to-be-launched, new Autel Nano Drone weighs less than 250 grams and will come in four colors: orange, light grey, dark gray, and red. The Autel Nano features 3-way obstacle avoidance and will provide some competition to the DJI Mini 2 if it features 4K video recording capabilities. The remote controller that comes with the Autel Nano has some resemblance to the controller we have seen from the Parrot Anafi and the Skydio 2.
Autel Nano: DJI Mini 2 competitor
It appears that Autel's entry-level nano drone could come in two models: one that offers three-direction obstacle avoidance, and a basic version that does not feature obstacle avoidance sensors.
The maximum flight time for both these highly portable drones is expected to be 30 minutes, while the flight range has been set at 10 km.
Autel Nano specs
under 250 grams
4 colors: White/Gray/Orange/Red
Forward/Rear/Downward obstacle avoidance
subject tracking
programmed flight modes
35 minute battery life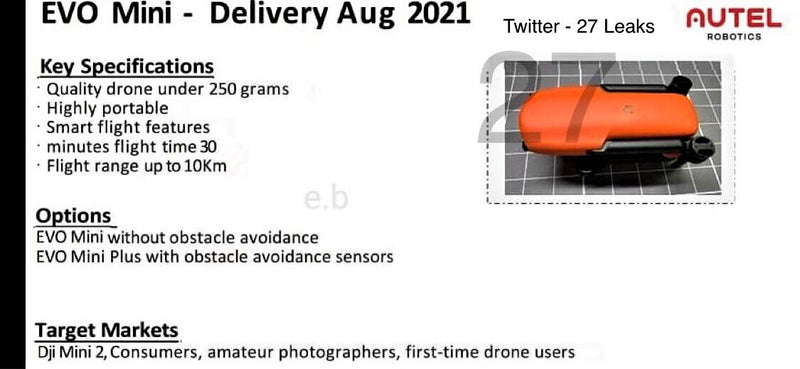 Couple this information with the video you've already seen above, and it would appear that Autel's new drones could be nearing release. However, given the ongoing global chip shortage, there's a possibility the product announcement may come much sooner than the actual worldwide shipping date.

We'll keep you posted.