Autel will introduce its new models on September 28. The Pro series, which will rival the Mavic 3, and the Nano under 250 grams are the models we expect. There may be a new smart controller (%99) and a surprise or two.
Autel Evo 2 Mini (Nano) leaked and confirmed along with 2 other drones Autel EVO III that will challenge the DJI Mavic 3 and Autel EVO Lite against DJI Air 2S - The new AUTEL lineup will be complete incl. a 250g drone for entry-level consumers.New Autel Evo Nano. Obstacle avoidance all around with no geofence.

According to the leaked spec sheet, the EVO III will have a maximum flight time of 38-40 minutes and dual-band high-definition image transmission with up to 10 km flight range. The drone will offer omnidirectional obstacle avoidance and will also sport a dedicated fisheye lens.
The information comes from drone aficionado Jasper Ellens, who was also the first to share leaked images of Autel EVO Nano, a sub-250-gram beginner's drone.

Four different versions of Autel EVO III are expected to hit the market:

EVO III (basic) with 1-inch CMOS sensor
EVO III Pro with a 4/3-inch CMOS sensor
EVO III Zoom with 8K dual camera and 10x zoom
EVO III Supersense with 1.4-inch CMOS sensor
For the US version of the drone, Autel could provide an additional 900m frequency band.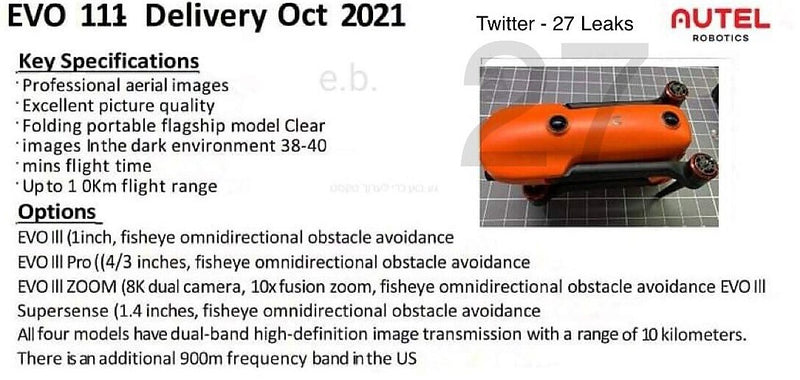 EVO III
The EVO II drone, a breakthrough challenger to DJI's dominance, was released to great accolades at CES2020 in Las Vegas. We were there and the buzz at Autel's booth was huge.

As our Drone Buyers Guide shows, below, that was almost two years ago and Autel knows they are in a race against a possible DJI Mavic 3 on the horizon.