Drones are advanced aerial assets, and their superior aerial imaging has created huge benefits for many industries. Night vision drones are a special kind of drone that bring great advantages to emergency search and rescue (SAR) operations at night.
What is night vision technology?
The drone camera is similar to the human naked eye imaging principle. Human vision is limited to a small part of the electromagnetic spectrum, known as visible light. The rest of the spectrum—radio, infrared, ultraviolet, X-rays, gamma rays—is imperceptible to the naked eye. On the other hand, if the camera is equipped with the right sensor, it can pick up different wavelengths of light.
Light wavelength night vision refers to vision in dark and weak light environments. Different technologies enable night vision, the most common being thermal imaging and starlight/twilight sensors.
Can drones shoot at night?
Most drones are allowed to fly at night and are also allowed to film at night. The image quality of night scenes taken by drones depends on the camera sensor. The aperture and CMOS size of the drone using the RGB camera sensor determine the amount of incoming light, which directly reflects the sensitivity of the drone image.
The image taken by the drone using the thermal imager depends on the level of ambient heat, and the thermal difference provides a guarantee for the night vision of the thermal imaging drone. But at the same time, the thermal imager will also be disturbed by surrounding factors, which will cause some areas to be invisible, and the temperature measurement accuracy will be inaccurate.
The image taken by the drone with the starlight/twilight sensor adopts digital image enhancement technology, which combines the characteristics of RGB image + infrared image, and only needs a small amount of light source to achieve clear black and white images at night and in low light environments.
Does Autel have a night vision drone?
Autel drones, whether they are consumer drones or enterprise drones, have pretty good image sensors for aerial photography.
Best Night Vision Drone: Autel EVO MAX 4N
The "N" of the EVO MAX 4N drone stands for Night Vision Camera, also known as Starlight Camera. EVO MAX 4N has a maximum photo pixel of 2.3MP and an ISO of 450,000. Meanwhile, the EVO MAX 4N drone camera gimbal also includes a wide-angle camera, a thermal imaging camera and a laser rangefinder. The wide-angle camera supports shooting 50MP photos, the thermal resolution of the thermal imaging camera can reach 640*512@30fps, and the laser rangefinder can detect 5-1200m.
For more MAX 4N drone specifications, please visit: Autel EVO MAX 4N Overview
Best Thermal Imaging Drone: Autel EVO Dual 640T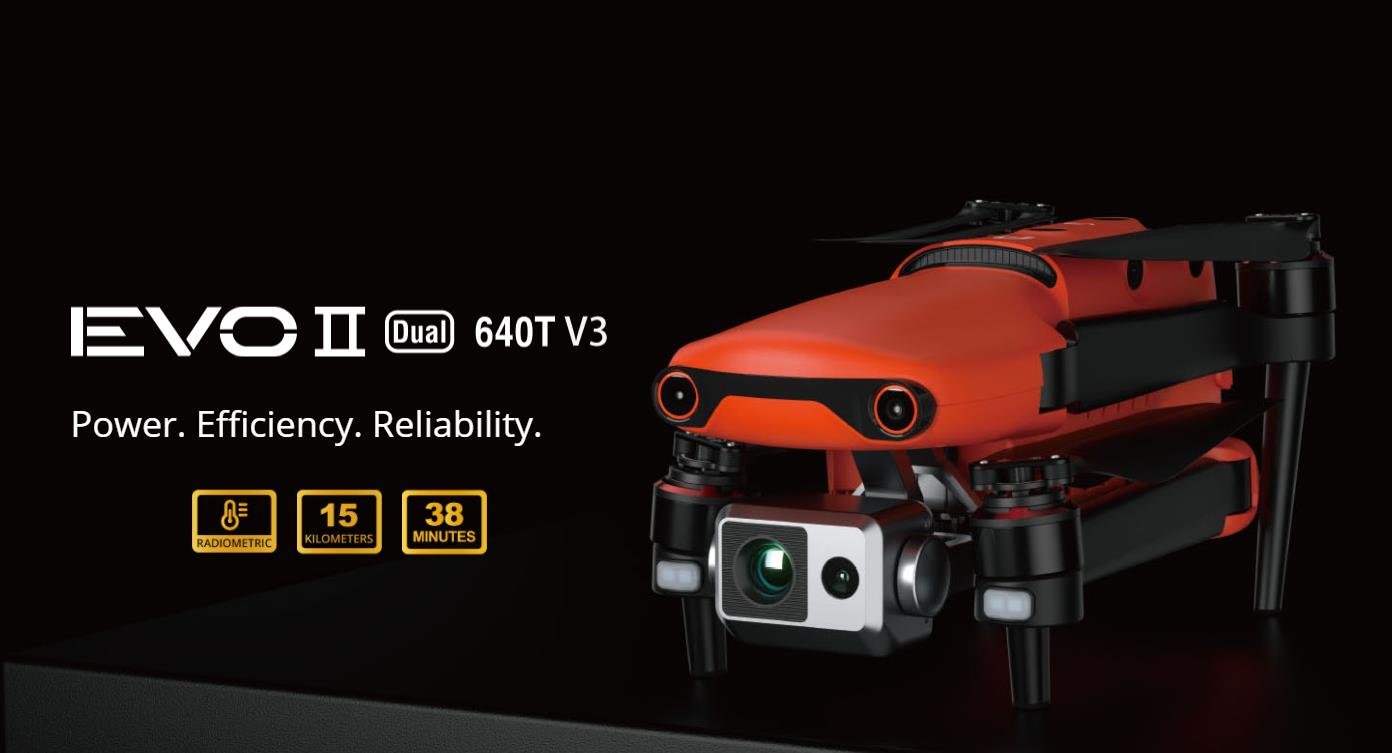 The "T" of the EVO Dual 640T drone stands for thermal imaging camera, and Dual stands for two cameras. That is to say, the EVO Dual 640T drone includes both an RGB camera and a thermal imaging camera. EVO Dual 640T drone RGB camera supports 8K resolution lens, thermal imaging camera thermal resolution can reach 640*512@30fps, supports 16x zoom, 4x lossless zoom.
The RGB camera of Autel EVO Dual 640T V2 supports a maximum of 48MP photos, and the RGB camera of Autel EVO Dual 640T V3 supports a maximum of 50MP photos. The thermal imaging of both has 10 thermal palettes, and the Autel IRPC tool is used to view thermal images.
For more EVO Dual 640T drone specifications, please visit: Autel EVO II Dual 640T V3 VS EVO II Dual 640T V2
Best Night-time RGB Imaging Drone: Autel EVO II Pro V3
Autel EVO II Pro V3 adopts RGB image sensor, 1-inch CMOS, 20MP photo and 6K@30fps video. Autel EVO II Pro V3 introduces Moonlight Algorithm 2.0, ISO can reach 44000, and the sensitivity at night far exceeds that of drones of the same type.
For more EVO II Pro V3 drone specifications, please visit: New Release | EVO II Pro V3 Comprehensive Introduction
What are night vision drones good for?
In many cases, drones need to fly under conditions with extremely poor or even zero visible light.
search and rescue

law enforcement




Emergency Response

Safety Monitoring and Emergency Inspection

Wildlife Monitoring and Management