Autel Robotics EVO II Dual 640T Enterprise Bundle Thermal Drone V2
$4,979.00
$6,499.00
saving
$1,520.00
Autel Robotics EVO II Dual 640T Enterprise Bundle Thermal Drone V2
$4,979.00
$6,499.00
saving
$1,520.00
In Stock - Ships within 12 hrs
640*512 Thermal Imaging Resolution
10 Thermal Color Palettes
8K Video/48MP Picture
360° Obstacle Avoidance
Dynamic Track 2.0
38 Mins Flight Time
5.5 Miles Video Transmission Range
Overview
SPECS
In the box
Videos
Documents
EVO II Dual 640T

Autel 640T thermal drone is a groundbreaking aerial solution that merges advanced thermal imaging technology with the crisp 8K video capture capabilities of a professional-grade camera. Boasting a thermal resolution of 640x512, the Autel EVO II Dual 640T drone delivers critical information to first responders, contractors, and business owners in an efficient, compact, and portable package. With its 8K sensor and advanced imaging capabilities, this drone is quickly becoming an indispensable tool for professionals seeking reliable and actionable data from the sky.




Dual Camera
Thermal | Visual Camera




Thermal Drone
640*512 Resolution

















Dual Camera
Thermal | Visual Camera




Thermal Drone
640*512 Resolution














Experience the ultimate in aerial imaging with the Dual-Sensor Camera on the Autel EVO II Dual 640T drone.

This powerful camera system includes both an 8K camera and an infrared imaging camera, allowing you to capture both high-quality visible images and critical thermal data in a single flight.

Dual camera - 8K visual and infrared camera

Experience the ultimate in aerial imaging with the Dual-Sensor Camera on the Autel EVO II Dual 640T drone. This powerful camera system includes both an 8K camera and an infrared imaging camera, allowing you to capture both high-quality visible images and critical thermal data in a single flight. The camera can operate in visible, infrared, and dual-image modes, providing versatility and flexibility in the field. With infrared resolution options of 640 x 512 (640) or 320 x 256 (320) and the ability to record 720p video at 30 fps in dual-image mode, you can be sure to capture every detail. Plus, the simultaneous recording capabilities of the 8K and infrared imaging cameras make it easier than ever to collect the information you need.

Dual camera - 8K visual and infrared camera

The camera can operate in visible, infrared, and dual-image modes, providing versatility and flexibility in the field. With infrared resolution options of 640 x 512 (640) or 320 x 256 (320) and the ability to record 720p video at 30 fps in dual-image mode, you can be sure to capture every detail. Plus, the simultaneous recording capabilities of the 8K and infrared imaging cameras make it easier than ever to collect the information you need.

Applications for 640T Thermal drones

Thermal Drones In Wildlife Management

Thermal Drones In Wildlife Management

In 2022, wild pigs continued to have a significant impact in several states within the United States, causing widespread damage to crops, spreading diseases, and posing a threat to native wildlife. The affected states include Texas, Florida, California, and several others in the Southeast and West regions. The population of wild pigs in the US was estimated to be between 2 to 6 million, with populations growing at an alarming rate. Wildlife management agencies and farmers were concerned about the issue, as the pigs' destructive behavior caused economic losses and ecological harm. Efforts to control the wild pig population through hunting, trapping, and other means were ongoing.

Autel EVO II Dual 640T For wildlife management

Maximize your livestock protection with the advanced thermal imaging capabilities of the Autel 640T drone. As a leading solution in the industry, the EVO II Dual 640T provides peace of mind for farm owners by detecting potential threats, such as predators, that could cause harm to farm animals. With its thermal imaging technology, even the most elusive creatures, like Wild Boar, can be easily located and counted. This reliable and effective tool ensures the safety and security of your livestock, making the Autel EVO II Dual 640T an indispensable asset for any farm owner.

Autel EVO II Dual 640T For wildlife management

Feral swine are known to carry at least 30 viral and bacterial diseases and nearly 40 parasites that can be transmitted to humans, pets, livestock, and other wildlife.

Livestock, pets, and other domestic animals can also be susceptible to many pathogens carried by feral swine. These pathogens can be spread in many ways, such as through direct contact with feral swine or their scat, by using feeding and watering containers that have been contaminated by feral swine, or by eating raw, infected feral swine meat, organs, or other tissues. Watch for signs of illness (fever, lethargy, swelling in joints, respiratory, and reproductive problems) in your pets and contact your veterinarian immediately if signs of illness are observed. Caution should be taken around pets and livestock that are suspected to be ill from recent contact with feral swine since some diseases can be transmitted to other animals and possibly humans.

Feral swine rooting and wallowing activity increases erosion, especially along waterways and in wetlands. Rooting and trampling can limit water infiltration and nutrient cycling. Large groups of feral swine can deposit significant amounts of fecal material in concentrated areas, contaminating water sources, resulting in increased disease risks for humans, wildlife, and livestock.

Spread of invasive species

Feral swine aid in the spread of invasive species of plants. Many invasive plants prefer areas of recent disturbance, such as wallows or rooted areas, and feral swine can spread seeds on their fur or in feces.

Feral swine can alter the understory growth of forests through rooting and foraging, ultimately shifting the tree species diversity and density in a forest by interfering with seed dispersal since they are huge consumers of mast crops (i.e., acorns, hickory nuts, beech nuts, and tupelo). Consumption of mast, not only depletes food sources for native wildlife such as deer and turkey, but this behavior can also alter the forest composition by decreasing the number of large seed-producing trees.

Feral swine can destroy lawns, gardens, ornamental plantings, and trees through rooting. They can also damage landscaping, fences, and other structures reducing the aesthetic value of the property. Although most often associated with rural areas, feral swine are increasingly causing damage to residential property, golf courses, cemeteries, beaches, and parks. Furthermore, feral swine can cause considerable damage when involved in vehicle collisions such as with cars, motorcycles, and aircraft.

Feral swine can cause extensive damage to areas of cultural and historic value including national parks, historic sites, tribal sacred sites, burial grounds, cemeteries, and archaeological sites or digs. This damage can affect the significance and integrity of historic properties through physical disturbance to structures, vegetation, and soils. Feral swine have the potential to destroy artifacts and history which can never be recovered or replaced.

Autel EVO II Dual 640T For wildlife management

Thermal imaging helps spot predators that could injure or kill farm animals. This will ensure peace of mind for farm owners. This footage show just how hard Wild Boar are to identify with the naked eye but with the help of the thermal drone they are easy to locate and count.

Autel EVO II Dual 640T For wildlife management

Why Autel EVO II Dual 640T?

High-resolution imaging - The EVO II Dual 640T features a dual-camera system with a 64-megapixel sensor that provides high-resolution images and video, making it easier to identify and track wild boars.
Long flight time - With a maximum flight time of 40 minutes, the EVO II Dual 640T allows hunters to cover large areas and stay in the air longer.
Stable flight - The EVO II Dual 640T features advanced stability systems, including obstacle avoidance and advanced image stabilization technology, making it easier to fly in challenging environments.
Real-time transmission - The EVO II Dual 640T features a low-latency video transmission system that allows hunters to see what the drone is seeing in real-time, making it easier to track and identify wild boars.

High-resolution imaging - The EVO II Dual 640T features a dual-camera system with a 64-megapixel sensor that provides high-resolution images and video, making it easier to identify and track wild boars.
Long flight time - With a maximum flight time of 40 minutes, the EVO II Dual 640T allows hunters to cover large areas and stay in the air longer.
Stable flight - The EVO II Dual 640T features advanced stability systems, including obstacle avoidance and advanced image stabilization technology, making it easier to fly in challenging environments.
Real-time transmission - The EVO II Dual 640T features a low-latency video transmission system that allows hunters to see what the drone is seeing in real-time, making it easier to track and identify wild boars.

Thermal Drones In Legal Hunting

Thermal Drones In Legal Hunting

The EVO II Dual 640T is a highly advanced drone that can greatly assist hunters in their pursuits. With a dual 640T thermal camera and high-resolution imaging capabilities, hunters can locate and track game from the air. The drone's long flight time and stable flight performance also allow for extended monitoring and observation of wildlife. This cutting-edge technology can help hunters plan and execute successful hunting trips, increasing their chances of making a successful catch.

Autel EVO II Dual 640T For Hunting

Thermal Drones In Law Enforcement

Thermal Drones In Law Enforcement

The Autel EVO II Dual thermal drone proved to be a valuable tool for the Nevada sheriff's department when they needed to locate a suspect who had fled into the darkness. The thermal camera on the EVO II allowed the deputy, Greenhut, to search the area and eventually spot the suspect hiding behind a tree. The ability to locate the suspect with the thermal camera made it possible for backup to arrive and make the arrest. This situation highlights the importance of thermal imaging technology in law enforcement and its ability to assist in capturing suspects in low light conditions.

Deputy Greenhut was able to get eyes on the suspect and provide intel to his responding partners to advise them on the suspect's whereabouts and whether it appeared he had any weapons. This information is very helpful to ensure a safe and effective response when encountering an unknown individual in the dark of night

Autel EVO II Dual 640T

Thermal Drones In Search and Rescue

Thermal Drones In Law Enforcement

Autel EVO II 640T Thermal Drone is a versatile and reliable tool for search and rescue operations. With its high-resolution thermal imaging camera, long flight time, and accurate positioning capabilities, this drone is designed to assist search and rescue teams in finding and rescuing victims in a timely and effective manner.

Autel EVO II Dual 640T For wildlife management

The high-resolution thermal imaging camera on the Autel EVO II 640T provides clear images of targets, making it easier to identify and locate the target for rescue. Additionally, the drone has the capability to store infrared images, allowing search and rescue teams to analyze and evaluate the images after the operation.

The Autel EVO II 640T also has a long flight time, ensuring that the drone can be used for extended periods without the need for a recharge. This is especially important in search and rescue operations, where the drone may need to fly for hours in order to cover a large area.

GPS

The Autel EVO II Dual 640T is equipped with GPS functionality that provides real-time data and location information for the device. This GPS feature allows the drone to accurately determine its location, altitude, speed, and direction of flight. Additionally, it can also be used to create a flight plan, record flight data, and automatically return to its starting point in case of a lost signal or low battery.
The GPS system can also be used to perform precision hovering, automatic landing and take off, and other advanced flight functions. With the help of GPS, the Autel EVO II Dual 640T can provide stable and safe flight performance, making it a reliable and efficient tool for aerial photography and mapping applications.

Autel EVO II Dual 640T For wildlife management

GPS

The Autel EVO II Dual 640T is equipped with GPS functionality that provides real-time data and location information for the device. This GPS feature allows the drone to accurately determine its location, altitude, speed, and direction of flight. Additionally, it can also be used to create a flight plan, record flight data, and automatically return to its starting point in case of a lost signal or low battery.
The GPS system can also be used to perform precision hovering, automatic landing and take off, and other advanced flight functions. With the help of GPS, the Autel EVO II Dual 640T can provide stable and safe flight performance, making it a reliable and efficient tool for aerial photography and mapping applications.

Autel EVO II Dual 640T For wildlife management

The user-friendly interface on the Autel EVO II 640T makes it simple and easy for search and rescue teams to operate the drone. The intuitive controls and simple navigation features allow teams to focus on the task at hand, without having to worry about complex operations.

Finally, the Autel EVO II 640T is built to be reliable, with good stability and reliability. This is essential in search and rescue operations, where the drone must be able to perform in demanding conditions and under high stress. With its combination of features and capabilities, the Autel EVO II 640T is a valuable tool for search and rescue teams looking to enhance their operations.

Thermal Drones In Line Inspection

Thermal Drones In Line Inspection

Prevent electrical network failures and the associated consequences of blackouts or destructive fires with advanced thermodiagnostic tools. The Autel EVO II Dual 640T thermal drone, combining cutting-edge thermal imaging and unmanned aerial vehicle (UAV) technology, serves as an early warning system for potential problems.

Thermography, the technical field concerned with the non-contact measurement of temperature distribution on the surface of an object, is at the forefront of these efforts. With the ability to quickly and accurately detect thermal anomalies, the Autel 640T provides an effective solution for maintaining the safety and reliability of electrical networks. Don't let failures compromise your infrastructure, invest in the power of thermodiagnostics with the Autel EVO II Dual 640T thermal drone.

The Autel EVO II Dual 640T thermal drone is a groundbreaking drone that integrates an infrared imaging camera with an 8K video camera. With thermal resolution up to 640x512 and an 8K sensor, the EVO II Dual 640T becomes a powerful tool for first responders, contractors, and business owners. It provides them with the high-quality data they need in a compact and portable package. With a range of advanced features, the Autel EVO II Dual 640T thermal drone is the perfect solution for professionals looking to streamline their workflow and increase efficiency.

When failures occur within electricity networks, they can lead to blackouts, or worse – destructive fires. Advanced thermodiagnostic tools have an important role to play in the prevention of these disasters. One such tool combines cutting-edge thermal imaging systems with the UAV, or drone, to give advance warning of a potential problem.

Thermography is the technical field concerned with the contact-free determination of the allocation of a temperature field on the surface of a given body.

A major advantage of this method is that it facilitates the investigation of installations that are already in use at full or partial operational load. Thus, instead of requiring operational shut-down, thermal camera inspections can only be carried out during normal operations – a major boost to efficiency. In fact, full operational loads enhance the accuracy of the inspection.EVO II Dual 640T is equipped with 640*512 high-resolution thermal imaging camera featuring a 13mm focal length lens and 16x digital zoom, it is easy to observe distant targets.

Thermal Drones In Residential Roof Inspection

Inspect and document the exterior condition of shingle, tile, or slate roof structures with ease using the high-resolution visible imaging capabilities of the Autel EVO II Dual 640T drone. Utilizing unmanned aerial vehicle (UAV) technology, this drone provides a detailed view of the roof, allowing you to easily observe hail damage, wind damage, openings in the roof, cracked tiles, and much more. When water gets on the surface of the membrane, it creates a higher temperature that can be easily detected using the infrared imaging capabilities of the Autel 640T. This versatile tool makes roof inspections quicker, safer, and more efficient, delivering reliable results every time.

Low Sloped | Flat Roof Scans

You can identify moisture in commercial roofs with using EVO II Dual 640T Thermal Drone, confirm moisture with further physical testing and process a detailed report that calculates how much of the roof contains moisture.

Shingle | Tile | Slate Roof Surveys

Using drones with high resolution cameras, you can capture detailed images observing hail damage, wind damage, broken or missing shingles or tiles and more, processing detailed reports based on Thermal Drone 640T.

Low Sloped | Flat Roof Scans

You can identify moisture in commercial roofs with using EVO II Dual 640T Thermal Drone, confirm moisture with further physical testing and process a detailed report that calculates how much of the roof contains moisture.

Shingle | Tile | Slate Roof Surveys

Using drones with high resolution cameras, you can capture detailed images observing hail damage, wind damage, broken or missing shingles or tiles and more, processing detailed reports based on Thermal Drone 640T.

Thermal Drone in Industrial Inspection

Streamline your roof inspection process with the advanced technology of the Autel EVO II 640T drone. Equipped with an 8K Visual Spectrum Sensor and a 640 Radiometric Thermal Sensor, this drone enables inspectors to perform multiple roof inspections in significantly less time compared to traditional methods. The drone kit not only allows for a visual inspection of the entire building, but also utilizes thermal technology to detect hot spots.

This allows for a safe and efficient check of the structure's status, enabling you to easily identify defects, leaks, and corrosion issues without incurring the cost of additional personnel or equipment. With the Autel EVO II 640T drone, you can be confident in delivering accurate and thorough inspection results every time

Autel EVO II Dual 640T For Industrial Inspection

Without shutting down the production, a UAV thermal analysis enables us to detect leaks, structures' heat problems and early signs of weaknesses.

Autel EVO II Dual 640T thermal drone enables us to detect anomalies beforehand to avoid real problems, breakdowns or accidents.

A thermal camera can detect oil and gas leaks and directly assess reliable assets.

640T thermal drrone take accurate pictures
based on different detected temperatures.

EVO II Dual 640T drone teams operate with a
two-men team and one backpack carrying the intervention equipment. EVO II DUAL 640T interventions are fast, accurate and do not
require complex deployment.

The EVO II Dual 640T with a 40-minute flight time and a 640 x 512 thermal camera can quickly find hidden dangers that were previously invisible to the naked eye.

The EVO II 640T uses an 8K Visual Spectrum Sensor and 640 Radiometric Thermal Sensor, giving inspectors the ability to perform multiple roof inspections in half the time it takes by conventional methods. Our drone kits will not only allow you to visually inspect the entire building , but also use thermal technology to check for hot spots. This enables you to safely and quickly check the status of the structure. As well as to help you identify defects, leakage, and corrosion issues, without having to spend on additional personnel and equipment.

Without shutting down the production, a UAV thermal analysis enables us to detect leaks, structures' heat problems and early signs of weaknesses.

Autel EVO II Dual 640T thermal drone enables us to detect anomalies beforehand to avoid real problems, breakdowns or accidents.

A thermal camera can detect oil and gas leaks and directly assess reliable assets.

640T thermal drrone take accurate pictures based on different detected temperatures.

EVO II Dual 640T drone teams operate with a two-men team and one backpack carrying the intervention equipment. EVO II DUAL 640T interventions are fast, accurate and do not require complex deployment.

The EVO II Dual 640T with a 40-minute flight time and a 640 x 512 thermal camera can quickly find hidden dangers that were previously invisible to the naked eye.

Autel EVO II Dual 640T For Industrial Inspection

Mission Planner

Rectangular and Polygon mission planners - Those are going to be great for anybody that's dealing with photogrammetry. So anybody that needs to be able to capture a lot of images in a rectangular mission or polygon mission, you're going to be able to do that in an autonomous fashion. Then you're going to be able to take EVO II Dual 640T's images and upload them to your 3D mapping

Autel EVO II Dual 640T For wildlife management
Autel EVO II Dual 640T For wildlife management

Autel EVO II Dual 640T For wildlife management
Autel EVO II Dual 640T For wildlife management

EVO II - AI Enhanced Dynamic Track

Additionally, EVO II Dual's smart tracking feature is designed to provide smooth and stable tracking, ensuring the subject is captured in clear detail, even during fast-paced movement. Whether you're tracking a person, animal, or object, this feature makes it easy to capture high-quality footage, freeing up your hands to operate the drone's controls. With its advanced algorithms and obstacle avoidance capabilities, EVO II Dual's smart tracking provides a reliable and efficient solution for capturing the action, no matter the scenario.

Autel EVO Nano Drone Dynamic Track 2.1

Auto go home & Accurate Landing

Additionally, the EVO 2 Dual 640T has an automatic return home feature that triggers when the aircraft battery level is low or if communication is lost. This ensures that the drone can safely return back to its starting point even in case of unexpected interruptions. The bottom binocular vision camera of the EVO 2 also generates a detailed depth map that calculates the flatness and angles of the landing area, allowing for a precise and secure landing.

Autel EVO Nano Drone Dynamic Track 2.1

360° Obstacle Avoidance

This advanced technology helps to ensure safe and efficient navigation even in challenging environments, such as tight spaces or areas with limited visibility. The EVO II Dual 640T is capable of performing autonomous flights, allowing you to focus on capturing high-quality thermal images and data. With its powerful sensors and advanced navigation system, the EVO II Dual 640T is a valuable tool for any inspection, survey or rescue mission.

Autel EVO II Dual 640T 360° Obstacle Avoidance

Super Battery Life & 9KM Extended Range

This means that you have the freedom to fly the EVO II Dual wherever you need to, without any limitations on the range or speed of your drone. With a powerful battery and long flight time, you can be sure that you have enough time to complete your inspections and aerial missions. Whether you're inspecting a large commercial building, exploring a remote area, or capturing aerial footage, the EVO II Dual provides you with the capabilities you need to get the job done efficiently and effectively.

38 minutes

Maximum Flight Time

9 km

Maximum Transmission Range

27 mph (12m/s)

Maximum Wind Resistance

45 mph (20m/s)

Maximum Flight Speed

2 lbs (920g)

Maximum Lift Capability

38 minutes

Maximum Flight Time

9 km

Maximum Transmission Range

27 mph (12m/s)

Maximum Wind Resistance

45 mph (20m/s)

Maximum Flight Speed

2 lbs
(920g)

Maximum Lift Capability

Enterprise Bundle Accessories

Spotlight

Beams a powerful, long-distance aerial light when searching or shooting at night.

Strobe

Indicate the location of the aircraft at night to avoid air traffic accidents.

Speaker

Enables more effective on-site communication through long-distance telephony and audio loops.

Thermal Imaging Function

Picture-in-Picture Mode

Visual and thermal imagery are combined to help users quickly interpret data and critical decision making. From top to bottom are "Picture in Picture Mode", "infraed More", and "visible Light Mode"

Spot Temperature Measurement

Tap the screen, and the temperature of the selected object will be displayed in real time.

Spot Temperature Measurement

Regional Temperature Measurement

Get a dynamic view of the average temperature, maximum temperature, and minimum temperature displayed in a selected area.

The temperature measurement frame can be dragged to any position on the screen.

Temperature Warning

Monitors the screen temperature in real time. The system prompts the user when the temperature reaches a set thresholds

Note: The temperature alarm takes effects only in Regional temperature measurement mode

Temperature Warning

Supports real-time adjustment of image brightness, contrast, and image details. The system will highlight any objects within the temperature target.

Image Enhancement

Picture-in-Picture Mode

Visual and thermal imagery are combined to help users quickly interpret data and critical decision making. From top to bottom are "Picture in Picture Mode", "infraed More", and "visible Light Mode"

Spot Temperature Measurement

Tap the screen, and the temperature of the selected object will be displayed in real time.

Spot Temperature Measurement

Regional Temperature Measurement

Get a dynamic view of the average temperature, maximum temperature, and minimum temperature displayed in a selected area.

The temperature measurement frame can be dragged to any position on the screen.

Temperature Warning

Monitors the screen temperature in real time. The system prompts the user when the temperature reaches a set thresholds

Note: The temperature alarm takes effects only in Regional temperature measurement mode

Temperature Warning

Image Enhancement

Supports real-time adjustment of image brightness, contrast, and image details. The system will highlight any objects within the temperature target.

Image Enhancement

10 Thermal Color Palettes

White Hot | Cold and Hot | Rainbow | Enhanced Rainbow | Iron bow | Lava | Arctic | Searing | Gradation | Heat Detection

4x Lossless Zoom

Human Search

Human Search

Autel EVO II Dual 640T Specifications

Thermal Camera(FLIR BOSON)

Sensor
FLIR BOSON Sensor 640*512/ 320*256
Pixels
EVO II Dual (640) 640*512
EVO II Dual (320) 320*256
Pixel Pitch
12 µm
Wavelength
7.5 - 13.5µm
FOV
EVO II Dual (640) 32°
EVO II Dual (320) 34°
Lens
EVO II Dual (640) 14 mm
EVO II Dual (320) 6.3 mm
Zoom
1 ~ 8x
Still Image Resolution
Infrared Mode:640x512
Picture in Picture Mode: 1920x1080, 1280x720
Still Image Format
JPEG
Still Photography Modes
Single shot, Burst shooting, Time

Video Resolution
Infrared Mode: 640x512 (US)
Picture in Picture Mode: 1920x1080 p30, 1280x720 p30
Video Format
MOV/MP4 (H.264/H.265 supported)

8k Camera

Sensor
1/2" CMOS
Effective Pixels: 48 MP
Performance temperature: -20~60°C
Lens
FOV: about 79°
35mm Format Equivalent: 25.6 mm
Aperture: f/1.8
Shooting Range: 0.5 m to ∞
ISO Range
Video: ISO100~3200 (Auto)
Video: ISO100~3200 (Manual)
Photo: ISO100~3200 (Auto)
Photo: ISO100~3200 (Manual)
Shutter Speed
Electronic Shutter: 8 ~ 1/8000s
Digital Zoom
1 ~ 8x (Max. 4x lossless zoom)
Still Image Resolution
8000x6000 (4:3)
7680x4320 (16:9)
4000x3000 (4:3)
3840x2160 (16:9)
Still Image Format
JPEG / DNG / JPEG+DNG
Still Photography Modes
Single Shot
Burst Shooting: 3/5 frames
Video Resolution
7680x4320 p25/p24
5760x3240 p30/p25/p24
3840x2160 p60/p50/p48/p30/p25/p24
2720x1528 p120/p60/p50/p48/p30/p25/p24
1920x1080 p120/p60/p50/p48/p30/p25/p24
Video Format
MOV / MP4
Codecs
H.264 / H.265
Max Video Bitrate
120Mbps
HDR Video Recording
Supports 3840x2160, 2720x1528, 1920x1080 HDR video recording

Gimbal

Weight
0.30 lbs (135 grams)
Mechanical Range
Pitch: -135° to +45
Yaw: -100° to +100°
Controllable Range
Pitch: -90° to +30°
Yaw: -90° to +90°
Stabilization
3-Axis (Tilt, Roll, Pan)
Max Control Speed (Tilt)
300°/s
Angular Vibration Range
±0.005°

Aircraft

Takeoff Weight
2.5 lbs (1150 g)
Max Takeoff Weight
4.4 lbs (2000 g)
Dimensions
Folded: 8.98 x 5.24 x 4.33 inch (L x W x H) (228 x 133 x 110 mm)
Unfolded: 16.69 x 13.94 x 4.33 inch (L x W x H) (424 x 354 x 110 mm)
Diagonal Distance
15.63 in (397 mm)
Max Service Ceiling Above Sea Level
22,965 ft (7000 m)
Max Flight Time (no wind)
EVO II Dual (640) 38min
EVO II Dual (320) 40min
Max Hovering Time (no wind)
EVO II Dual (640) 33min
EVO II Dual (320) 35min
Max Flight Distance (no wind)
15.53 miles (25 km)
Max Wind Speed Resistance
39-46 mph (Level 8)
Max Tilt Angle
Standard mode: 28°
Ludicrous mode: 33°
Max Angular Velocity
120°/second
Max Ascent Speed
Standard mode: 11.18 mph (5 m/s)
Ludicrous mode: 17.89 mph (8 m/s)

Max Descent Speed
Standard mode: 6.71 mph (3 m/s)
Ludicrous mode: 8.94 mph (4 m/s)
Max Speed (near sea level, no wind)
Standard mode: 33.55 mph (15 m/s)
Ludicrous mode: 44.73 mph (20 m/s)
Operating Temperature Range
14°F to 104°F (-10°C to 40°C)
Operating Frequency
2.4~2.4835GHz
Transmission Power (EIRP)

2.4~2.4835GHz
FCC: ≤26 dBm
ISED: ≤26 dBm
CE: ≤20 dBm
RCM: ≤20 dBm
SRRC: ≤26 dBm


GNSS
GPS/GLONASS/VIO/ATTI
Hovering Accuracy Range
Vertical:
± 0.78 in (when vision positioning is active)
± 7.87 in (with GPS positioning)
Horizontal:
± 0.78 in (when vision positioning is active)
± 3.28 ft (with GPS positioning)

Internal Storage
8 GB
SD Storage
Standard: 32 GB
Max Micro SD Card Supported: 256 GB

Sensing System (Obstacle Avoidance)

Sensing System
Omnidirectional Binocular Obstacle Sensing System
Forward
Precision Measurement Range: 0.5-20 m
Detectable Range: 0.5-40m
Effective Sensing Speed: <15m/s
FOV: Horizontal: 60°, Vertical: 80°
Backward
Precision Measurement Range: 0.5-16 m
Detectable Range: 0.5-32m
Effective Sensing Speed: <12m/s
FOV: Horizontal: 60°, Vertical: 80°
Upward
Precision Measurement Range: 0.5-12 m
Detectable Range: 0.5-24m
Effective Sensing Speed: <6m/s
FOV: Horizontal: 60°, Vertical: 50°
Downward
Precision Measurement Range: 0.5-11 m
Detectable Range: 0.5-22m
Effective Sensing Speed: <6m/s
FOV: Horizontal: 100°, Vertical: 80°
Sides
Precision Measurement Range: 0.5-12 m
Detectable Range: 0.5-24m
Effective Sensing Speed: <10m/s
FOV: Horizontal: 60°, Vertical: 50°
Operating Environment
Forward, Backward, Upward and Sides: Surface with clear pattern and adequate lighting (lux > 20)
Downward: Surface with clear pattern and adequate lighting (lux > 20)
Detects diffuse reflective surfaces (>20%) (walls, trees, people, etc.)

Remote Controller

Max Transmission Distance
FCC: 5.59 miles (9 km)
CE: 3.10 miles (5 km)
Real-Time Transmission Quality
1080p@30fps
720p@30fps
Max Bitrate of Real-time Transmission
40Mbps
Operating Frequency
2.4~2.4835GHz
Transmission Power (EIRP)
2.4~2.4835GHz
FCC: ≤26 dBm
ISED: ≤26 dBm
CE: ≤20 dBm
RCM: ≤20 dBm
SRRC: ≤26 dBm
Operating Temperature Range
14°F to 104°F (-10°C to 40°C)
Battery
5000 mAh
Weight
0.82 lbs (370 grams)
Operating Current/Voltage
1.7A @ 3.7V
Charging Temperature Range
32°F to 104°F (0 to 40°C)
Supported Mobile Device Size
Max Length: 3.30" (84mm)
Max Thickness: 0.51" (13mm)
Supported USB Port Types
Lightning, Micro USB (Type-B), USB-C
Operating Hours
3 hours
Display
3.26-inch OLED screen
854 (W)*480 (H) pixels
Preview video without the need for connecting to a mobile phone

Battery

| | |
| --- | --- |
| Capacity | 7100 mAh |
| Voltage | 11.55 V |
| Max Charging Voltage | 13.2 V |
| Battery Type | LiPo 3S |
| Energy | 82 Wh |
| Net Weight | 0.81 lbs (365 grams) |
| Charging Temperature Range | 41°F to 104°F (5°C to 40°C) |
| Max Charging Power | 93 W |
| Charging Time | 90min |

Autel EVO II Dual 640T Enterprise Bundle

Introducing: Commercial Applications for EVO II

EVO II Dual 640T Thermal Imaging Demonstration

EVO II Dual 640T: Thermal Analysis Tool Overview
Customer Reviews
03/20/2023
Josh D.

United States
Amazing
Easy to use and great quality. Exceptional customer service
03/18/2023
La M.

United States
Great Product
Fast shipping, great product.
02/14/2023
James C.

United States
Good, bad, ****. Waiting for an outcome. Update here!
I am currently processing a request with AutelPilot. I had a faulty unit that caused itself damage. I will post my full review on my YT channel and a shortened version here when all is said and done. So far communication has been a bit slow, but I believe there is a large time difference between myself and AutelPilot suport. In my review, I will discuss each issue that arose, both from the faulty hardware/software, AutelPilot service, and what I believe to be the limitations of the unit. Don't worry, there will be plenty of praise for the Evo ii dual 640t enterprise as well. I am hoping to have things settled soon and will post an update here, soon after. You can also check out my hands on review with a 5 drone comparison, including this Autel model, Skydio x2, two similarly priced (5,000-7,000) DJI crafts and a lesser known drone in the game (it's impressive)! Can't wait to get my hands on the Autel Max 4T too!!!
02/13/2023
Jordan F.

United States
Good! Support
Powerful drone with multiple payloads available, I really appreciate its nighttime imaging capability, highly recommended infrared thermal imaging drone!
02/10/2023
Timothy G.

United States
Love this drone
Order took a bit longer than expected to arrive, but the communication from Autelpilot regarding the delay was awesome. As for the drone, it is absolutely exceptional. Couldn't be more happy with the purchase.
01/14/2023
CHUCK O.

United States
Exceptional Product, Price, Service, and Shipping
Coming from Hong Kong, I was surprised at all the factors of quality. Shipping was incredibly fast, packaging was outstanding, email notices and response to questions almost immediate, and, of course, price can't be beat with free shipping and no tax. Saved tons of money. I would highly recommend AutelPilot for Autel products and order from them NOT US companies if you want to save money.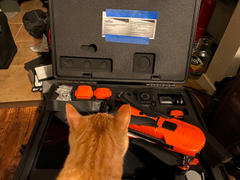 Thanks, we will try our best to do better!