Autel Robotics EVO II Dual 640T Enterprise Bundle Thermal Drone V2
$4,999.00
$6,499.00
saving
$1,500.00
Autel Robotics EVO II Dual 640T Enterprise Bundle Thermal Drone V2
$4,999.00
$6,499.00
saving
$1,500.00
In Stock - Ships within 12 hrs
No Geofencing
640*512 Thermal Imaging Resolution
Including Spot Light, Strobe, Loudspeaker
10 Thermal Color Palettes
8K Video/48MP Picture
360° Obstacle Avoidance
Dynamic Track 2.0
38 Mins Flight Time
5.5 Miles Video Transmission Range
Overview
SPECS
In the box
Videos
Documents
EVO II Dual 640T

Autel EVO 2 Dual 640T thermal drone is an industry-first drone combining infrared imaging camera with 8K video camera. With thermal resolution up to 640x512 and an 8k sensor EVO 2 becomes a workhorse. First responders, contractors, and business owners finally have a compact and portable tool that gives them the data they have been asking for.

Work Like Never Before

Optimize your workflow with our toughest EVO II 640T yet, bulked up with new accessories and camera features to meet the demands of professionals in every industry from firefighting to construction. With a foldable design that can be deployed in seconds and easy-to-use controls that can be operated with a single hand, the EVO II Dual 640T provides a surefire way to increase efficiency without increasing stress.

+

16x
Digital Zoom

8-mile
HD Transmission

Modular
Accessories

Centimeter-level Positioning with RTK

ADS-B
Receiver

360° Obstacle Avoidance

16x
Digital Zoom

8-mile HD
Transmission

Modular
Accessories

Centimeter-level Positioning with RTK

ADS-B
Receiver

360° Obstacle Avoidance

Dual-sensor camera - 8K and infrared camera

Dual-sensor camera: Includes the 8K camera plus an infrared imaging camera. It can operate in visible, infrared, and dual-image modes. In addition, this camera takes infrared images at a resolution of either 640 x 512 (640) or 320 x 256 (320), and records 720p video at 30 fps in dual-image mode. Additionally, 8k and infrared imaging cameras capable of simultaneous recording.

Applications for 640T Thermal drones

640T Thermal Drones In Wildlife Management

More than 6 million feral hogs roam the United States. From Hawaii to Florida, these invasive cousins of domestic swine have increased their range from 17 states in the 1980s to more than 35 states today. Able to breed year-round with average litters of five-eight piglets, feral hog populations can double in size within four months. Weighing between 75 and 500 pounds, feral hogs' aggressive behavior is very destructive to agriculture, natural ecosystems, people, pets and livestock.

EVO II Dual 640T Thermal imaging helps spot predators that could injure or kill farm animals. This will ensure peace of mind for farm owners. This footage show just how hard Wild Boar are to identify with the naked eye but with the help of the thermal drone they are easy to locate and count.

Autel EVO II Dual 640T For wildlife management

Thermal imaging helps spot predators that could injure or kill farm animals. This will ensure peace of mind for farm owners. This footage show just how hard Wild Boar are to identify with the naked eye but with the help of the thermal drone they are easy to locate and count.

Autel EVO II Dual 640T For wildlife management

Why Autel EVO II Dual 640T?

Tools for detecting wildlife have evolved a lot in the last century. Binoculars are now quite commonly used throughout the world, followed by light amplifying nighttime vision systems that can be used to spot animals at night. But even nightvision sometimes isn't enough for spotting animals in difficult to see conditions, which is why Autel Robotics offers a range of ever-evolving thermal drones for detecting wildlife.

At the same time, looking down at an altitude of several hundred meters,thermal drone EVO II 640T see through darkness and ignore visual camouflage. Unlike all other nighttime vision systems, they require no light whatsoever to produce a clear image. Many warm-blooded animals are mostly active at night, using the cover of darkness to remain undetected, but will show up clearly in a thermal image, even in total darkness and in practically all weather conditions.

Tools for detecting wildlife have evolved a lot in the last century. Binoculars are now quite commonly used throughout the world, followed by light amplifying nighttime vision systems that can be used to spot animals at night. But even nightvision sometimes isn't enough for spotting animals in difficult to see conditions, which is why Autel Robotics offers a range of ever-evolving thermal drones for detecting wildlife.

At the same time, looking down at an altitude of several hundred meters,thermal drone EVO II 640T see through darkness and ignore visual camouflage. Unlike all other nighttime vision systems, they require no light whatsoever to produce a clear image. Many warm-blooded animals are mostly active at night, using the cover of darkness to remain undetected, but will show up clearly in a thermal image, even in total darkness and in practically all weather conditions.

View More Information about 640T In Wildlife Management

Thermal Drones in Hunting

Welcome to the drone world! While I am vegetarian, I can endorse your efforts for wanting to use a drone for hog hunting!

Using drones to hunt wild hogs is an excellent use case. Add a thermal camera, and they are easier to spot. Using drones to hunt hogs has been a common practice for many years, but it used to be extremely expensive; Hunters in the past have used $15,000+ rigs to make it happen.

Now drones with thermal cameras are cheaper than ever before — and extremely easy to fly.

Autel EVO II Dual 640T For Hunting View More Information about 640T In Hunting

Thermal Drones In Residential Roof Inspection

On shingle, tile or slate roof structures, you can document the exterior condition of the roof using UAV based high resolution visible imaging where we can easily observe hail damage, wind damage, openings in the roof, cracked tiles and much much more. When it gets wet, it creates a hotter temperature on the surface of the membrane that can be easily detected with infrared imaging.

Low Sloped | Flat Roof Scans

You can identify moisture in commercial roofs with using EVO II Dual 640T Thermal Drone, confirm moisture with further physical testing and process a detailed report that calculates how much of the roof contains moisture.

Shingle | Tile | Slate Roof Surveys

Using drones with high resolution cameras, you can capture detailed images observing hail damage, wind damage, broken or missing shingles or tiles and more, processing detailed reports based on Thermal Drone 640T.

Low Sloped | Flat Roof Scans

You can identify moisture in commercial roofs with using EVO II Dual 640T Thermal Drone, confirm moisture with further physical testing and process a detailed report that calculates how much of the roof contains moisture.

Shingle | Tile | Slate Roof Surveys

Using drones with high resolution cameras, you can capture detailed images observing hail damage, wind damage, broken or missing shingles or tiles and more, processing detailed reports based on Thermal Drone 640T.

Thermal Drone in Industrial Inspection

The EVO II 640T uses an 8K Visual Spectrum Sensor and 640 Radiometric Thermal Sensor, giving inspectors the ability to perform multiple roof inspections in half the time it takes by conventional methods. Our drone kits will not only allow you to visually inspect the entire building , but also use thermal technology to check for hot spots.

This enables you to safely and quickly check the status of the structure. As well as to help you identify defects, leakage, and corrosion issues, without having to spend on additional personnel and equipment.

Autel EVO II Dual 640T For Industrial Inspection

Without shutting down the production, a UAV thermal analysis enables us to detect leaks, structures' heat problems and early signs of weaknesses.

Autel EVO II Dual 640T thermal drone enables us to detect anomalies beforehand to avoid real problems, breakdowns or accidents.

A thermal camera can detect oil and gas leaks and directly assess reliable assets.

640T thermal drrone take accurate pictures
based on different detected temperatures.

EVO II Dual 640T drone teams operate with a
two-men team and one backpack carrying the intervention equipment. EVO II DUAL 640T interventions are fast, accurate and do not
require complex deployment.

The EVO II Dual 640T with a 40-minute flight time and a 640 x 512 thermal camera can quickly find hidden dangers that were previously invisible to the naked eye.

The EVO II 640T uses an 8K Visual Spectrum Sensor and 640 Radiometric Thermal Sensor, giving inspectors the ability to perform multiple roof inspections in half the time it takes by conventional methods. Our drone kits will not only allow you to visually inspect the entire building , but also use thermal technology to check for hot spots. This enables you to safely and quickly check the status of the structure. As well as to help you identify defects, leakage, and corrosion issues, without having to spend on additional personnel and equipment.

Without shutting down the production, a UAV thermal analysis enables us to detect leaks, structures' heat problems and early signs of weaknesses.

Autel EVO II Dual 640T thermal drone enables us to detect anomalies beforehand to avoid real problems, breakdowns or accidents.

A thermal camera can detect oil and gas leaks and directly assess reliable assets.

640T thermal drrone take accurate pictures based on different detected temperatures.

EVO II Dual 640T drone teams operate with a two-men team and one backpack carrying the intervention equipment. EVO II DUAL 640T interventions are fast, accurate and do not require complex deployment.

The EVO II Dual 640T with a 40-minute flight time and a 640 x 512 thermal camera can quickly find hidden dangers that were previously invisible to the naked eye.

Autel EVO II Dual 640T For Industrial Inspection

Thermal Drones In Line Inspections

When failures occur within electricity networks, they can lead to blackouts, or worse – destructive fires. Advanced thermodiagnostic tools have an important role to play in the prevention of these disasters. One such tool combines cutting-edge thermal imaging systems with the UAV, or drone, to give advance warning of a potential problem.

Thermography is the technical field concerned with the contact-free determination of the allocation of a temperature field on the surface of a given body.

A major advantage of this method is that it facilitates the investigation of installations that are already in use at full or partial operational load. Thus, instead of requiring operational shut-down, thermal camera inspections can only be carried out during normal operations – a major boost to efficiency. In fact, full operational loads enhance the accuracy of the inspection.EVO II Dual 640T is equipped with 640*512 high-resolution thermal imaging camera featuring a 13mm focal length lens and 16x digital zoom, it is easy to observe distant targets.

When failures occur within electricity networks, they can lead to blackouts, or worse – destructive fires. Advanced thermodiagnostic tools have an important role to play in the prevention of these disasters. One such tool combines cutting-edge thermal imaging systems with the UAV, or drone, to give advance warning of a potential problem.

Thermography is the technical field concerned with the contact-free determination of the allocation of a temperature field on the surface of a given body.

A major advantage of this method is that it facilitates the investigation of installations that are already in use at full or partial operational load. Thus, instead of requiring operational shut-down, thermal camera inspections can only be carried out during normal operations – a major boost to efficiency. In fact, full operational loads enhance the accuracy of the inspection.EVO II Dual 640T is equipped with 640*512 high-resolution thermal imaging camera featuring a 13mm focal length lens and 16x digital zoom, it is easy to observe distant targets.

Thermal Drones in Police Use

An Autel EVO II Dual 640T thermal drone saved the day for a Nevada sheriff's department when a suspect fleeing into the cover of darkness could be located because of his "heat signature." While one suspect was apprehended pretty quickly, the other fled the scene on foot into the night.Typically, when that happens, the person running gets away because there's not a great way to maintain visuals in the dark. However, Greenhut used the EVO II's thermal camera to explore the area until he found the suspect attempting to hide behind a tree. Greenhut locked the drone's sight in on the man until backup arrived to arrest him.

Deputy Greenhut was able to get eyes on the suspect and provide intel to his responding partners to advise them on the suspect's whereabouts and whether it appeared he had any weapons. This information is very helpful to ensure a safe and effective response when encountering an unknown individual in the dark of night

Autel EVO II Dual 640T View More Information about 640T In Catching Suspects

Powerful Telephoto Zoom

Autel EVO II DUAL 640T collects high-definition images from a safe distance with 16x digital zoom that supports 4x lossless zoom (EVO II Dual 640T Enterprise) or 3x lossless zoom (EVO II Dual Pro Enterprise).

Autel EVO II DUAL 640T 16X Zoom

ADS-B Receiver

Detects the presence of any manned aircraft nearby emitting an ADS-B signal, giving the operator enough time to take evasive measures to avoid mid-air collisions.

Reliable Data Encryption

Autel Smart Controller can protect sensitive information through encrypted internal and external storage, allowing users to work with confidence.

All three camera modules support a variety of shooting modes, including: Single-shot; Burst shooting; Auto exposure bracketing (AEB); Time-lapse; High-dynamic-range (HDR) imaging; NIGHTBEAT (high signal-to-noise ratio)

Adjust field-of-view to any angle from 0° to 90° while flying

EVO II Dual Drone contains a high-precision 3-axis gimbal that keeps the camera steady while the aircraft is flying, ensuring image stability and clarity. Also, You can use the remote control's gimbal pitch dial to adjust the pitch axis to any angle from 0° to 90° at any time.

All Cameras interchangeable

Autel EVO II Series Dones is one aircraft with three camera options. All cameras for Evo II can be purchased separately and are interchangeable!

EVO II - AI Enhanced Dynamic Track

EVO II Dual 640T smart tracking uses deep learning algorithms to automatically track the selected subject while avoiding obstacles during flight. The function can track the subject in three modes: behind, side-by-side, or fixed position.

Autel EVO Nano Drone Dynamic Track 2.1

360° Obstacle Avoidance

EVO 2 Dual 640T's front, rear, left, right, top, and bottom binocular vision sensing systems use image data to calculate the distance between the aircraft and potential obstacles. Begin detecting potential hazards at up to 30m away and let EVO II accurately control the speed of the drone to avoid a collision.

Autel EVO II Dual 640T 360° Obstacle Avoidance

Viewpoint

Viewpoint allows the user to send the aircraft to a selected destination by touching a point on the screen. Featured with the same waypoints function as EVO to program autonomous flight routes. EVO II Dual 640T can even save multiple waypoint missions making it easy for surveying.


Auto go home & Accurate Landing

EVO II Dual 640T will return home automatically when Low Aircraft Battery Level and Communication Lost. Additionally, EVO 2's bottom binocular vision camera to create a density depth map. Then, it calculates the depth map's flatness and angles to ensure an accurate and safe landing.

Super Battery Life & 9KM Extended Range

Autel EVO 2 Dual 640T thermal drone comes standard with a 7100mAh rechargeable battery. Providing up to 38min of flight time in forward motion to up to 9km away and 35min at a hover. And top speed up to 45MPH, additionally There is no geofencing or cellular service restrictions on any of EVO II Dual.

Spotlight

Beams a powerful, long-distance aerial light when searching or shooting at night.

Strobe

Indicate the location of the aircraft at night to avoid air traffic accidents.

Speaker

Enables more effective on-site communication through long-distance telephony and audio loops.

Thermal Imaging Function

Picture-in-Picture Mode

Visual and thermal imagery are combined to help users quickly interpret data and critical decision making. From top to bottom are "Picture in Picture Mode", "infraed More", and "visible Light Mode"

Spot Temperature Measurement

Tap the screen, and the temperature of the selected object will be displayed in real time.

Spot Temperature Measurement

Regional Temperature Measurement

Get a dynamic view of the average temperature, maximum temperature, and minimum temperature displayed in a selected area.

The temperature measurement frame can be dragged to any position on the screen.

Temperature Warning

Monitors the screen temperature in real time. The system prompts the user when the temperature reaches a set thresholds

Note: The temperature alarm takes effects only in Regional temperature measurement mode

Temperature Warning

Image Enhancement

Supports real-time adjustment of image brightness, contrast, and image details. The system will highlight any objects within the temperature target.

Image Enhancement

10 Thermal Color Palettes

White Hot | Cold and Hot | Rainbow | Enhanced Rainbow | Iron bow | Lava | Arctic | Searing | Gradation | Heat Detection

4x Lossless Zoom

Human Search

Human Search

Powerful Infrared Thermal Analysis Tool(IRPC)

This free temperature measurement analysis tool is developed for the 640T, and enables users to quickly import images, edit and analyze temperature measurement, and to generate detailed reports for sharing and coolaboration.(Select the "Word" icon Export report. Generate analysis report)

Thermal Analysis Tool

Thermal Camera

Sensor
FLIR BOSON Sensor 640*512
Pixels
EVO II Dual (640) 640*512
Pixel Pitch
12 µm
Wavelength
7.5 - 13.5µm
FOV
EVO II Dual (640) 32°
Lens
EVO II Dual (640) 14 mm
Zoom
1 ~ 8x
Still Image Resolution
Infrared Mode:640x512
Picture in Picture Mode: 1920x1080, 1280x720
Still Image Format
JPEG
Still Photography Modes
Single shot, Burst shooting, Time

Video Resolution
Infrared Mode: 640x512 (US)
Picture in Picture Mode: 1920x1080 p30, 1280x720 p30
Video Format
MOV/MP4 (H.264/H.265 supported)

8k Camera

Sensor
1/2" CMOS
Effective Pixels: 48 MP
Performance temperature: -20~60°C
Lens
FOV: about 79°
35mm Format Equivalent: 25.6 mm
Aperture: f/1.8
Shooting Range: 0.5 m to ∞
ISO Range
Video: ISO100~3200 (Auto)
Video: ISO100~3200 (Manual)
Photo: ISO100~3200 (Auto)
Photo: ISO100~3200 (Manual)
Shutter Speed
Electronic Shutter: 8 ~ 1/8000s
Digital Zoom
1 ~ 8x (Max. 4x lossless zoom)
Still Image Resolution
8000x6000 (4:3)
7680x4320 (16:9)
4000x3000 (4:3)
3840x2160 (16:9)
Still Image Format
JPEG / DNG / JPEG+DNG
Still Photography Modes
Single Shot
Burst Shooting: 3/5 frames
Video Resolution
7680x4320 p25/p24
5760x3240 p30/p25/p24
3840x2160 p60/p50/p48/p30/p25/p24
2720x1528 p120/p60/p50/p48/p30/p25/p24
1920x1080 p120/p60/p50/p48/p30/p25/p24
Video Format
MOV / MP4
Codecs
H.264 / H.265
Max Video Bitrate
120Mbps
HDR Video Recording
Supports 3840x2160, 2720x1528, 1920x1080 HDR video recording

Gimbal

Weight
0.30 lbs (135 grams)
Mechanical Range
Pitch: -135° to +45
Yaw: -100° to +100°
Controllable Range
Pitch: -90° to +30°
Yaw: -90° to +90°
Stabilization
3-Axis (Tilt, Roll, Pan)
Max Control Speed (Tilt)
300°/s
Angular Vibration Range
±0.005°

Aircraft

Takeoff Weight
2.5 lbs (1150 g)
Max Takeoff Weight
4.4 lbs (2000 g)
Dimensions
Folded: 8.98 x 5.24 x 4.33 inch (L x W x H) (228 x 133 x 110 mm)
Unfolded: 16.69 x 13.94 x 4.33 inch (L x W x H) (424 x 354 x 110 mm)
Diagonal Distance
15.63 in (397 mm)
Max Service Ceiling Above Sea Level
22,965 ft (7000 m)
Max Flight Time (no wind)
EVO II Dual (640) 38min
EVO II Dual (320) 40min
Max Hovering Time (no wind)
EVO II Dual (640) 33min
EVO II Dual (320) 35min
Max Flight Distance (no wind)
15.53 miles (25 km)
Max Wind Speed Resistance
39-46 mph (Level 8)
Max Tilt Angle
Standard mode: 28°
Ludicrous mode: 33°
Max Angular Velocity
120°/second
Max Ascent Speed
Standard mode: 11.18 mph (5 m/s)
Ludicrous mode: 17.89 mph (8 m/s)

Max Descent Speed
Standard mode: 6.71 mph (3 m/s)
Ludicrous mode: 8.94 mph (4 m/s)
Max Speed (near sea level, no wind)
Standard mode: 33.55 mph (15 m/s)
Ludicrous mode: 44.73 mph (20 m/s)
Operating Temperature Range
14°F to 104°F (-10°C to 40°C)
Operating Frequency
2.4~2.4835GHz
Transmission Power (EIRP)

2.4~2.4835GHz
FCC: ≤26 dBm
ISED: ≤26 dBm
CE: ≤20 dBm
RCM: ≤20 dBm
SRRC: ≤26 dBm


GNSS
GPS/GLONASS/VIO/ATTI
Hovering Accuracy Range
Vertical:
± 0.78 in (when vision positioning is active)
± 7.87 in (with GPS positioning)
Horizontal:
± 0.78 in (when vision positioning is active)
± 3.28 ft (with GPS positioning)

Internal Storage
8 GB
SD Storage
Standard: 32 GB
Max Micro SD Card Supported: 256 GB

Sensing System (Obstacle Avoidance)

Sensing System
Omnidirectional Binocular Obstacle Sensing System
Forward
Precision Measurement Range: 0.5-20 m
Detectable Range: 0.5-40m
Effective Sensing Speed: <15m/s
FOV: Horizontal: 60°, Vertical: 80°
Backward
Precision Measurement Range: 0.5-16 m
Detectable Range: 0.5-32m
Effective Sensing Speed: <12m/s
FOV: Horizontal: 60°, Vertical: 80°
Upward
Precision Measurement Range: 0.5-12 m
Detectable Range: 0.5-24m
Effective Sensing Speed: <6m/s
FOV: Horizontal: 60°, Vertical: 50°
Downward
Precision Measurement Range: 0.5-11 m
Detectable Range: 0.5-22m
Effective Sensing Speed: <6m/s
FOV: Horizontal: 100°, Vertical: 80°
Sides
Precision Measurement Range: 0.5-12 m
Detectable Range: 0.5-24m
Effective Sensing Speed: <10m/s
FOV: Horizontal: 60°, Vertical: 50°
Operating Environment
Forward, Backward, Upward and Sides: Surface with clear pattern and adequate lighting (lux > 20)
Downward: Surface with clear pattern and adequate lighting (lux > 20)
Detects diffuse reflective surfaces (>20%) (walls, trees, people, etc.)

Remote Controller

Max Transmission Distance
FCC: 5.59 miles (9 km)
CE: 3.10 miles (5 km)
Real-Time Transmission Quality
1080p@30fps
720p@30fps
Max Bitrate of Real-time Transmission
40Mbps
Operating Frequency
2.4~2.4835GHz
Transmission Power (EIRP)
2.4~2.4835GHz
FCC: ≤26 dBm
ISED: ≤26 dBm
CE: ≤20 dBm
RCM: ≤20 dBm
SRRC: ≤26 dBm
Operating Temperature Range
14°F to 104°F (-10°C to 40°C)
Battery
5000 mAh
Weight
0.82 lbs (370 grams)
Operating Current/Voltage
1.7A @ 3.7V
Charging Temperature Range
32°F to 104°F (0 to 40°C)
Supported Mobile Device Size
Max Length: 3.30" (84mm)
Max Thickness: 0.51" (13mm)
Supported USB Port Types
Lightning, Micro USB (Type-B), USB-C
Operating Hours
3 hours
Display
3.26-inch OLED screen
854 (W)*480 (H) pixels
Preview video without the need for connecting to a mobile phone

Battery

| | |
| --- | --- |
| Capacity | 7100 mAh |
| Voltage | 11.55 V |
| Max Charging Voltage | 13.2 V |
| Battery Type | LiPo 3S |
| Energy | 82 Wh |
| Net Weight | 0.81 lbs (365 grams) |
| Charging Temperature Range | 41°F to 104°F (5°C to 40°C) |
| Max Charging Power | 93 W |
| Charging Time | 90min |

Autel EVO II Dual 640T Enterprise Bundle

Introducing: Commercial Applications for EVO II

EVO II Dual 640T Thermal Imaging Demonstration

EVO II Dual 640T: Thermal Analysis Tool Overview
Customer Reviews
01/14/2023
CHUCK O.

United States
Exceptional Product, Price, Service, and Shipping
Coming from Hong Kong, I was surprised at all the factors of quality. Shipping was incredibly fast, packaging was outstanding, email notices and response to questions almost immediate, and, of course, price can't be beat with free shipping and no tax. Saved tons of money. I would highly recommend AutelPilot for Autel products and order from them NOT US companies if you want to save money.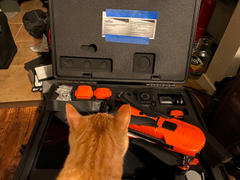 Thanks, we will try our best to do better!
12/07/2022
Garett E.

United States
Very Nice!
A huge package! The logistics and transportation are very fast, I don't have to worry about it. I happened to be at home to sign for and I got this powerful drone 640t enterprise kit. As a thermal imaging drone, the 640t has a thermal imager lens with a thermal resolution of 640*512. The nose of the drone can be replaced with different loads. I have flown it twice so far, and everything is going well!
11/17/2022
Peter W.

United States
Among my last two drones, this is the best
As a drone enthusiast, I have owned the EVO II Pro, the EVO II Dual 640T, and now one of my all-time favorites the 640T I have ever used . The 640T is the best drone I've flown, and it was easy to navigate and have full video control. With the touch of a button on the controller's base, everything is at my fingertips, or I can fine-tune things on my autek skyapp.
10/31/2022
John R.

United States
Flies great
This is the best drone on the market...it is easy to learn and the videos are helpful. The takeoff is smooth and the altitude can reach high....it can also go far distance....also the customer service is responsive if you have problems.