Drone prison jammer, a serious-sounding concept. The Prison Project Jammer is a high powered jammer for military and law enforcement use only. It is even somewhat illegal for civilians to use drone jammers.
Drone prison jammer, send drones to prison? No, that's not the case. This means arranging drone jammers in prisons and other large sensitive places to prevent drones from approaching and blocking communications with the outside world.
The growing threat posed by the use of drones and unmanned aerial vehicles (UAVs) for espionage and eavesdropping has rapidly increased demand for counter-drone jammer systems, leading Skyfend to begin research into developing such technology. Soon, the first comprehensive drone jammer Skyfend AFA100 appeared.
The Skyfend AFA100 Drone Jammer is designed like a gun, but instead of firing bullets, it fires radio interference waves. Most long-range drones rely on radio for signal transmission, so installing high-power jamming devices near prisons can effectively prevent drone surveillance.
Skyfend AFA100 drone jammer can support 400Mhz-6Ghz radio interference, give unauthorized drones emergency landing instructions or return home instructions, cut off the normal communication signals of drones, and image transmission signals.
Contact Us For Drone Signal Jammer Skyfend AFA100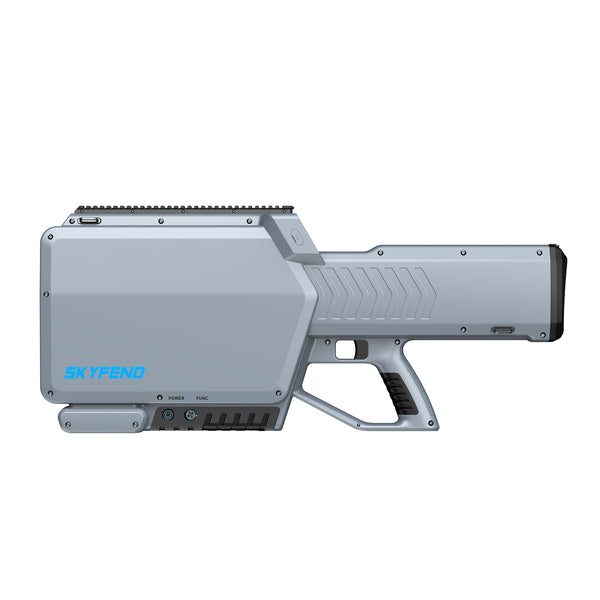 Skyfend Hunter AFA100 Anti-drone Jammer
All-in-One Detection and Jamming
3,000m Jamming Range
400MHz-6GHz Full-Bnad Coverage
Equipped With 3.5-Inch Touchscreen
Assisted Orientation
Intelligent Jamming
User Logs
Firmware Upgrades
View Skyfend AFA100