Drones have become high-tech electronic products that people love to see. Due to the flooding of the low-cost drone market, illegal elements use drones to conduct espionage activities and hinder public safety and privacy. Therefore, Drone Radio Frequency Blockers Jammer is needed to allow illegal Man and machine leave or return.
Most consumer drones have remote control signals and image transmission signals during flight, and they rely on radio signals for transmission. Stopping drones means preventing the transmission and reception of drone signals.
Skyfend AFA100 is a portable anti-drone gun, it is not a gun and cannot fire bullets. All it can do is send out radio frequency jamming signals, thereby stopping illegal drones.
All-in-One Detection and Jamming
3,000m Jamming Range
400MHz-6GHz Full-Bnad Coverage
Equipped With 3.5-Inch Touchscreen
Assisted Orientation
Intelligent Jamming
User Logs
Firmware Upgrades
The device is one-piece, and a scope attachment can also be added on top. Common drone frequency bands include 433MHz, 2.4GHz, 5.8GHz, and Drone Radio Frequency Blockers Jammer AFA100 can effectively interfere with the frequency band signals of such drones, allowing the drone to make a forced landing or return.
Drone Radio Frequency Blockers Jammer AFA100 can not only interfere with drones in the above three frequency bands, but also can interfere with all frequency bands, including 400Mhz-6GHz, and is also effective for GNSS signals, truly effectively jamming drones.
Drone Radio Frequency Blockers Jammer AFA100 jams the uplink flight control channel and satellite positioning channel of the drone, so that it loses the flight control command and satellite positioning information, making it unable to fly normally. When interfering with 2.4GHz and 5.8GHz drones, it can also achieve directional interference without manual adjustment, and automatically switch to the corresponding interference frequency band, which is more convenient and quicker.
The strong interference of Drone Radio Frequency Blockers Skyfend AFA100 is very helpful for anti-drone espionage activities, suitable for airports, public security systems, prisons, detention centers, drug rehabilitation centers, secret agencies, troops, large-scale events, concerts, important meetings , government agencies, anti-terrorism and other scenarios, but at the same time, we must also pay attention to the legality of using drone jammers to avoid affecting other normal communication equipment.
Contact Us For Drone Signal Jammer Skyfend AFA100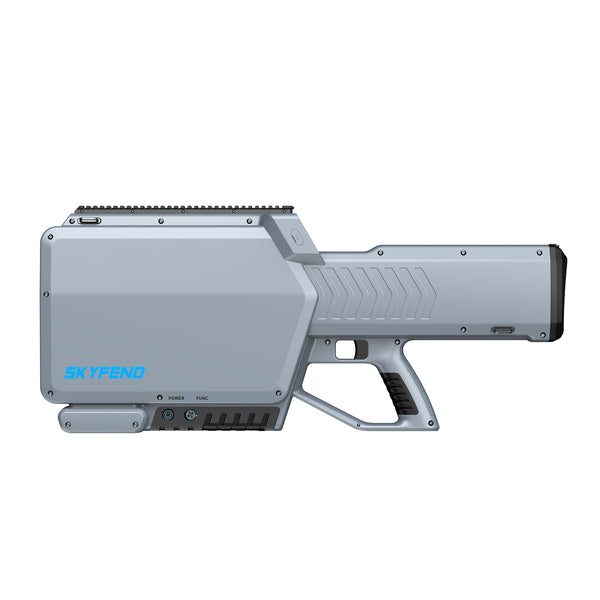 Skyfend Hunter AFA100 Anti-drone Jammer
All-in-One Detection and Jamming
3,000m Jamming Range
400MHz-6GHz Full-Bnad Coverage
Equipped With 3.5-Inch Touchscreen
Assisted Orientation
Intelligent Jamming
User Logs
Firmware Upgrades
View Skyfend AFA100