Drones using Wi-Fi and SDR protocols are becoming common, and even portable jammers can affect them. The SkyFend AFA100 anti-drone jammer can not only jam drone frequency bands, but also take over drones.
The common flight control and image transmission frequency bands of Wi-Fi drones are 2.4Ghz and 5.8Ghz. SDR (software defined radio) drones usually refer to the image transmission signal of the drone, and the video transmission of the drone based on sdr It has the characteristics of high definition and low delay.
Unmanned aerial systems are becoming more and more sophisticated, which has contributed to the surge in the counter-drone systems market, and the demand for counter-drone systems and technologies continues to grow along with the changes in the drone market.
The drone jammer SkyFend AFA100 can be used to block drone radio frequency and GNSS signals in all frequency bands. SkyFend's communication protocol analysis technology will be able to detect Wi-Fi drones and SDR drones within a detection range of 2km, analyze the frequency band of drones at the first time, automatically complete frequency modulation or cross-frequency interference, and help users take over drones , order the drone to descend or return the drone.
Normally, once Wi-Fi drones and SDR drones are affected by interference, they will lose their sense of direction, and the drone pilot no longer has control, and they may fly randomly or directly fall until they are interrupted. , At this time, it can be said that 99% of the drone has been damaged.
The advantage of the anti-drone jammer SkyFendHunter AFA100 is that after successfully jamming the drone, the control of the drone will be in our hands at this time. We decide the future of the drone and choose the drone to land. Or the return flight of the drone.
The drone jammer SkyFendHunter AFA100 has excellent and efficient anti-jamming capabilities. Through advanced technology and algorithms, it can effectively interfere with Wi-Fi and SDR signals, prevent drone communication and command capabilities, and help users take over drones and eliminate Drone threat.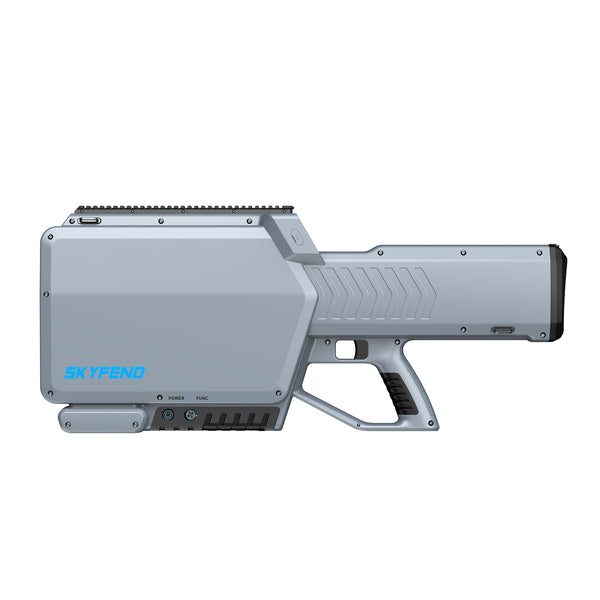 Skyfend Hunter AFA100 Anti-drone Jammer
All-in-One Detection and Jamming
3,000m Jamming Range
400MHz-6GHz Full-Bnad Coverage
Equipped With 3.5-Inch Touchscreen
Assisted Orientation
Intelligent Jamming
User Logs
Firmware Upgrades
View Skyfend AFA100