What's C-UAS System?
The C-UAS system refers to the counter-unmanned aircraft system (Counter-Unmanned Aircraft System), which is used to detect and interfere with potential drone threats. Due to its high-definition imaging characteristics, some civilian drones may be used for illegal surveillance and military abuse, so an effective system is needed to detect and mitigate the possible risks of drones.
A C-UAS system usually includes the following parts:
Detection systems: UAVs in flight are detected using radar, optical sensors, or radio monitoring.
Identification system: Detect and identify drones in flight through computer vision or other technologies, and determine their detailed information, such as drone type, speed, altitude, direction, etc.
Jamming system: use electronic jamming, beam jamming or physical jamming to jam or destroy drones.
C-UAS systems can help defenders, security personnel, or other practitioners identify and mitigate drone threats, improve public safety, and protect property. However, it should be noted that C-UAS systems should be used in compliance with local laws and regulations.
Realization of C-UAS System
In order to avoid the abuse of drones, the anti-drone market has also been rapidly developed and widely used. Some state and non-state actors also fund the deployment of C-UAS technology to counter drone threats.
The C-UAS system is based on its detection, identification, and jamming behaviors, giving birth to ground radar detection, and handheld device detection, and jammers/jamming guns. Some powerful anti-drone technical teams will also develop integrated software to detect, identify, and strike drones as a whole.
Skyfend anti-drone solution will be the leader in the anti-drone market, combining SkyfendDefender PAR100, SkyfendHunter AFA100, SkyfendGuider C2 to realize a systematic and intelligent C-UAS workflow.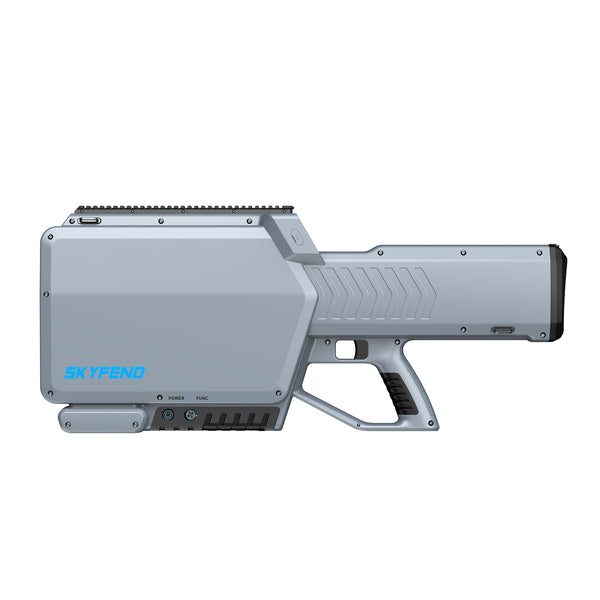 Skyfend Hunter AFA100 Anti-drone Jammer
All-in-One Detection and Jamming
3,000m Jamming Range
400MHz-6GHz Full-Bnad Coverage
Equipped With 3.5-Inch Touchscreen
Assisted Orientation
Intelligent Jamming
User Logs
Firmware Upgrades
View Skyfend AFA100