BVLOS strikes drone jammers, which means that drone jammers have a long interference distance and high interference intensity. This detection and strike range can quickly respond to drone threats in the surrounding environment and intervene in time.
Understand the definition of VLOS, EVLOS, BVLOS
The full English name of VLOS is Visual Line of Sight, the full English name of BVLOS is Beyond Visual Line of Sight, and the full English name of EVLOS is Extended Visual Line of Sight. These concepts come from the description of the observation distance between the drone and the pilot.
BVLOS drones often require more professional pilots to drive, and they are guaranteed to have corresponding certificates. This type of drone also often has a longer flight distance and image transmission distance.
How does the BVLOS strike drone work?
Counter drone jammers usually attack drones by jamming their radio frequency signals. The channel frequency band and power of the jamming drone also determine the distance of the jamming drone. The interference range of long-distance jamming drones can reach more than 2km, fully realizing beyond-the-horizon operations.
The AFA100 is a complete portable anti-drone solution designed to detect, identify, track and suppress illegal drones. Strikes drone jammer SkyfendHunter AFA100 has a detection range of 2km and a jamming range of up to 3km.
AFA100 Jammer suppresses long-range and GNSS drones through BVLOS directional jamming, and its jamming frequency band includes all drones from 400Mhz-6Ghz, whether they are consumer drones or commercial drones.
The drone jammer AFA100 can directional jam 2.4Ghz and 5.8Ghz drones without manual switching. At the same time, the 3.5-inch visual screen will also display the orientation information of the drone, which is convenient for better and clearer viewing of drones. The source of the drone can launch drone interference waves to stop the drone from landing on the ground or return to the spot.
Contact Us For Drone Signal Jammer Skyfend AFA100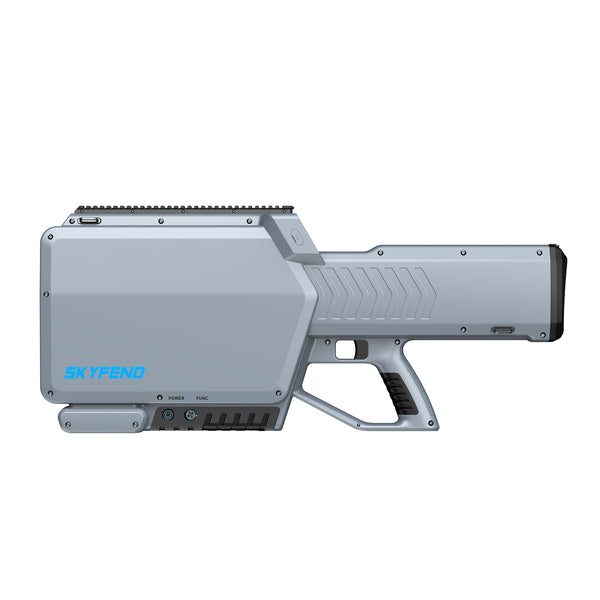 Skyfend Hunter AFA100 Anti-drone Jammer
All-in-One Detection and Jamming
3,000m Jamming Range
400MHz-6GHz Full-Bnad Coverage
Equipped With 3.5-Inch Touchscreen
Assisted Orientation
Intelligent Jamming
User Logs
Firmware Upgrades
View Skyfend AFA100