Skyfend AFA100 is the first high-power counter drone jammer to achieve 400MHz~6GHz full-band coverage and anti-interference. This drone jammer has a two-in-one function of detecting interference, and the maximum interference range can reach 3km.
SkyfendHunter AFA100 supports the identification and classification of mainstream drone models, provides intelligent configuration jamming strategies, the effective jamming time can reach 1 hour, and it can continuously monitor illegal drones for 8 hours in standby mode.
Interference frequency band of Skyfend AFA100
SkyfendHunter AFA100 can detect and interfere with drone flight control and image transmission signals, and GNSS signals. Both detection and interference signal frequency bands can achieve full-band 400MHz~6GHz drone coverage.
Most anti-drone jammers can only cover a few frequency bands, such as 1.5Ghz, 2.4Ghz, 5.8Ghz and so on.
Interference power of Skyfend AFA100
The interference power of SkyfendHunter AFA100 is divided into: 20W@400 MHz~2GHz; 20W@2GHz~4GHz; 40W@4GHz~6GHz.
The interference power of most anti-drone jammers is divided into, such as 1.2Ghz1.5Ghz, 2.4Ghz, 5.8Ghz and so on. 2.4G (2400MHZ-2485MHZ), Power≥20W; 5.8G (5720MHZ-5860MHZ), Power>20W; 1.5G (1560MHZ-1620MHZ), Power≥20W; 1.2G (1160MHZ-1240MHZ), Power≥1 0W.
Skyfend AFA100 Counter Drone Jammer can realize monitoring, directional jamming, and adaptive jamming to counter drone threats, while most drone jammers only partially support monitoring, directional jamming, and cannot adapt to jamming frequency bands, and need to be manually adjusted to correspond to drones. The human-machine frequency band will increase the work and time of combating illegal drones.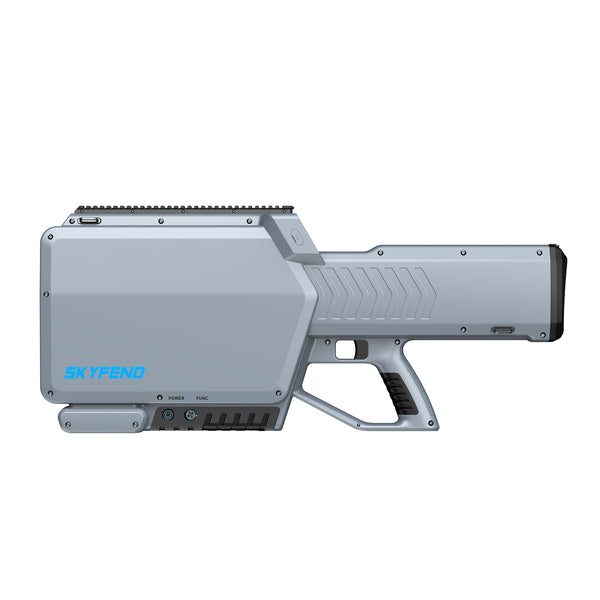 Skyfend Hunter AFA100 Anti-drone Jammer
All-in-One Detection and Jamming
3,000m Jamming Range
400MHz-6GHz Full-Bnad Coverage
Equipped With 3.5-Inch Touchscreen
Assisted Orientation
Intelligent Jamming
User Logs
Firmware Upgrades
View Skyfend AFA100