To help military governments deal with threats from LSS (Low, Slow, Small) drones, Skyfend provides fixed-mount anti-drone solutions that can detect and disrupt drones.
SkyFend's fixed solution is a fully automated counter-drone system that protects fixed locations from drone intrusions without the need for human intervention. Suitable for government buildings, events, prisons, etc. Jammers with gimbal platforms can autonomously detect, orient and neutralize unauthorized drones. User logs will be automatically and regularly transmitted to users for easy review.
Skyfend fixed-mount counter-drone system ensures the safety of your airspace day and night by detecting, disrupting and mitigating unauthorized remote-controlled commercial drones (UAS, UAV, RAPS, etc.) from 2KM long range.
The fixed installation anti-drone solution consists of the UAV jammer Skyfend Hunter and the pan-Tilt Platform bracket, which can be placed horizontally on the ground and fixed. The device is fully automated and can detect UAV radio frequency signals at 2KM and without jamming at 3KM. Human-machine radio frequency signals. The device achieves full frequency band coverage of drone radio frequency signals from 400MHz to 6GHz, including DJI, Parrot, Skydio, FIMI, etc.
The drone jammer Skyfend Hunter can be linked with the Skyfend Guide C2 anti-drone software. The 3.5-inch visual screen helps people quickly and accurately obtain drone information data. The drone jammer Skyfend Hunter has a client center that can control drones. Detection, interference and other information can be uploaded to logs to further analyze the interference effect of drone detection.
Contact us for Skyfend AFA100 Anti-drone Jammer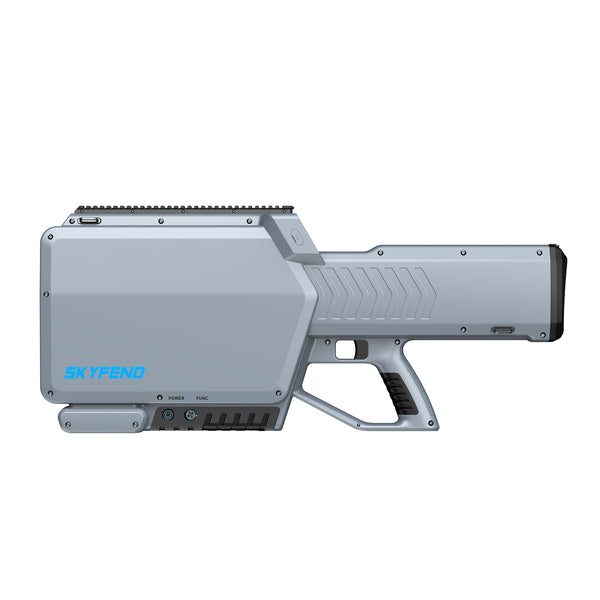 Skyfend Hunter AFA100 Anti-drone Jammer
All-in-One Detection and Jamming
3,000m Jamming Range
400MHz-6GHz Full-Bnad Coverage
Equipped With 3.5-Inch Touchscreen
Assisted Orientation
Intelligent Jamming
User Logs
Firmware Upgrades
View Skyfend AFA100