Signal jamming expert Skyfend has developed a portable drone counter-gun with an effective jamming distance of 3km. This drone signal jammer will be the biggest competitor in the jammer market in 2023.
Drone signal jammer Skyfend AFA100 is a two-in-one drone jammer for detection and combat, with a detection range of up to 2km and a jamming range of 3km. It also has a 3.5-inch touch screen, 400MHz-6GHz Full-Bnad Coverage supports user log upload, etc., and is suitable for deployment in security tasks.
In the alignment mode of the UAV signal jammer AFA100, the direction finding of the drone supports azimuth and elevation angle alignment, and the direction finding accuracy is about 10°. On the touch screen of the drone, the drone's position can be clearly seen for aiming interference.
In the jamming mode, the drone signal jammer AFA100 prevents the drone from coming by transmitting radio frequency jamming signals. The error of the azimuth angle of FoV is ±15°, and the error of the pitch angle is ±7°.
The azimuth error and pitch angle error of drone jammers are very important to crack down on illegal drones, but at the same time, it is also necessary to pay attention to the jamming power of UAV signal jammers.
The UAV signal jammer AFA100 has different interference power for drones in different frequency bands, and can automatically adjust the corresponding interference frequency band without manual operation, which will greatly improve the interference efficiency of illegal drones and force unmanned The aircraft descends or returns.
Contact Us For Drone Signal Jammer Skyfend AFA100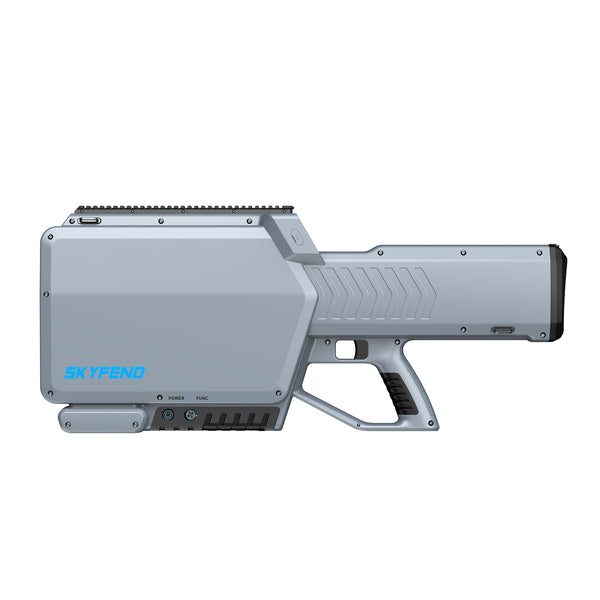 Skyfend Hunter AFA100 Anti-drone Jammer
All-in-One Detection and Jamming
3,000m Jamming Range
400MHz-6GHz Full-Bnad Coverage
Equipped With 3.5-Inch Touchscreen
Assisted Orientation
Intelligent Jamming
User Logs
Firmware Upgrades
View Skyfend AFA100