Drone jammers come in a variety of shapes, and one of them has an antenna. Are they better? With so many options for drone jammers out there, who would be one of the best drone jammers out there?
See Common C
ounter Drone Antenna
Disclaimer: The picture comes from the Internet
Drone jammers with antennas tend to be more attractive in appearance, and people often think at first glance that drones with antennas can emit stronger and farther jamming waves to prevent drones from breaking in.
But in fact, when considering the choice of UAV drone jammers, we need to measure the interference frequency band, interference power and interference distance of drone jammers to determine.
The common drone interference frequency band is to interfere with the flight of the drone by interfering with the drone communication frequency band and the drone GPS + GLONASS frequency.
The jamming power of the drone jammer is generally between 10w-20w and cannot be adjusted.
The interference distance of drone jammers generally covers a range of several hundred meters to several kilometers, depending on the actual situation.
Anti-drone antennas are usually used as vehicle-mounted antennas or fixed-site antennas, and some can also be connected to anti-drone guns externally, and the interference frequency is usually fixed. There are sometimes small handheld jammers with external antennas, but these cover fewer drone channels and are often used as cell phone jammers.
UAV drone jammers without antennas have the interference source built into the jammer. This type of jammer may apply more jamming technologies, such as light beams, sound waves, electromagnetic waves, and radio technologies to interfere with the communication and control of drones. Signal.
Whether they are drone jammers with or without antennas, their purpose is to limit the ability of drones to fly by jamming their communication and control signals. Anti-drone antennas are more complex to operate than portable anti-drone jammers and are only used in a small area.
Contact Us For Drone Signal Jammer Skyfend AFA100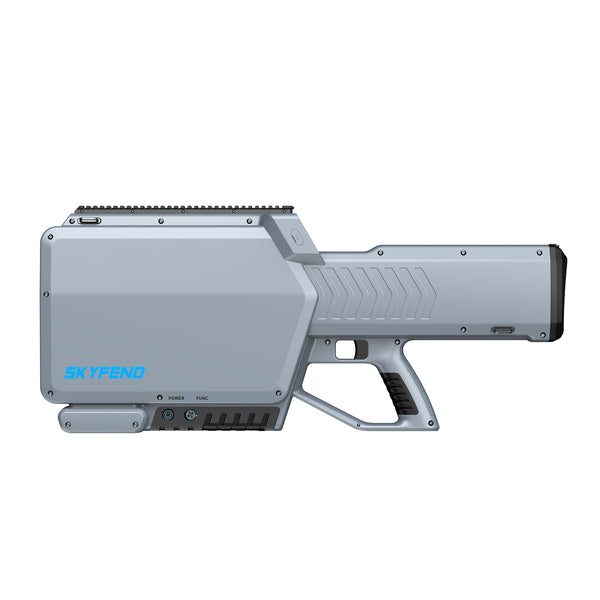 Skyfend Hunter AFA100 Anti-drone Jammer
All-in-One Detection and Jamming
3,000m Jamming Range
400MHz-6GHz Full-Bnad Coverage
Equipped With 3.5-Inch Touchscreen
Assisted Orientation
Intelligent Jamming
User Logs
Firmware Upgrades
View Skyfend AFA100