Airspace security is a major security issue that cannot be ignored, and the widespread use of drone technology has had a huge impact on airspace security. Skyfend provides advanced anti-drone technology to protect the most critical locations in the world.
Skyfend provides a comprehensive system of C-UAS systems, including UAV jammer AFA100, jamming radar PAR, and jamming software C2. Skyfend AFA100 is a powerful jammer UAV Scrambler, which combines detection and jamming UAVs to protect airspace security in real time.
Skyfend AFA100 is a long-distance Jammer UAV Scrambler integrating detection and shooting. It can continuously and effectively detect drones for up to 8 hours. It can interfere with the radio frequency signal of the drone, causing the drone to lose communication control, and video and image transmission signals. Interfering with the drone's GNSS signal makes it impossible for the drone to confirm its position and lose its direction and location information.
Drone Jammer AFA100 is a UAV Scrambler that can cover all frequency band signals. Unlike 4-band drone jammers, 6-band drone jammers, 8-band drone jammers, etc., the jamming frequency bands of Skyfend AFA100 include 400Mhz-6Ghz, It can cover more than 90% of UAV communication signal types.
When Skyfend AFA100 UAV Scrambler is jamming drones, it can automatically switch the corresponding frequency band of drones for jamming without manual adjustment. When Skyfend AFA100 UAV Scrambler is working, it can perform directional jamming to 2.4Ghz drones and 5.8Ghz drones, covering a jamming distance of 3KM. When detecting drone signals, it can reach a radial distance of 2KM.
Another advantage of the Skyfend AFA100 UAV Scrambler is that it has a 3.5-inch visual screen, which is used to observe the direction of the drone to achieve precise strikes. At the same time, UAV Scrambler Skyfend AFA100 can also upload user logs and update online.
Contact Us For Drone Signal Jammer Skyfend AFA100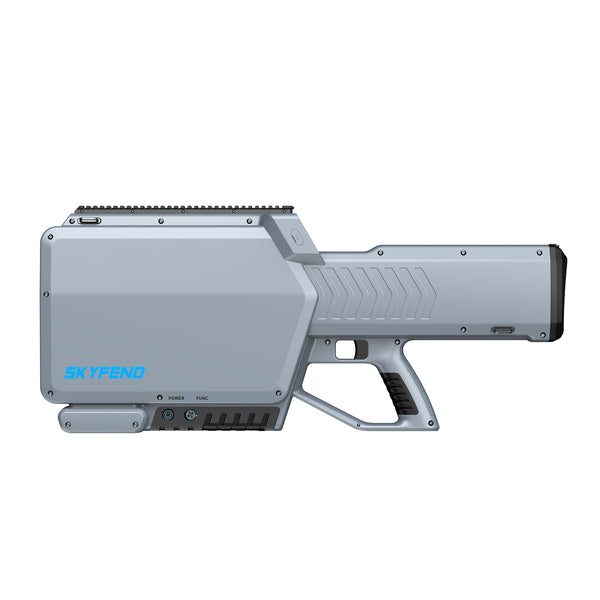 Skyfend Hunter AFA100 Anti-drone Jammer
All-in-One Detection and Jamming
3,000m Jamming Range
400MHz-6GHz Full-Bnad Coverage
Equipped With 3.5-Inch Touchscreen
Assisted Orientation
Intelligent Jamming
User Logs
Firmware Upgrades
View Skyfend AFA100