The SkyfendHunter AFA100 is the all-new SkyfendHunter AFA100, one of the widest range and longest-lasting drone jammer blockers available.
Remote UAV Drone Control jammers AFA100 is designed in metallic gray, weighs more than 8KG, has a 3.5-inch visual screen, and has multiple buttons on the fuselage. Pull the trigger, and the UAV jammer will enter the jamming stage, jamming and blocking the corresponding frequency band Drones fly over people.
The setting of this drone with the pull of the trigger is also known as a drone jammer, and half of the weight of 8KG comes from the battery. SkyfendHunter AFA100 is a Remote UAV Drone Control jammers that integrates reconnaissance and blocking drones. The reconnaissance time can be up to 8 hours, and the drone strike time can be up to 2 hours. It can work continuously in the jamming frequency band, and the strike range can cover 3km.
SkyfendHunter AFA100 is designed as a handheld, with a strap and a fixed plastic hard case, which is easy to carry. At the same time, due to its large size and heavy weight, the SkyfendHunter AFA100 jammer can also be placed on the ground and fixed. This hand-held Remote UAV Drone Control jammer has the characteristics of IP65 dustproof and rainproof, and can work smoothly outdoors.
Contact Us For Drone Signal Jammer Skyfend AFA100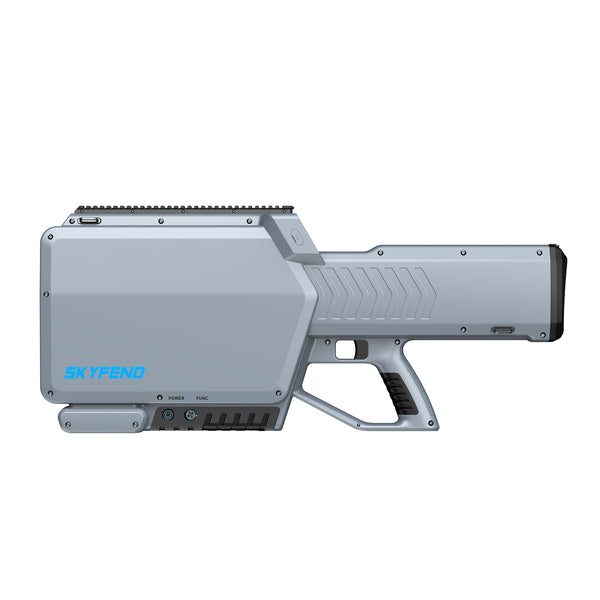 Skyfend Hunter AFA100 Anti-drone Jammer
All-in-One Detection and Jamming
3,000m Jamming Range
400MHz-6GHz Full-Bnad Coverage
Equipped With 3.5-Inch Touchscreen
Assisted Orientation
Intelligent Jamming
User Logs
Firmware Upgrades
View Skyfend AFA100