SkyfendHunter AFA100, a new handheld anti-drone jammer that combines surveillance and jamming technology two-in-one. Skyfend AFA100 can do drone full-band signal interference, shield drone radio signals and GNSS signals, with a 3.5-inch display screen, portable transportation, and is a new star in the anti-drone market!
SkyfendHunter AFA100 is compact and efficient. As a handheld anti-drone signal jammer, it weighs 6.5kg and measures 773 x345 x114 mm. It exists in the form of an anti-drone gun. There is also a load port on the top of the jammer. Can be used to connect scopes.
Note that the scope is not an accessory in the fixed set, it is an optional accessory!
SkyfendHunter AFA100, as a two-in-one drone signal jammer for detection and interference, can strongly and effectively interfere with 400Mhz-6Ghz radio frequency drones, and can conduct targeted strikes against 2.4Ghz and 5.8Ghz drones, which means, You don't need to adjust the frequency band, just manually press the Trigger to make the drone land or return.
The SkyfendHunter AFA100 anti-drone signal jammer has a built-in 3.5-inch display screen, on which you can see drones coming from any direction. With the help of the scope, you can better focus on the jamming band for drone jamming. Eliminate the Drone Threat!
The more important point of Skyfend AFA100 anti-drone signal jammer is that it supports user log upload and software update, which will be updated in real time to cope with drone changes!
With the ubiquity of drones, it is necessary to use anti-drone signal jammers to deal with political turmoil, but the use of signal jammers must be legal and compliant to avoid public safety accidents.
Contact us for Skyfend AFA100 Anti-drone Jammer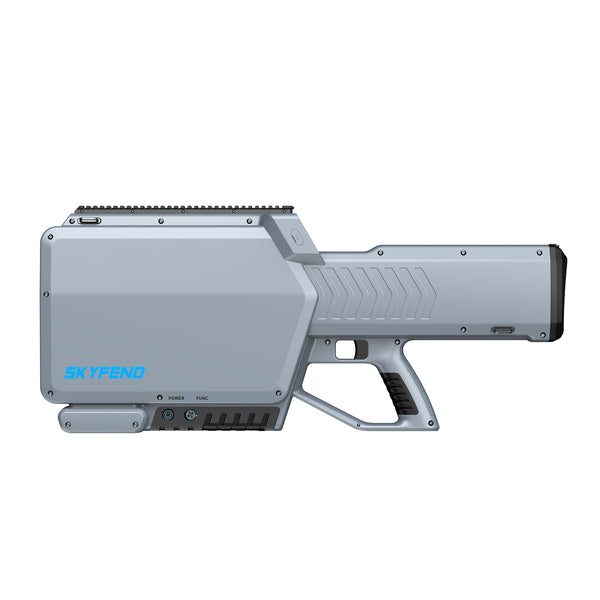 Skyfend Hunter AFA100 Anti-drone Jammer
All-in-One Detection and Jamming
3,000m Jamming Range
400MHz-6GHz Full-Bnad Coverage
Equipped With 3.5-Inch Touchscreen
Assisted Orientation
Intelligent Jamming
User Logs
Firmware Upgrades
View Skyfend AFA100