FPV drones provide the best immersive flying experience, and the first-person perspective has unprecedented challenges and advantages. However, whether it is a normal drone or an FPV drone, the abuse of drones has become a reality. To prevent unauthorized drones from flying over the sky, you need anti-drone jamming equipment.
The most beneficial anti-drone jamming device is undoubtedly the anti-drone jammer, which uses radio frequency to interfere with the communication frequency band signal, image transmission frequency band signal and GNSS signal of the drone. The difference between drone jammers lies in the difference in interference range and interference frequency band.
FPV drones operate much like traditional drones, the difference is that FPV drones have an on-board camera mounted on the drone and stream live from the aircraft directly to your FPV goggles, headset , smartphone device or other screen.
Due to the fast flight of FPV drones and the cool display of the lens, many people choose to assemble FPV drones by themselves. When DIYing FPV drones, they need to choose radio transmitters and receivers for FPV drones. The most commonly used The frequencies are 433MHz and 900MHz, and other 27MHz, 72MHz, 433MHz, 1.3GHz and 2.4Ghz bands are used for long-range FPV and RC systems.
Lower frequencies allow for better range, common frequencies for FPV drones are 433MHz and 900MHz, and common frequencies for normal drones are 2.4GHz and 5.8 GHz. When it is necessary to interfere with drones, the anti-drone jammer must be in the corresponding interference frequency band to take effect.
SkyfendHunter AFA100 is a rare full-band surveillance drone jammer. The jamming frequency band of AFA100 drone jammer is 400Mhz-6Ghz, and it can control the jamming power of drones in different frequency bands, and quickly identify illegal drones. Automatically switch to the corresponding interference frequency band to prevent the drone from flying or take over the drone to force it to return.
The full-band jamming of SkyfendHunter AFA100 is not only aimed at a single drone, but also can control an entire drone cluster, connect to the Skyfend C2 system, and can also customize the name of our drone to conduct illegal intrusion drone Differential naming to achieve effective control.
Contact Us For Drone Signal Jammer Skyfend AFA100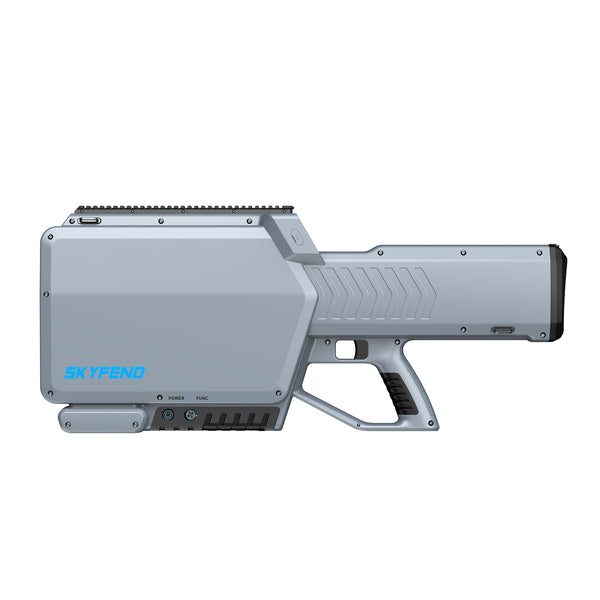 Skyfend Hunter AFA100 Anti-drone Jammer
All-in-One Detection and Jamming
3,000m Jamming Range
400MHz-6GHz Full-Bnad Coverage
Equipped With 3.5-Inch Touchscreen
Assisted Orientation
Intelligent Jamming
User Logs
Firmware Upgrades
View Skyfend AFA100