A new generation of anti-drone solution Skyfendhunter AFA100 was born. This is the first unmanned aerial vehicle jammer that integrates detection and strike. The 3KM over-the-horizon drone interference range provides a strong guarantee for security.
The Long Range Anti Drone Jammer Skyfendhunter AFA100 is a revolutionary counter-drone solution combining cutting-edge technology and advanced features to deliver an unrivaled level of security. With its unique design, the Skyfendhunter AFA100 is able to detect and shoot down rogue drones from a safe distance, making it the first choice for securing sensitive sites and events.
Unlike conventional counter-drone solutions, the Long Range Anti Drone Jammer Skyfendhunter AFA100 is equipped with an integrated detection and strike system. For traditional anti-drone solutions, only more powerful ground-based jammers are needed to detect drones at a long distance. If you want to strike accurately and effectively, you usually rely on naked eye observation to strike at close range.
3KM Long Range Anti-drone Jammer Skyfendhunter AFA100 can jam uav drone signals and GNSS signals, the jamming distance can reach 2km, and the strike range can reach 3km. In the process of combating drones, it can realize automatic frequency hopping without manual operation. The anti-drone gun is equipped with a 3.5-inch visual screen, which can quickly lock potentially dangerous drones, and is effective in combating 400 MHz~2GHz drones When attacking 2GHz~4GHz drones, the striking power is 20W; when striking 4GHz~6GHz drones, the striking power is 40W.
The visual screen operation of Anti Drone Jammer Skyfendhunter AFA100 expands the discovery range of drones, no longer relying on naked eye observation, friendly user interaction operation allows AFA 100 anti-drone gun to quickly lock and strike nearby unauthorized drones, realizing Advances in ultra-long-range strike drone jammers are an effective countermeasure to counter-threat drones.
With the Beyond Visual Range (BVR) Anti-Drone Jammer Skyfendhunter AFA100, individuals and organizations can rest easy knowing they have a strong and reliable defense against the risks posed by rogue drones.
Contact us for Skyfend AFA100 Anti-drone Jammer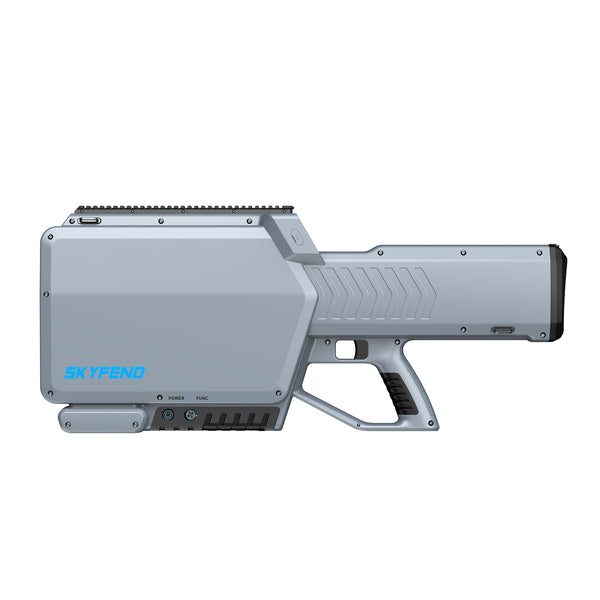 Skyfend Hunter AFA100 Anti-drone Jammer
All-in-One Detection and Jamming
3,000m Jamming Range
400MHz-6GHz Full-Bnad Coverage
Equipped With 3.5-Inch Touchscreen
Assisted Orientation
Intelligent Jamming
User Logs
Firmware Upgrades
View Skyfend AFA100