Drones rely on radio for remote control and image transmission. The higher the frequency band, the shorter the transmission distance and the more stable the transmission. The lower the frequency band, the longer the transmission distance. The transmission stability is average.
The frequency band of 1.2 GHz is usually used by some drones for video transmission and remote control. This frequency band is primarily used for analog video transmission, while modern digital drones more commonly use the 2.4 GHz or 5.8 GHz band for digital video transmission.
The channel range available on the 1.5Ghz transmitter and receiver for long-distance FPV flight is 1080MHz to 1360MHz, and the transmission picture on this channel is relatively smooth and natural, and it is one of the most popular channels in the United States.
1.2GHz provides long range and reliability, and lower frequencies provide better signal penetration through obstacles. The long-distance transmission of FPV drone can reach 10km. However, one rarely sees 1.2GHz being used on mini quadcopters, usually on larger long-range aircraft and wings.
To deal with the threat of such 1.2Ghz drones, a drone scrambler is one of the best options. However, only a few drone jammers have set the 1.2Ghz frequency band jamming waves, and the most common jamming waves are 2.4Ghz and 5.8Ghz.
Skyfend AFA100 is the best full-band drone jammer, the jamming band covers 400Mhz-6Ghz, it can perform directional jamming, and it can effectively jam most types of drones at 3KM.
Compared with the 4-band scrambler, 6-band scrambler, and 8-band scrambler on the market, the Skyfend AFA100 full-band UAV scrambler can support interference with more radio bands, and can automatically detect and switch to the corresponding Drone bands without manual adjustment, adding convenience and accuracy.
Contact Us For Drone Signal Jammer Skyfend AFA100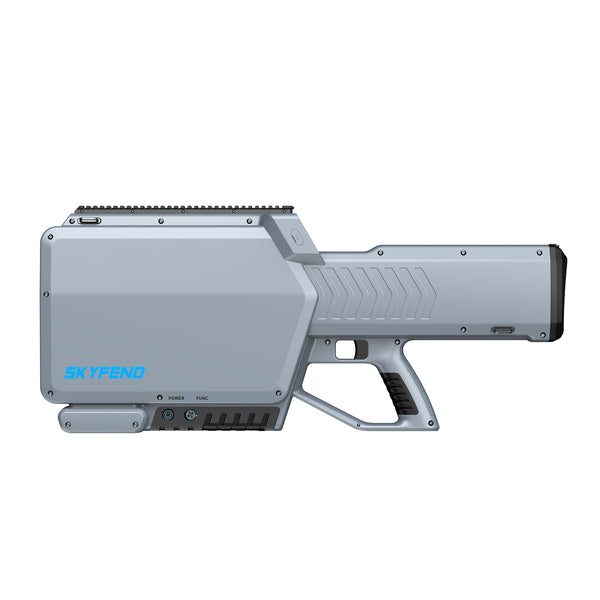 Skyfend Hunter AFA100 Anti-drone Jammer
All-in-One Detection and Jamming
3,000m Jamming Range
400MHz-6GHz Full-Bnad Coverage
Equipped With 3.5-Inch Touchscreen
Assisted Orientation
Intelligent Jamming
User Logs
Firmware Upgrades
View Skyfend AFA100