The Autel EVO series has been one of the most talked about products among Autel users, and the EVO series of consumer drones has gained a lot of attention and successfully won drone hours. In U.S. drone sales data, Autel drones are one of the strongest competitors to DJI drones.
Two versions of the Autel EVO series have been released, and the EVO I series is currently suspended for production. The drones of the EVO II series are powerful and can perform a variety of missions. The EVO III series is coming?
It is obvious that the EVO III series, as an upgraded version of the EVO II series, will give full play to the maximum value of the EVO II series of drones. As early as 2021, there will be related EVO 3 version drones circulating, namely:
EVO III (basic) with 1" CMOS sensor
EVO III Pro with 4/3" CMOS sensor
EVO III Zoom features 8K dual cameras and 10x zoom
EVO III Supersense with 1.4" CMOS sensor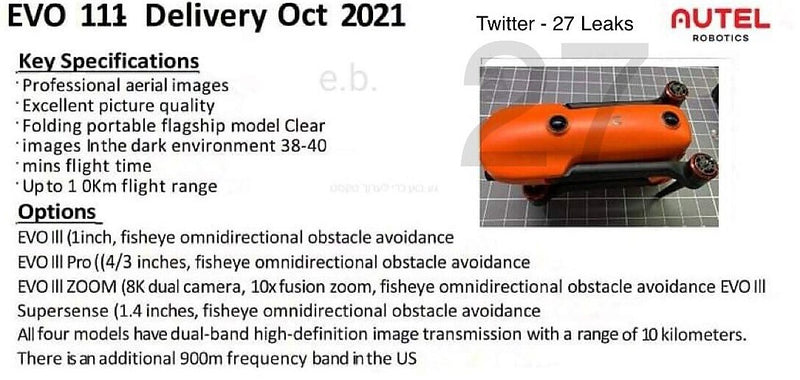 Source: Autel Launching New Drones EVO III?
Autel did not respond to this, so when will it really usher in the arrival of the EVO III series of drones? We hear a lot of speculation about the EVO III series, the EVO III series of drones will be released in the second half of 2022? No one has been able to confirm this.
The drone market has become more competitive. DJI drones are no longer the only option for drone users. At the same time, a large number of drone manufacturers began to continuously enhance their drone technology, launching new drone versions to attract customers. Perhaps, the EVO III series of drones is coming soon.
EVO III or EVO II V3?
Autel Robotics makes different versions of the EVO II drone, the EVO II v1 and EVO II v2. The Autel EVO II V2 drone places a recognizable "V2" marker between the drone's top obstacle avoidance sensors. The EVO II series of drones allows for camera gimbal interchange, which means that payloads can be interchanged between V1 and V2, but having different chipsets means that the V2 remote will not be able to communicate with the V1 aircraft.
Whether Autel is producing the EVO II V3 version of the drone or the EVO III version of the drone is unknown, but given the global chip shortage, perhaps the EVO II V3 remote control won't work with the EVO II V2 drone either.
Changes to EVO III
For drone customers, we expect the Autel V3 series will feature improved optical imaging, higher resolution, higher quality low-light images, greater cooling for longer runtime, and multi-GNSS positioning capabilities , for more precise flight and enhanced transmission. Of course, the battery life of drones is also one of the biggest problems that plague drone users, who are eager to get longer battery life.