Autel Max 4N is a high-performance aerial drone, and Starlight Camera is a high-definition camera developed by Autel for Max 4N. This camera can provide brighter and clearer image performance in low-light environments, which is very suitable for aerial photography at night and shooting tasks in low-light environments.
Starlight Camera has excellent image processing technology, which allows users to obtain more delicate and clear image quality. Its night vision function can automatically adjust the aperture, enabling the drone to shoot efficiently in dark environments, and supports real-time monitoring and remote control operations. In addition, the camera also supports 4K resolution video recording, allowing users to obtain more detailed and high-definition image information.
Using Autel Max 4N with Starlight Camera, users can enjoy a more excellent and professional aerial photography experience. Whether it is used in landscape shooting, security inspection, real-time monitoring and other fields, it can get excellent performance and effect.
Autel Max 4N Starlight Camera parameters
Super Night Vision Camera: 2.3 Mp, 0.0001 Lux ambient brightness detection 450000 ISO, 41.4mm wide-angle camera 50 Mp, 1/1.28″ CMOS F1.9, 85° FOV, 23mm.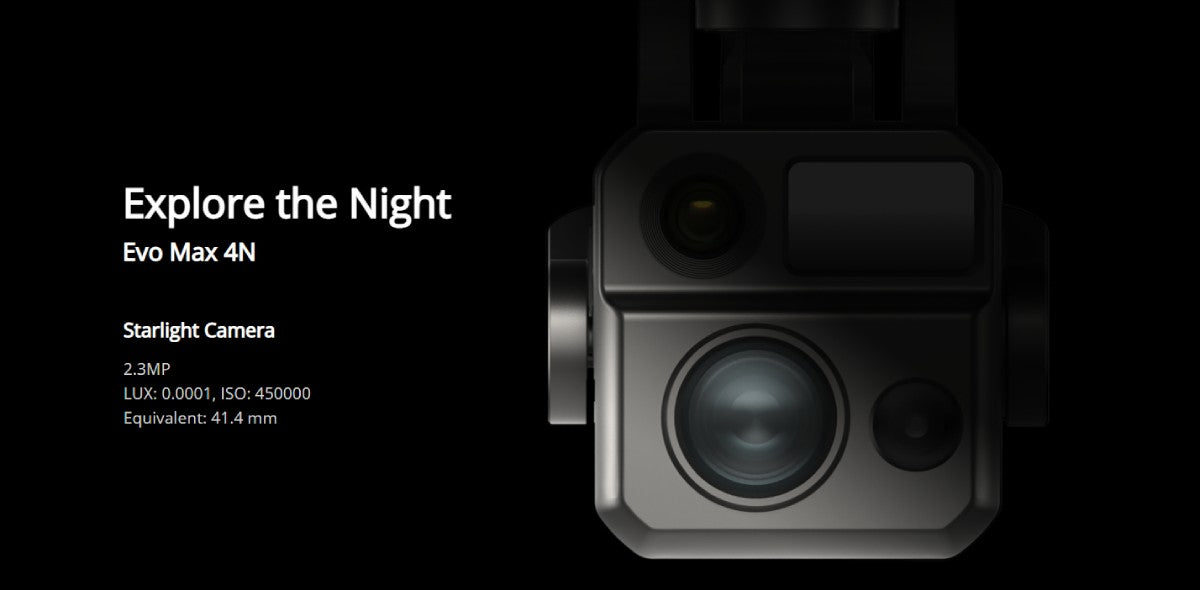 Autel Max 4N is another great work of the Autel MAX series. The gimbal camera has three cameras and a laser rangefinder. It supports multiple shooting modes and settings. It is very flexible and can meet the needs and requirements of different users. The powerful performance of Autel Max 4N indicates that its opponent will be DJI Matrice 30, let us look forward to the arrival of Autel Max 4N.
View More: