You're thrilled as your drone takes off, but suddenly, it loses connection with the controller. This could mean your drone has been interfered with by anti-drone technology, such as a malicious drone jammer or anti-drone gun, which can greatly affect the safety of drone flight, causing the pilot to easily lose control of their drone.
How does an anti-drone gun work?
An anti-drone gun is a weapon system specifically designed to combat drones. It typically consists of a barrel and a high-precision targeting system that can quickly locate and destroy drones in flight.
Anti-drone guns can either physically shoot projectiles to take down drones or use signal interference or physical interference to destroy drones or cause loss of controller connection.
Is using an anti-drone gun legal?
When using an anti-drone gun, safety and legality must be taken into consideration. Typically, only authorized national security personnel and law enforcement agencies are permitted to use this weapon system. Furthermore, the use of anti-drone guns must comply with relevant laws and regulations.
Overall, anti-drone guns are efficient weapon systems that can effectively combat drone threats. However, their use must be carefully considered and adhere strictly to relevant laws and regulations.
What should a drone pilot do when faced with a drone jammer?
Firstly, pay attention to the area where you fly your drone. Do not fly your drone over other people's private property, including flying over your neighbor's roof. Also, do not fly your drone into restricted areas, including national security agencies, public utilities, airports, etc.
So far, drone jammers are only used in highly sensitive security areas, and drone jamming technology is strictly regulated because it could potentially interfere with wireless signals in the surrounding area. Therefore, drone pilots do not need to worry too much about the potential danger of anti-drone guns.
Final Thoughts
As the widespread use of drones has sparked controversy, the use of anti-drone technology has proven to be more controversial. Drone jamming technology may give those concerned about drone safety and privacy peace of mind, but the fact is that it can be easily exploited. Therefore, the use of drone jammers is limited to a very small group of users in a limited scope.
Contact us for Anti-drone Jammer Skyfend AFA100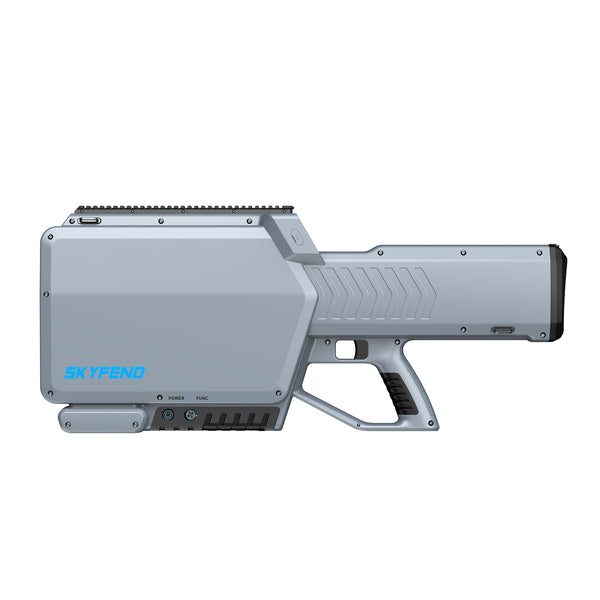 Skyfend Hunter AFA100 Anti-drone Jammer
All-in-One Detection and Jamming
3,000m Jamming Range
400MHz-6GHz Full-Bnad Coverage
Equipped With 3.5-Inch Touchscreen
Assisted Orientation
Intelligent Jamming
User Logs
Firmware Upgrades
View Skyfend AFA100