How to improve airspace security and deal with the potential threat of unauthorized drones is an important issue that security departments should consider. What should we do when drones are no longer cameras but monitors?
Possible Threats of Unauthorized Drones
Privacy issues: UAVs can be equipped with high-definition cameras, infrared sensors and other equipment, which can monitor ground activities in real time. This has greatly aroused people's concerns about personal privacy, and it is necessary to establish reasonable laws and norms to protect privacy.
Air Traffic Management: As the number of drones increases, it poses greater challenges to air traffic management. Ensuring the safe coordination and collision avoidance of drones and manned aerial vehicles is an important issue that requires sound regulatory and technical solutions.
Malicious use: Although most drones are used for legitimate purposes, they can also be misused for illegal activities such as invasion of privacy, malicious attacks, etc. Therefore, it is very important to formulate relevant regulations and ensure the identity authentication of drone operators.
Security Threats: Drones can also be a tool for security threats. They can be used to carry out terrorist attacks, espionage or other illegal activities. Therefore, enhanced security measures are required to deal with potential threats.
When facing unauthorized drones, whether it is an individual, an organization or a state-owned department, you should face up to these drones and take relevant measures under reasonable and legal circumstances.
For individuals, don't panic about unauthorized drones. You should observe drone activities and record relevant behaviors and notify relevant departments. Don't try to interfere with drone activities privately, otherwise it may lead to dangerous consequences.
For organizations and state-owned departments, once drones appear in regulated areas, they have the right to interfere with drones and confiscate drones. For the substantial trouble or threat of UAVs, it is important to detect and counter UAVs in the first place, improve airspace security control and privacy protection.
The most effective way to jam drones is to use drone jamming equipment, the anti-drone jammer Skyfend AFA100 provides cash in anti-drone technology, capable of early warning, classification and mitigation of drone threats, jamming Full-band (400Mhz-6Ghz) UAV, making the UAV forced to land or return.
Contact Us For Drone Signal Jammer Skyfend AFA100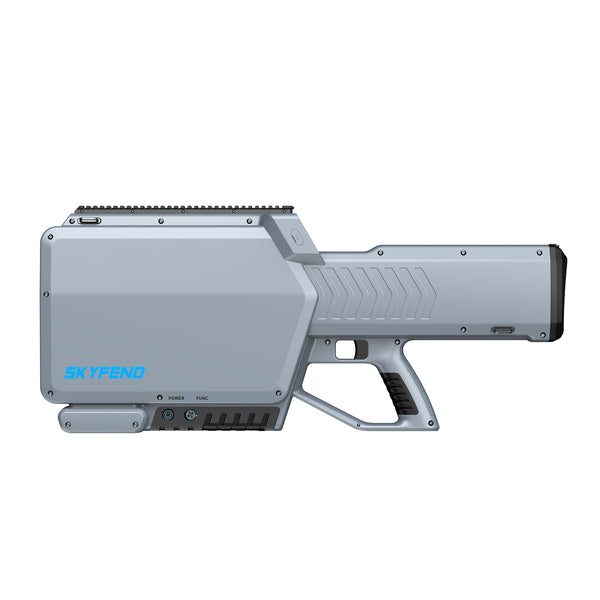 Skyfend Hunter AFA100 Anti-drone Jammer
All-in-One Detection and Jamming
3,000m Jamming Range
400MHz-6GHz Full-Bnad Coverage
Equipped With 3.5-Inch Touchscreen
Assisted Orientation
Intelligent Jamming
User Logs
Firmware Upgrades
View Skyfend AFA100