Autel Robotics EVO Nano Premium Bundle
$549.00
$899.00
saving
$350.00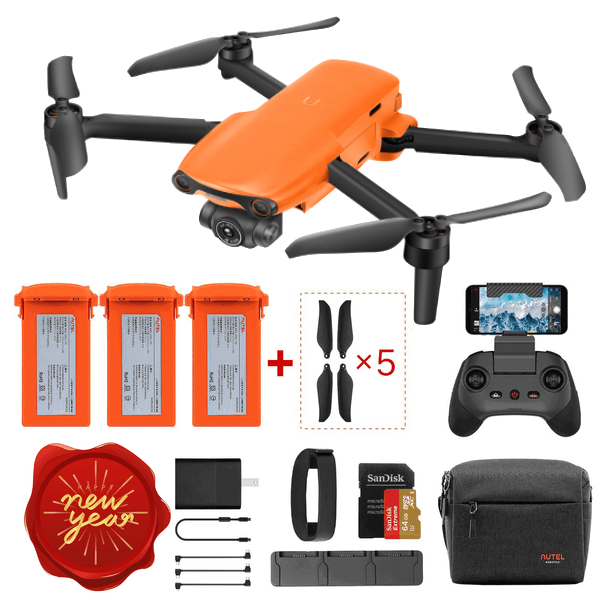 Autel Robotics EVO Nano Premium Bundle
$549.00
$899.00
saving
$350.00
<249g
4K/FPS Video
10km Video Transmission
Obstacle Sensing in 3 Directions
Level 5 Wind Resistance
28-Min Max Flight Time
Overview
SPECS
In the box
Download
EVO Nano Drone

The Autel Drones EVO Nano features powerful aerial photography capabilities packed in a compact, foldable, palm-sized frame. Even weights only 249g, the EVO Nano's 1/2" CMOS sensor 48MP camera paired with an ultra-stable three-axis mechanical gimbal is capable of recording smooth cinematic 4K/30fps HDR video in challenging conditions. The frame has been engineered to withstand up to level 5 winds. And with its 28-min flight time, 6.2 miles (10km) transmission distance, the EVO Nano mini drone give you the ability to fly farther and see clearer.

1/2" CMOS

Imaging Sensor

48MP

Photos

4K/30fps

HDR Video

3-Axis

Mechanical Gimbal


28 Mins

Flight Time


6.2 Miles

Transmission Distance

EVO Nano Premium Bundle

The EVO Nano Premium Bundle version is designed to make it easier to get to your location and film longer. Compare to the Standard Package, the Premium Bundle provides two (2) additional Flight Batteries, a Battery Charging Hub, a Propeller Holder, two (2) additional Propeller Pairs, and a Shoulder Bag.

For a complete comparison of the Standard Package and Premium Bundle, Please view "In The Box" tab.

Which is the Best for You?

Autel EVO Nano

249 g

1/2" CMOS 48MP

Aperture f/2.8

4K/30fps Video

28-Min Max Flight Time

10km 2.7K Transmission

Forward + Backward + Downward Sensors

Autel EVO Nano+

249 g

1/1.28" CMOS 50MP

Aperture f/1.9

4K/30fps Video

28-Min Max Flight Time

10km 2.7K Transmission

Forward + Backward + Downward Sensors

Foldable and Compact Body - Only 249g

Just how light is Autel EVO Nano+? Weighing only 249 grams, the EVO Nano+ is almost as light as an orange and plus its foldable and compact body design, This makes EVO Nano+ exceptionally portable and can fits almost anywhere—from the side pocket of your hiking pack to the palm of your hand. Additional, as under 250g which may exempt it from certain regulations in many countries.

Powerful Camera System

1/1.28″ CMOS Sensor

Autel EVO Nano mini drone is packed a 1/2-inch(0.-inch) 48-megapixel sensor with up to 16x digital zoom, captures impressive 48MP photos and records ultra-sharp 4K/30fps video. Paired with a three-axis mechanical gimbal to prevent vibration, the Nano drone provides everything you need to ensure your footage is smooth and stable no matter how rough the conditions.

HDR Video & Photos: Squeeze rich detail from shadows and highlights no matter how extreme the lighting conditions using HDR mode, which rapidly snaps several photos at different exposures so they can be stitched together in post-production.

1/2" CMOS

Imaging Sensor

1.6μm( Bin2)

Pixel size

4K HDR

Video/ Photos

3-Axis

Mechanical Gimbal

Hyperlapse and Panorama

Speed up time and movement with a single tap by creating a striking hyperlapse. You can also capture larger, more detailed shots of your surroundings with panorama (wide-angle, 180°, or spherical).

HDR - Darker Shadows. Brighter Highlights.

With HDR on, the EVO Nano will snap several photos at different exposures and automatically stitch them together- resulting in a photo with more contrast and dynamic range.

SkyPortrait - Blur the background automatically for additional cinematic effect/Portrait

Take the ultimate selfie with the press of a single button. When engaged, SkyPortrait will raise your EVO Nano+ into the air where it will snap a photo, automatically adjusting the lens to include everyone. You can even have the Nano+ automatically blur out the background to focus only on you and your friends for additional cinematic effect/Portrait.

FreezeFollow

Freeze the Autel Nano drone in mid-air at any angle and have its camera follow and continuously film a moving subject, whether it's a person or an object.

Dynamic Track 2.1: Master Subject Tracking

Recruit your Nano drone to automatically follow any person, animal, or vehicle so you can focus on your activities while your Nano+ handles the cinematic side.

Autel EVO Nano Drone Dynamic Track 2.1

Cinematic Shots With A Single Click

Create dramatic, professional-level shots at the touch of a button with four automatic shooting modes. Add a soundtrack and filters in the Autel Sky app to make your video even more epic, allowing you to produce unforgettable results whether you're a veteran pilot or completely new to the drone game.

Four Automatic Shooting Modes

| | | | |
| --- | --- | --- | --- |
| ROCKET | FADE AWAY | ORBIT | FLICK |

MovieMaster: Quick And Easy Movies

Apply your favorite templates from the Autel Sky app for quick and easy movie-making, allowing you to drastically reduce the tedious editing process so you can share your creations in minutes.

| | | |
| --- | --- | --- |
| Effortless Editing | Imaginative Templates | Quick Sharing |

Snap And Share In Seconds

Done shooting? Simply place your smartphone close to the Nano to upload photos and videos at a speedy rate of 160Mbps using the Autel Sky app.

SonarSound: Hear Everything

Record voices and ambient sounds on the ground through the smartphone, allowing you to bring your videos to life even when your drone is miles above.

Fly Safer With 3-Way Obstacle Avoidance

Not commonly seen in drones of this size, the EVO Nano+ drone incorporates an advanced obstacle avoidance system to keep it safe while flying. With 3-way binocular vision sensors that enable the drone to perceive obstructions in front of it, behind it, and below it. If anything comes into the Nano's path, it will automatically brake and hover to avoid a collision.

10KM 2.7K/30FPS Video Transmission

Autel EVO Nano drone features Autel's most advanced Autel SkyLink image transmission system yet, delivering an ultra-smooth, clear, and reliable image feed while flying farther. The EVO Nano+ has a video transmission distance of up to 6.2miles (10 km), the transmission quality of 2.7K/30FPS.

2.4/5.2G/5.8Hz Three Frequency

Reliable Signal, Smooth Flight

The EVO Nano drone supports 2.4/5.8GHz three-frequency communication and automatically switches to the best channel with the lowest interference in real-time. This significantly improves the aircraft's anti-interference ability in challenging environments, increasing flight safety.

6.2Miles

Transmission Distance

2.7K/30FPS

Transmission Quality

2.4/5.8/5.2GHz

Operating Frequency

28 Minutes Flight Time

More Battery. More Time. More Creativity.

The EVO Nano can fly continuously for 28 minutes, which means plenty of time to experiment with creative angles and dream up inventive shots.

Nano Aircraft

Takeoff Weight
(without Accessories)
249g
Dimensions
(including blades)
Folded: 140×90×50mm
Unfolded: 264×310×50mm
Wheelbase
231mm
Max Ascent Speed/strong>
6m/s (sport), 4m/s (normal), 3m/s (stable)
Max Level Flight Speed
4m/s (sport), 3m/s (normal), 2m/s (stable)
Max Level Flight Speed
(no wind, near sea level)
13m/s (sport), 10m/s (normal), 5m/s (stable)
Max Takeoff Altitude
4000m
Max Flight Time (no wind)
28min
Max Hovering Time (no wind)
26min
Max Flight Distance (no wind)
16.8km
Max Wind Resistance
Level 5
Max Tilt Angle
33°(movement), 25°(normal), 25°(stable)
Max Angular Velocity
200°(movement), 120°(normal), 60°(stable)
Operating Temperature
-10°C ~ 40°C
Transmission Power (EIRP)
FCC:≤30dBm
GNSS
GPS
Hovering Accuracy
Vertical:±0.1m (when the visual positioning is active), ±0.5m (with GPS positioning);
Horizontal:±0.3m (when the visual positioning is active), ±1.5m (with GPS positioning);
Built-in storage
No
SD storage
Max. support 256GB(UHS-3 rating required)

Gimbal

Stabilization
3-axis
Mechanical Range
Pitch: -125°~35°
Roll: -34°~33°
Yaw: -25°~25°
Controllable Range
Pitch: -90°~ 0°
Max Control Speed (pitch)
30°/s
Angular Vibration Range
±0.003°

Perception System

Forward
Accurate measurement range:0.5~16m
Effective sensing speed:<10m/s
FOV:Horizontal<40°,Vertical<30°
Backward
Accurate measurement range:0.5~18m
Effective sensing speed:<12m/s
FOV:Horizontal<40°,Vertical<30°
Downward
Accurate measurement range:0.5~20m
Visual hovering range:0.5~40m
FOV:Horizontal<40°,Vertical<30°
Operating environment
Forward, backward:
Surface with clear pattern and adequate lighting(lux> 15)
Downward:
Surface with clear pattern and adequate lighting(lux> 15);
Detects diffuse reflective surfaces(>20%) (walls, trees, people, etc.)

Camera

EVO Nano
EVO Nano+
Sensor
CMOS:1/2 inch;
Effective pixels:48M
Pixel size:1.6μm*1.6μm(Bin2)
CMOS:1/1.28 inch
Effective pixels:50MP
Pixel size: 2.44μm*2.44μm (Bin2)
Lens
FOV:84°
Equivalent focal length:24mm
Aperture:f/2.8
Focus range:1m ~ ∞
Focus mode: fixed focus
FOV: 85°
Equivalent focal length: 23mm
Aperture: f/1.9
Focus range: 0.5m ~ ∞
Focus mode::PDAF+CDAF/MF
Shooting mode
Automatic mode (P gear): EV adjustable, ISO/Shutter automatic
Manual mode (M gear): ISO/Shutter adjustable, EV not adjustable
Shutter priority (S file): Shutter/EV adjustable, ISO automatic
Automatic mode (P gear): EV adjustable, ISO/Shutter automatic
Manual mode (M gear): ISO/Shutter adjustable, EV not adjustable
Shutter priority (S file): Shutter/EV adjustable, ISO automatic
ISO range
Video:ISO100 ~ ISO3200
Photo:ISO100 ~ ISO3200
Video:ISO100 ~ ISO6400
Photo:ISO100 ~ ISO6400
Shutter speed
Photo Mode:1/8000 ~ 8s
Other:1/8000 ~ 1/frame rates
Photo Mode:1/8000 ~ 8s
Other:1/8000 ~ 1/frame rates
Portrait blur
Real-time image transmission portrait blur and photo portrait blur
Real-time image transmission portrait blur and photo portrait blur
Defog mode
Support
Support
Zoom Range
Digital zoom:1 ~ 16 times
Digital zoom:1 ~ 16 times
Photo format
JPG/ DNG/ JPG+DNG
JPG/ DNG/ JPG+DNG
Photo resolution
48MP:8000x6000(4:3)
12MP(default):4000x3000(4:3)
4K:3840x2160(16:9)
50MP:8192x6144(4:3)
12.5MP(default):4096x3072(4:3)
4K:3840x2160(16:9)
Photo shooting mode
Single shot
Burst shooing: 3/5
Auto exposure bracketing(AEB): 3/5 shots
Interval: 2s/3s/4s/5s (default)/6s/.../60s (DNG min 5s)
HDR imaging: 3840x2160
Single shot
Burst shooing: 3/5
Auto exposure bracketing(AEB): 3/5 shots
Interval: 2s/3s/4s/5s (default)/6s/.../60s (DNG min 5s)
HDR imaging: 3840x2160
Video coding format
H265/H264
H265/H264
Video resolution
3840x2160 p30/25/24
2720x1528 p30/25/24
1920x1080 p60/50/48/30/25/24
3840x2160 p30/25/24
2720x1528 p30/25/24
1920x1080 p60/50/48/30/25/24
Max bitrate
100Mbps
100Mbps
Timelapse
Original image:3840*2160,JPG/DNG
Video: 4K P25
Original image:3840*2160,JPG/DNG
Video: 4K P25
Panorama
Horizontal/Vertical/Wide-angle/Spherical
Original image: 4000*3000, JPG/DNG
Horizontal/Vertical/Wide-angle/Spherical
Original image: 4096*3072, JPG/DNG
Supported file system
Fat32、exFat
Fat32、exFat
Video format
MP4/MOV
MP4/MOV
WIFI transfer
20MB/s
20MB/s

Remote controllor and image transmission

Operating frequency
2.400-2.4835GHz
5.725-5.850GHz
5.150-5.250GHz
Backward
Accurate measurement range:0.5~18m
Effective sensing speed:<12m/s
FOV:Horizontal<40°,Vertical<30°
Max transmission distance
(unobstructed, free of interference)
FCC:10km
Operating temperature
0°C ~40°C
Transmission power (EIRP)
FCC:≤30dBm
Battery capacity
3930mAh
Max battery life
~ 3.5h (when connected to a mobile phone)
~ 2.5h (when not connected to mobile phone)
Interface type
Type C
Transmission system
Autel SkyLink
Realtime transmission quality
Transmission distance<1km:2.7K 30fps
Transmission distance>1km:720P 30fps
Transmission bitrate
90Mbps
Transmission delay
≤200ms

Adapter

| | |
| --- | --- |
| Input | 100-240V/50-60HZ |
| Output | 5V==3A,9V⎓==A,12V==2.5A |
| Rated power | 30W |

Aircraft Battery

| | |
| --- | --- |
| Capacity | 2250mAh |
| Voltage | 7.7V |
| Max charging voltage | 8.8V |
| Battery Type | Li-Po 2S |
| Energy | 17.32Wh |
| Charging temperature | 5~45℃ |
| Single battery charging time | 90min |
| Max charging power | 30W |

App

Mobile App
Autel Sky
Mobile system required
iOS 12.0 and above
Android 8.0 and above

EVO Nano Premium Bundle Packing List

1* EVO Nano Aircraft (including gimbal cover)

5* Total Pairs Propellers

3* Total Flight Battery

1* Propeller Holder

1* Flight Battery Charging Hub

1* Flight Battery Charger

1* Remote Controller

1* RC Charging Cable

1* RC Cables (Lightning, Micro-USB, USB-C)

8* Spare Screws

1* Screwdriver

1* Shoulder Bag

In the Box - Standard vs. Premium Bundle

As highlighted below, compare to the Standard Package, the Premium Bundle provides two (2) additional Flight Batteries, a Battery Charging Hub, a Propeller Holder, two (2) additional Propeller Pairs, and a Shoulder Bag.

Items
Standard
Premium Bundle
Aircraft
1
1
Total Flight Batteries
1
 3 
Flight Battery Charger
1
1
Total Propeller (Pairs)
3
 5 
Propeller Holder
 1 
Flight Battery Charging Hub
 1 
Remote Controller
1
1
Remote Controller Charger
1
1
Spare Screws
8
8
Screwdriver
1
1
RC Cables
(Lightning, Type-C, Micro USB)
1
1
Shoulder Bag

 1 

Autel Sky

Built to accompany the EVO Nano and EVO Lite, the Autel Sky app enables beginners and veterans alike to get professional-level shots at the touch of a button with four automatic shooting modes (flick, rocket, fade away, and Orbit). Make your shots even more unique using the app's time-lapse, panoramic, tracking, and portrait modes. Done shooting? Instantly upgrade your footage from impressive to unforgettable using the app's vast selection of ready-made video templates and soundtracks. From flying to shooting to editing, Autel Sky is a must-have companion for any videographer hoping to make an impact.

Compatible with:EVO Nano, EVO Nano+, EVO Lite, EVO Lite+
Customer Reviews
03/31/2022
Joseph Z.

United States
Good value overall
The drone performs well, however it is not good in gusty wind. This is no surprise, because it is a light drone. GPS, obstacle avoidance tracking all perform well and the video is excellent.
03/27/2022
Joe D.

United States
Drone and controller are great but documentation is weak
The weak part of the EVO Nano is its documentation. They have some videos and written documentation that show the drone going thru its paces but not the details of how to actually use all of its features. Would have been useful to show split screens of the AutelSky App's operation on one side with video of the drone's corresponding response on the other side.
02/27/2022
Dennis L.

United States
Autel nano plus
It does not work. Will not connect. Autel pilot is no help. Must me a scam
02/27/2022
LARRY R.

United States
Shipped quickly and delivered from New York, USA!
Deliver in good order and pleased with the Nano. Yes minor problems that was addressed in last firmware! Still looking for follow me feature that is supposed to be added in future firmware. Complements my DJI Mavic Pro.
02/10/2022
JIM B.

United States
New nano
Been too cold and windy to fly it outside. Everything went well with setup and upgrade. It does fly well in my living room!
01/15/2022
Heidi R.

United States
Evo Nano bundle purchase
First time ordering from Autelpilot. Service was excellent. They kept me informed while I waited for the pre-order to ship. Product arrived as expected per DHL. They even responded to a question that I had after the purchase. Highly recommend!