The Autel Robotics Live Deck 1 is a wireless video output accessory for use with EVO. Now, the Live Deck 2 comes out and it serves all Autel EVO II V3 drones. Here, we will describe how to use Live Deck 2?
Connect to use Live Deck 2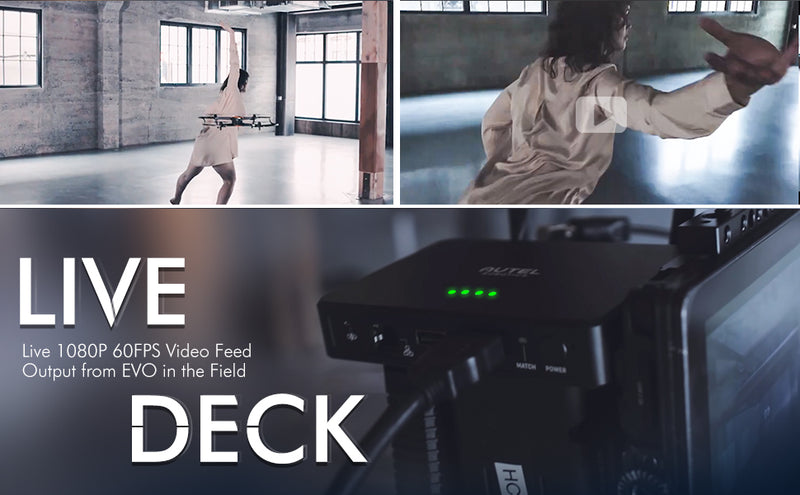 How to use HDMI Output?
First, pair the drone with the Live Deck 2.
Press the pairing button, when the indicator light changes from fast flashing to slow flashing, it means that the pairing between the two is successful;
When the Live Deck is online, the indicator will turn solid green;
Select the HDMI cable to plug into the Live Deck device, select the appropriate HDMI input, and the computer will display the live drone video.
How to use USB Output?
Connect the live deck to your mobile device with a USB cable;
Open the autel explorer app and select Smart Photography to display the live video feed.
How to use Ethernet Output?
Turn on the mac OS device/windows system in a computer with a network cable;
For the first time, you need to perform static IP address and gateway settings;
Open a video player that supports RTSP network video streaming, such as VLC;
Set the playback frame rate and cache settings of the player;
Enter the RTSP stream address until the live video feed is displayed.
Related Question
What is Live Deck?
The Live Deck acts as a drone live console that pairs quickly with the Autel drone remote to access multiple video outputs such as HDMI, USB and Ethernet.
What can Live Deck 2 do?
Live Deck 2 supports multiple video output options for connecting to TVs, computers, and compatible iOS and Android devices. Real-time full HD video transmission for better situational awareness.
Is Live Deck 2 better than Live Deck 1?
Live Deck 1 transmits full 1080p HD video at 60fps to 7km away, Live Deck 2 transmits complete 1080p HD video at 60fps to 12km away, tri-band automatic switching output, anti-interference ability is Live Deck 4 times 1.