Drone surveying is a new world application for commercial drones, and more and more organizations are looking for faster and more cost-effective solutions, we will explore Top Drones for Mapping and Surveying 2023 here.
How are drones changing the surveying process?
Drone surveying refers to the use of drones or unmanned aerial vehicles (UAVs) to capture aerial data with downward-facing sensors (such as RGB or multispectral cameras) and LiDAR payloads. During a drone survey, multiple photos of the ground are taken from different angles, and each image is labeled with coordinates.
Using drones is more efficient, quicker to deploy than traditional surveying methods, and is ideal for use on terrain that is difficult to survey by foot. The drone industry survey in 2022 is quite mature, and there are a large number of RTK drones used for Mapping and Surveying.
What are the benefits of drone mapping?
Reduce on-site time and reduce survey costs
Drone software allows easy replication of datasets
Improve health and safety in complex terrain
Reduce personnel deployment and greatly reduce measurement costs
Top drones for surveying in 2023
Best Drone for Large Projects: WingtraOne GEN II
WingtraOne GEN II is a fixed-wing UAV suitable for large-scale projects. With a flight time of up to 59 minutes and a cruise speed of 35 mph, the drone features PPK integration and improved fail-safe algorithms onboard the drone, as well as a wide range of payloads, providing centimeter-level absolute horizontal accuracy .
WingtraOne GEN II acts as a fixed-wing drone, but it retains VTOL capabilities, allowing it to take off and land vertically, greatly reducing deployment time and ensuring payloads remain safe. Also similar is the Autel Dragonfish drone, a uniquely designed tilt-rotor VTOL drone.
Best Entry-Level Surveying Drone: DJI Phantom 4 RTK
For entry-level drones designed for aerial surveying and 3d mapping, the new DJI Phantom 4 RTK is also one of the reference objects. Built for surveyors, the Phantom 4 RTK is equipped with a 1-inch CMOS 20mp camera that gives you clear and detailed images.
Phantom 4 RTK is a direct integration of the new RTK module, providing real-time centimeter-level positioning data to improve the absolute accuracy of image metadata. Satellite observations are also stored for postprocessing kinematics (PPK). The Phantom 4 RTK can also provide real-time differential data via the D-RTK 2 mobile station for an accurate surveying solution.
Best Drone for Mission Versatility: DJI Matrice 300 RTK
Rugged enough to withstand harsh weather environments, the Matrice 300 RTK can carry massive payloads and offer an impressive flight time of up to 55 minutes, IP45 protection and a transmission range of 15km.
The Matrice 300 RTK has an impressive number of compatible payloads, providing survey designs with the best versatility on the market. Photogrammetric payloads including Emesent, LiDAR USA to Phase One.
Best Photogrammetry Drone: Autel EVO II Pro RTK V3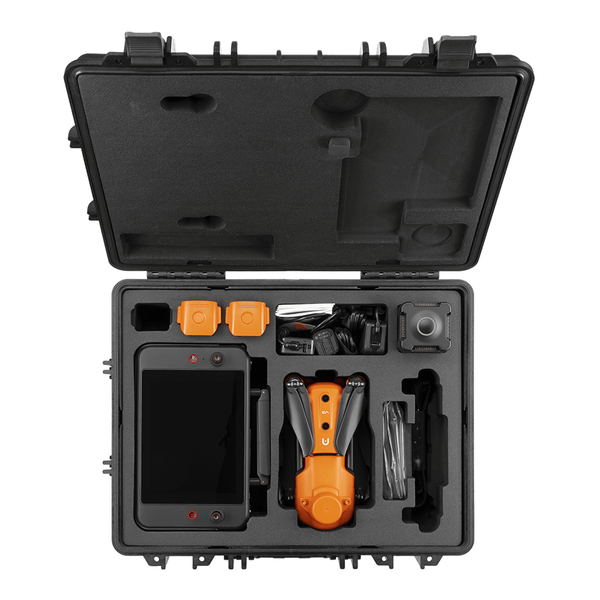 Autel EVO II Pro RTK V3
Centimeter-Level Positioning
Support PPK
RTK Base Station
NTRIP RTK Network
1" CMOS Sensor Gimbal Camera
360° Obstacle Avoidance
38 Minutes Flight Time
15km Video Transmission Range
View EVO II Pro RTK V3
Autel EVO II Pro RTK V3 is light and easy to deploy, only 1250g among these commercial drones, with 6k high-definition imaging, 36 minutes of flight time, 8-level wind resistance, fast speed, responsive, and a transmission range of 15 kilometers.
EVO II Pro RTK V3 can provide excellent aerial imaging quality and flexible operation to meet various surveying applications. The Autel RTK module has centimeter-level accuracy and can support base station RTK, network RTK, and PPK. It is worth mentioning that the Autel RTK module can be switched between V2 and V3 series.
Best RTK Drone with Replaceable Payload: Yuneec H520 RTK
Yuneec H520 RTK is also very representative in the surveying and mapping drone market. Yuneec H520 RTK is an iconic hexacopter with a built-in RTK module and network RTK base station, providing a wide range of solutions for surveying and mapping professionals.
With no fixed payload, the H520 RTK is able to fit a range of high-end accessories from Yuneec, including the CGOET thermal camera and the E90 20MP high-speed camera, which expand the possibilities of the drone. The H520 RTK is also designed to be compatible with the PPK process, enabling PPK post-processing corrections.
Final Thoughts
The best surveying and mapping drone depends on the performance of equipped with RTK modules. Accurate aerial mapping and surveying is one of the most profitable fields in the era of commercial drone flight. It is also one of the most technically demanding industries, creating huge barriers to entry in terms of skills and technology.