Tokyo Olympic Games event is a hot topic now, in the opening ceremony the Are you shock for when there drones fly to form an image of the Earth in the sky ? Do you also want to have a drone of your own property? Autel drone is the best choose for you.
If you're the first time to fly a drone , or someone with experience, this is the one you want to invest in! It has all the features that make it stand out. All of its features make it stand out from the rest of the competition.
Autel EVO II |The world's first Portable Folding 8k drone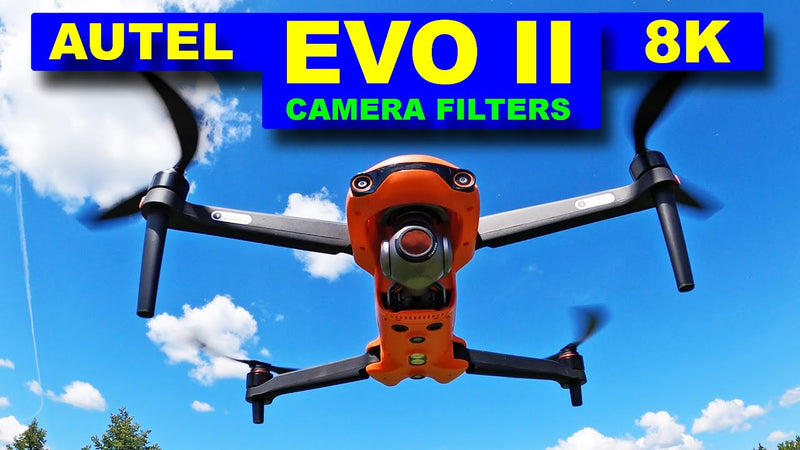 It has the best collision detection system of any useful drone, and can capture 8K video.
40 minutes stable flight time:  From checking electrical towers to measuring property lines, the EVO II is designed to provide enough flight time to capture all the data needed.
Lightweight, collapsible design: The 2.5-pound EVO II deploys in less than 30 seconds, making it ideal for rapid deployment missions with a minimal footprint both in the air and when transported seamlessly.
Patented Locking Propeller Design: Tool-less, the EVO II's quick-release collapsible propeller locks securely with a carefully designed built-in locking mechanism.
Interchangeable Payload: Designed for versatile operation, pilots can alternate between 8K, 6K and DUAL Thermal/8K payload options.
Real-time controller video feed: control virtually all aspects of the mission via a 3.3" OLED screen with a 4-hour battery life. No mobile device required and no account needed.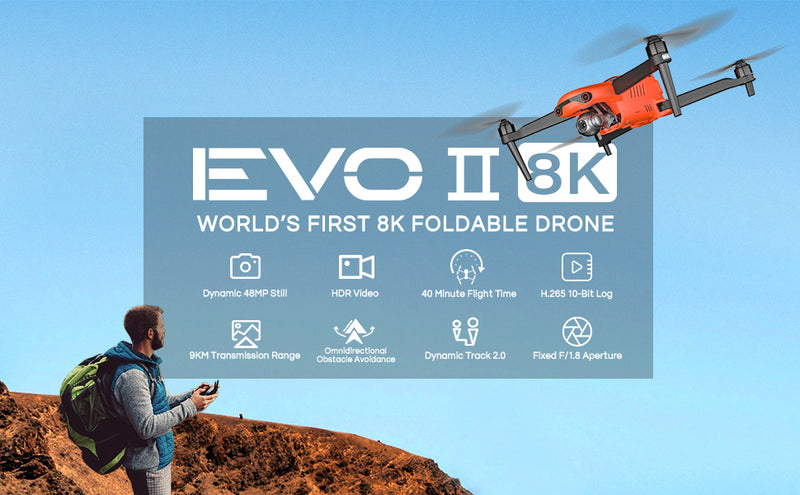 The Evo 2 8k drone is an amazing drone! Autel really thought through every aspect of professional performance and product design. Like a high end DSLR, this drone has a lot of features and user settings. You can completely control everything from shutter, aperture, ISO, resolution, WB, angle of the gimbal and much more. It has all the mode settings that you will ever need, including single shot, burst mode, time lapse, aperture priority and shutter priority. You can set the resolution from 720P all the way to 8k. It has adjustable frame rate settings from 24fps up to 120fps. And the 48mp camera produces stunning stills. This drone has 6 mission assignments, including follow me; parallel flying for recording moving subjects; orbit for circling around a designated object; point-to-point flight path, waypath, where you can design your own flight route and Vitual Reality settings. You will have every possible combination of settings to do what you want to do.
Go for it now! >>
Tips for flying drones
Fly in the sky and there is always the possibility of falling, even if everyone would like to see it. Some easy to blow up the aircraft, easy to violate the management norms of the behavior, must be avoided. Civilized flight, law-abiding flight, in order to fly longer, together to maintain the circle of drones.
Listed below are these precautions, please follow the foot.
Check whether the flight is prohibited or limited height before flying
Do not fly near airports, above military bases, or above densely populated areas.
Stay away from indoors, do not fly drones in places where many people are watching
Do not fly out of the line of sight for beginners
Do not fly in strong winds.
Be aware of the severe battery degradation in high altitude areas and reserve sufficient power for return flight.
Novices do not lift the drone on moving objects (boats, cars)
Try not to fly continuously for too long in hot and sunny weather
Observe the nearby obstacles (branches, high voltage lines, etc.) before takeoff and landing
Do not pick up the drone with bare hands
Finally, to shoot sunrise, sunset and evening blues, check the time weather first. In short, safety first. To shoot good material, but also to learn to transport the mirror, framing, need a continuous process of accumulation. Flying a drone is recommended to choose the morning or afternoon sun weak time period, side light shooting images more beautiful.
When you fly for the first time, it might be best to turn on Beginner mode on the app. After a few hours under your belt, you can turn it off and learn how to unleash your full potential.
 Above, have a safe flight.