There is no better technique for shooting nature with a drone than waiting for nature's light and finding a composition. Autel EVO 2 pro 6k for Professionals the orange color is very suitable for hiding in the mountains and wilderness to shoot nature. The 6k video and picture crystal clear and make it easy to zoom in on different areas of the video or picture with out losing quality.
Autel Robotics EVO II Pro is a 6K foldable drone for professionals! EVO II Pro drone comes with 6K interchangeable gimable, 1" CMOS sensor, capable of capturing dynamic 20MP stills and HDR videos. EVO II Pro provides the longest 40 minutes flight time (35 minutes hover time) in all foldable drones with 7100 mAh battery. EVO II Pro features Ominidirectional Obstacle Avoidance that comes with 12 optical sensors and 2 sonar sensors working actively to detect all important directions. You can adjust the aperture from F/2.8 to F/11 and ISO range from 100-12800 for photo and 100- 6400 for video to capture stunning detail not previously available on a aerial platform of this size.
Autel EVO 2 Pro ultra-HD camera done featured a 1-inch sensor with 6k resolution. Capture stunning detail not previously possible on an aerial platform of this size. An adjustable aperture, HDR and intuitive camera controls make this the perfect choice for any aerial cinematographer or mapping pilot.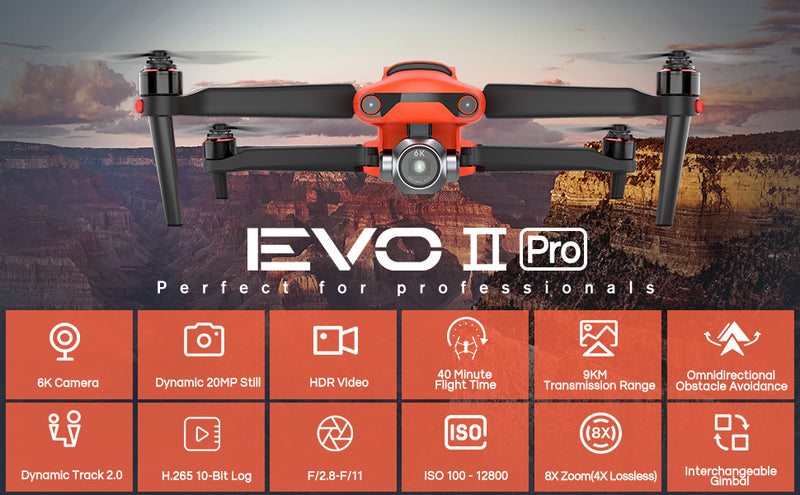 Camera
Sensor
1" CMOS
Effective Pixels: 20 MP
Performance temperature: -10~60°C
Lens
FOV: 82°
35mm Format Equivalent: 28.6 mm @ f/2.8
Aperture: f/2.8–f/11
Shooting Range: 1 m to ∞
ISO Range
Video: 100~3200 (Auto)
Video: 100~6400 (Manual)
Photo: 100~3200 (Auto)
Photo: 100~12800 (Manual)
Shutter Speed
Electronic Shutter: 8 ~ 1/8000s
Digital Zoom
1 ~ 8x (Max. 3x lossless zoom)
Still Image Resolution
5472x3648 (3:2)
5472x3076 (16:9)
3840x2160 (16:9)
Still Image Format
JPEG / DNG (RAW)
Still Photography Modes
Single Shot
Burst shooting: 3/5 frames
Automatic Exposure Bracketing (AEB):
3/5 bracketed frames at 0.7 EV Bias
Timelapse:
JPG: 2s/5s/7s/10s/20s/30s/60s
DNG: 5s/7s/10s/20s/30s/60s
HyperLight: support (under 4K JPEG format)
Long Exposure: Max 8s
HDR imaging: (under 4K JPEG)
Video Resolution
6K 5472x3076 p30/p25/p24
5K 4800x2700 p60/p50/p48/p30/p25/p24
4K 3840x2160 p60/p50/p48/p30/p25/p24
2.7K 2720x1528 p120/p60/p50/p48/p30/p25/p24
1080P 1920x1080 p120/p60/p50/p48/p30/p25/p24
Video Format
MOV / MP4
Codecs
H.264 / H.265
Max Video Bitrate
120Mbps
Gimbal
Weight

0.23 lbs (107g)
Mechanical Range
Pitch: -135~45°
Roll: -45~45°
Yaw: ±100°
Controllable Range
Pitch: -90~0°
Yaw: -90~90°
Stabilization
3-Axis (Tilt, Roll, Pan)
Max Control Speed (Tilt)
300°/s
Angular Vibration Range
±0.005°
6k Camera, 40MIN Flight Time, 9KM Extended Range
1-inch sensor & Adjustable aperture, EVO II Pro 6k drone featured Ultra-HD camera with a 1-inch sensor, Takes photos with a resolution of up to 5472 x 3648, and records 5.5K video at 60 fps or 4K video at 120 fps, with a bit rate of up to 120 Mbps. The lens aperture is adjustable within the range of f/2.8 to f/11.
40min of flight time & 9KM Extended Range: Autel EVO II Providing up to 40min of flight time in forward motion to up to 9km away and 35min at a hover.
Variety of shooting modes
All three camera modules support a variety of shooting modes, including: Single-shot; Burst shooting; Auto exposure bracketing (AEB); Time-lapse; High-dynamic-range (HDR) imaging; NIGHTBEAT (high signal-to-noise ratio)
Nature's light lies in the choice of shooting time, the timing of sunrise and sunset. And composition, although there are a variety of methods, it should be clear that composition is only a means, good composition, is to better highlight the theme, better guide the viewers' eyes.
Auto go home & Accurate Landing
EVO 2 Pro will return home automatically when Low Aircraft Battery Level and Communication Lost. Additionally, EVO 2's bottom binocular vision camera to create a density depth map. Then, it calculates the depth map's flatness and angles to ensure an accurate and safe landing.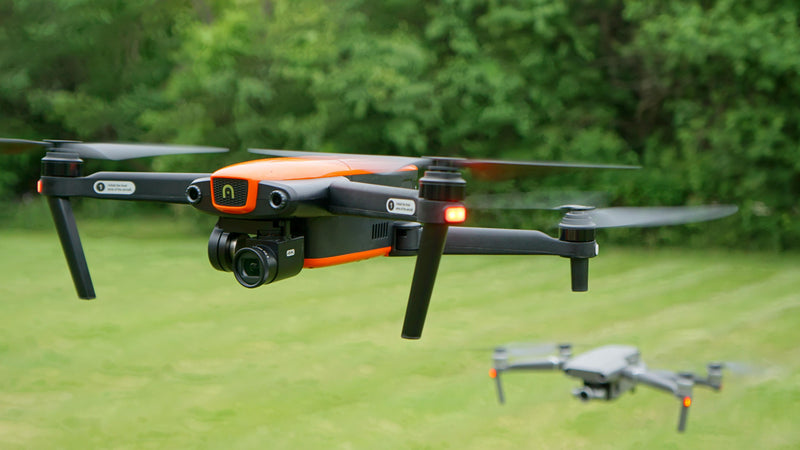 3 Tips to Improve Your Drone Photography 
In pure landscape aerial photography, the quality of light will largely determine the quality of the final work. Light will affect the texture and three-dimensionality of the subject being photographed. There are many factors that affect the quality of light: atmospheric permeability, season, weather, different times of the day, etc. Usually, experienced aerial photographers will choose the 30 minutes before and after sunrise and sunset to shoot natural scenery, actively avoiding the time of large light ratio. It is worth noting that when shooting before and after sunrise and sunset, the exposure of heaven and earth should be taken care of to avoid overexposure and the existence of dead black phenomenon.
1、Dot composition
Point, as the smallest graphic element, refers to a small area in the image. For pure scenery of natural scenery aerial photography, usually, the shooter can intentionally set the visual center, the small area and the surrounding environment to form a strong contrast, in order to attract the audience's "eye", to guide the role of the audience's visual center of gravity. In the actual shooting, the shooter can consider the use of nine frames for composition.
2、Line composition
Line is a dynamic graphic element. The use of lines can effectively enhance the impact of the picture of the work. The use of the beauty of the line can effectively attract the attention of the audience, guide the viewer's path of vision, highlight the form of the subject, so that the work picture more expressive. In the actual shooting, the shooter can consider placing it on the diagonal in the framing frame.
3、Shape composition
Shapes can appear in our viewfinder in different ways. Common shapes include: circles, triangles, rectangles, stars and crosses, etc. The area, shape, and location of each shape will visually produce different visual effects.