The EVO II ships with the same style remote control as the first-generation model. It sets itself apart from other brands by including a full-color display, so you can see the view from the camera without having to plug in your smartphone.

Autel Robotics EVO II Pro Remote
It's got all the expected drone controls. The left stick toggles altitude and yaw, and the right moves the drone right, left, forward, and back in space. If you haven't flown a drone before, it's not unlike playing a flight-based video game—check out our beginner's guide for more info for new pilots.
There are buttons on the front to take off and land, pause in the air, bring the drone back to its takeoff point, and power the remote on and off. Dual antennas are at the top, along with control wheels for camera tilt and EV adjustment, and buttons to snap photos and toggle video recording. A phone clip is included if you want to use your phone, but you can take it off with a flathead screwdriver if you don't plan on connecting to the smartphone app.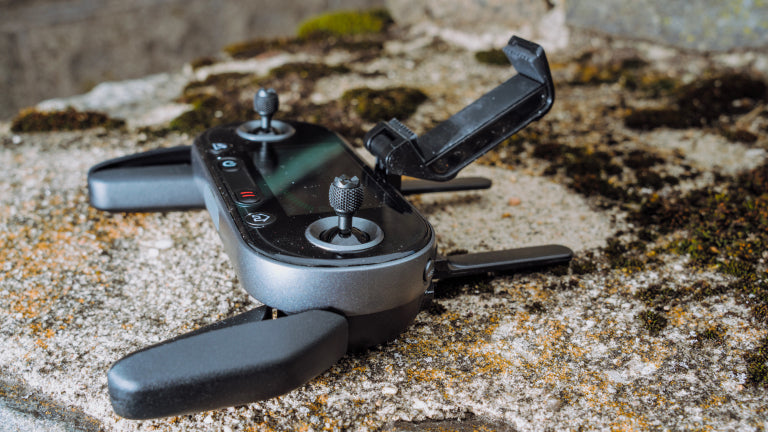 Autel Robotics EVO II Pro Remote
App-free operation isn't without some limitations. The remote's screen doesn't support touch control, for one, so you'll need to use a control dial and button combination to navigate through menus and adjust exposure settings. You can set video resolution and frame rate, but you can't adjust profile settings or switch between standard and Log recording via the remote itself.
You'll also miss out on seeing where the drone is on a world map, and you won't have access to any of the automated flight modes you get with the EVO II's phone app. It can perform orbits via the app, and also identify and track subjects with several different tracking paths.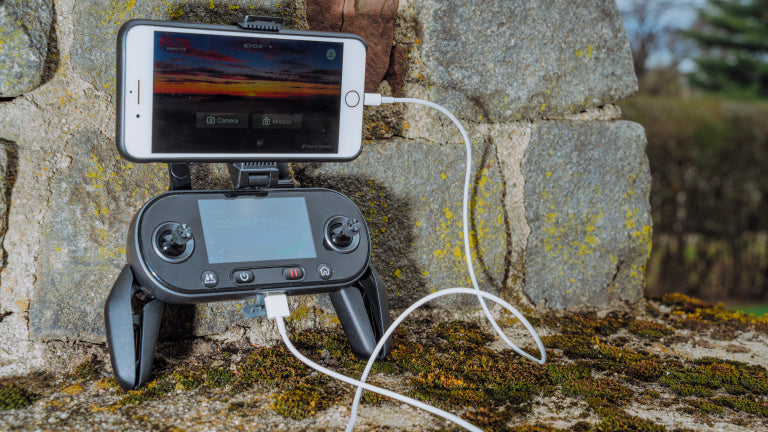 Autel Robotics EVO II Pro Remote
Even if you don't take advantage of these extra features, there's no arguing a phone's touch interface makes navigating through the app all the easier. You can just tap on camera camera settings to change them, and menus are touch-based as well. You also get access to all of the camera's features via the app, not just the basics.

The Autel Explorer app is a free download for Android and iOS devices. The remote has a USB-A port to plug your phone in, and ships with cables for phones with micro USB and USB-C ports. It does't include a Lightning cable, though, so you'll need to bring your own if you're an iPhone owner. Also note the controller doesn't charge your phone. My iPhone 8 Plus dropped by 30% during a longer flight, but its battery isn't anywhere near what it used to be.

Autel Robotics EVO II Pro Explorer App
The remote's battery is up for longer flights, but you'll want to make sure it's topped off before flights. It charges via a micro USB port on the bottom—we would prefer to see a more modern USB-C interface, but a charging cable is included if you don't have one. We'd also love for the remote to be a bit quieter—its cooling fan is pretty loud. It does't run all the time, though, but does kick in every time the remote is powered on.

There are a few quirks in the interface. Switching between different resolutions tends to change the frame rate back to the default, so you'll always want to make sure you've got the right setting locked in for your video. I also ran into issues when trying to update the drone firmware via the remote and phone app—the process kept getting stuck at 99%. The firmware update went smoothly when I loaded the new version onto a microSD card instead.
Check EVO II Remote Controller Latest Price