Drones are a new and unique technology, and the drone industry is very promising. Consumer drones and enterprise drones together make up the drone market. More and more people are getting involved in the drone business, and the drone business is booming.
Autel Robotics is a long-term player in the drone market, we noticed that more and more people are turning their attention to commercial drones, the consumer drone field is gradually declining, and enterprise drones are starting to compete fiercely.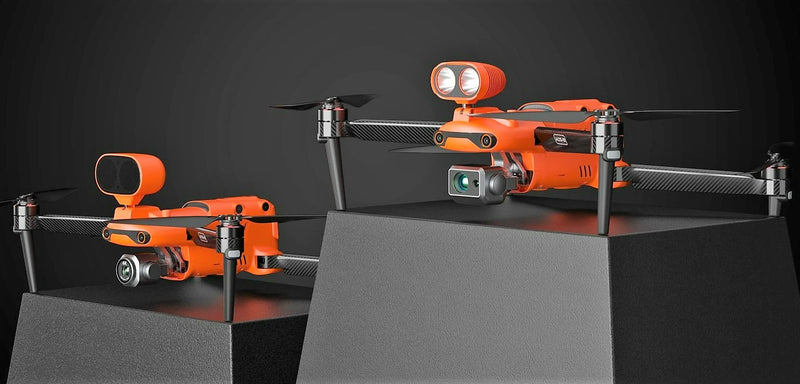 Autel Robotics The well-known Autel EVO company has released two products. Autel EVO II Pro Enterprise and Autel EVO II Dual 640T Enterprise. The EVO II Pro has a 6k camera with HD video, and the EVO II Dual 640T has an 8k camera and thermal camera. Both drones are also compatible with interchangeable accessories such as Loudspeaker, spotlights, strobes and RTK modules.
The Autel EVO II enterprise shell is sturdy, made of carbon fiber, lightweight and foldable, with a maximum wind resistance of 38 mph, a maximum flight time of 42 minutes, 9km high-definition transmission, 360° omnidirectional obstacle avoidance, multiple camera modes, Can realize autonomous tracking function.
Autel EVO II Pro Enterprise
The Autel EVO II Pro Enterprise drone features high-resolution imaging with a 1-inch CMOS sensor capable of capturing 6K video and 20MP stills. Notably, the camera has 3x lossless and 16x digital zoom capabilities, as well as an adjustable aperture range from f2.8 to f11.
Autel Dual 640T Enterprise
Autel EVO Dual 640T Enterprise drone offers 640*512 thermal imaging sensor and 48MP visual camera. Autel provides multiple temperature measurement modes for this drone, including field temperature measurement, area temperature measurement, isotherm and temperature alarm. The EVO II Dual 640T Enterprise drone supports 4x lossless zoom and 16x digital zoom.
Autel Enterprise Drone Enhancement Accessories
Spotlight
Autel EVO Enterprise's spotlight accessories have a maximum power of 35W, which can illuminate a clear distance of 30 meters around, adjustable angle range: 0°~90°, lighting: FOV14°, when searching or shooting at night, the spotlight accessories guide Autel Enterprise drone powerful long-term distance sailing.
Loudspeaker
Autel EVO Enterprise's loudspeaker accessory power supply has a maximum power of 18W, the decibel can reach 120DB in the range of 1m, the decibel can reach 88DB in the range of 60m, and the decibel can reach 70DB in the range of 110m. long-distance telephony and audio loops enables more efficient field communication.
Strobe Light
The strobe light accessories of Autel EVO Enterprise have a maximum power of 1.6W, the light intensity of the strobe light is minimum 50CD, maximum 486cd, and the coverage range can reach 5000 meters. It can fully indicate the position of the aircraft at night to avoid air traffic accidents.
RTK Module
The RTK module is a good helper for enterprise drones for search and rescue personnel and surveying, mapping, and positioning. Autel RTK positioning module provides centimeter-accurate positioning data and reduces electromagnetic interference. At vertical distance, RTK positioning accuracy is 1.5 cm + 1 ppm, and at horizontal distance, RTK positioning accuracy is 1 cm + 1 ppm.
By adding different effective accessories, new enterprise drones can allow Autel enterprise drones to enter various fields and realize a variety of applications, including public safety, fire protection, search and rescue, traffic supervision, power inspection and surveying and mapping, providing professional mission support.