Fishing Fishing is an activity that everyone loves. But at the same time, no one really knows exactly how much illegal, unreported and unregulated (IUU) fishing is taking place.
West Africa has an annual catch of 64% due to overfishing.
How to quickly and effectively find illegal fishing during the closed fishing period, law enforcement and evidence collection is an imminent thing, especially difficult to find at night. Here, we will explain the solution of drones to fishery law enforcement.
Can drones be used to monitor and control illegal fishing and piracy?
Drones for fishery enforcement are equipped with specialized cameras and sensors that can detect and track suspicious vessels, monitor fishing activity and identify illegal activity.
The use of drones has become more popular in recent years due to the increasing effectiveness of their surveillance capabilities. Overall, Drones fishery law enforcement has better cost-effectiveness, safety and surveillance capabilities, but it also requires the relevant departments to develop appropriate regulations to protect the privacy and safety of individuals.
There are currently no regulations governing drone fishery law enforcement, but there is no doubt that drone fishery law enforcement will be a development trend, and a considerable number of coast guards have deployed drones for law enforcement inspections.
What are the uses of drones in fishing?
One of the main benefits of using drones in aquaculture and fisheries management is their ability to collect data quickly and efficiently. Traditional methods of monitoring fish populations, such as boat-based surveys and underwater cameras, can be time-consuming and laborious.
Drones can be used to patrol fishing areas, spot and deter illegal fishing vessels, and collect evidence of illegal activities. Drones are also being used to detect and monitor pirate ships, providing real-time intelligence to inform law enforcement and military operations.
Advantages of Drone Fisheries Enforcement
Reduce costs: Traditional inspections require a lot of human resources, including law enforcement officers, ship drivers, etc. This requires a lot of time and labor costs, especially when patrolling within a larger fishing area.
Improve efficiency: The speed of inspection ships is relatively slow, and it takes a long time to inspect the 100km long river surface. At the same time, it is difficult to achieve comprehensive monitoring and law enforcement only by relying on naked eye observation or limited equipment support.
Optimized forensics at night: patrolling at night is affected by sight, making it difficult to find targets.
Reduce the difficulty of obtaining evidence: The target of inspection ships is too large, and it is easy to alert illegal personnel to escape from the scene.
Reduce safety risks: In the traditional inspection method, law enforcement officers need to personally contact the situation in the fishing area, and face certain safety risks, especially when dealing with illegal fishing and fishing, which may cause disputes or conflicts.
Which Autel drones can be used for fisheries enforcement?
When deploying drones for fishery law enforcement in waters above 100km, fixed-wing nest + multi-rotor drones can be used for flexible deployment. Recommended drones are Autel Dragonfish Pro and EVO MAX 4N.
Autel Dragonfish Pro can carry out long-distance normal inspection operations. Equipped with L50T, it can fly in the air for 2 hours. It includes four lenses: thermal imaging, laser ranging, wide-angle, and zoom. T supports 4K 50x optical zoom and 240x hybrid zoom. Objects 2KM away also become clearly visible.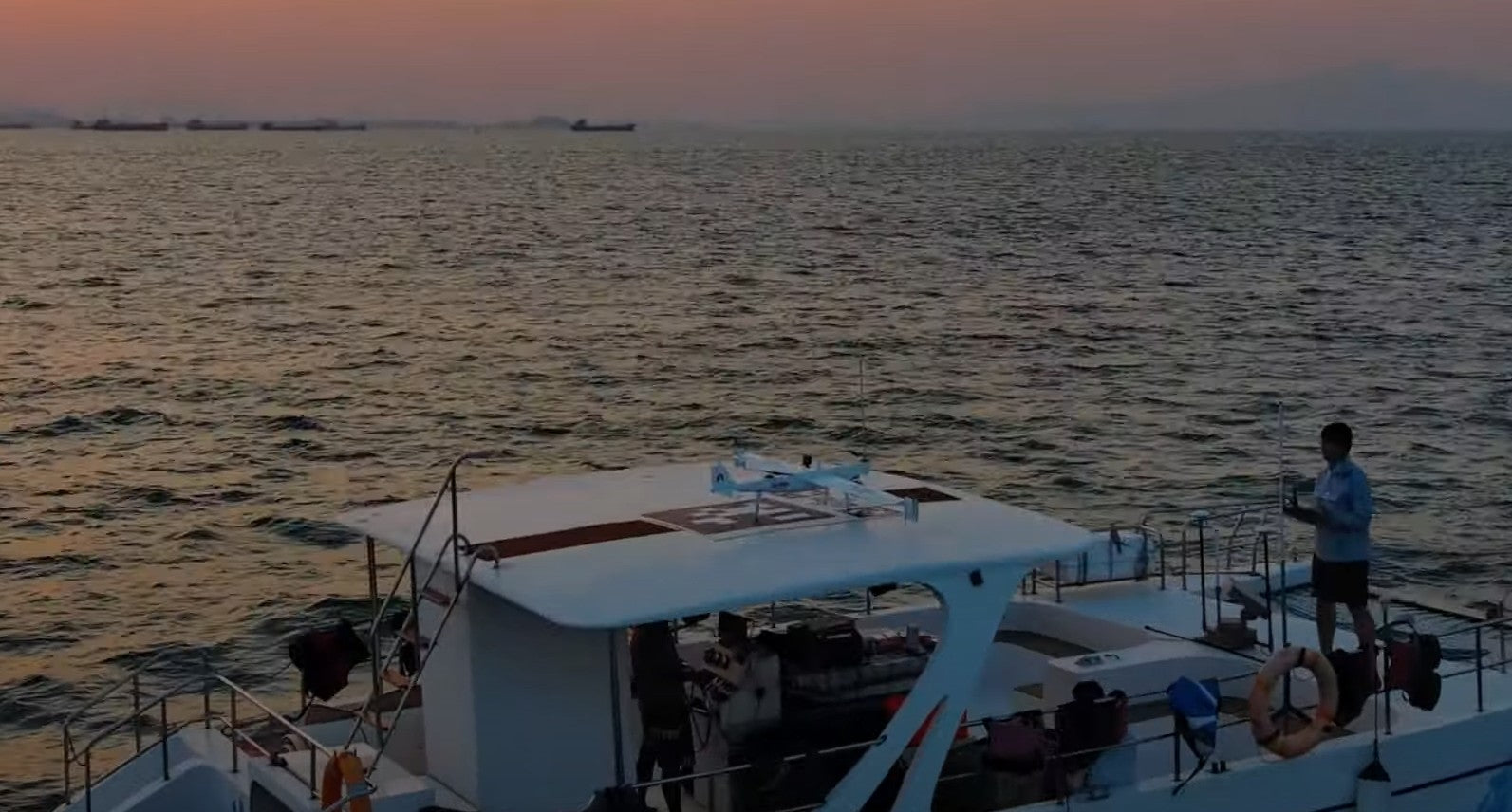 Related article: Autel Dragonfish Performs VTOL on Moving Vessel
EVO MAX 4N is a multi-sensor advanced drone. The camera gimbal includes night vision starlight camera, wide-angle camera, thermal imaging and laser rangefinder. The ISO 450,000 starlight lens provides ultra-sensitive images at night, which can identify and lock objects, and can perform high-altitude tracking in extremely low light conditions.