Experience a new level of image quality thanks to a supersensitive 50MP camera equipped with a 1/1.28-inch CMOS sensor. The camera adopts an RYYB color filter array design, which absorbs 40% more light than traditional RGGB arrays, allowing you to capture natural scenery in all its glory.
Restore Natural Colors
Automatically balance overexposure and underexposure when shooting scenes with too much contrast, producing clearer images with more layers.
Defog Mode
Whether you're flying over a gloomy hilltop at dawn or hovering at the base of a waterfall, cut through the haze with a fog penetration function that automatically adjusts the camera's vibrance settings to make your footage look crisp and clear.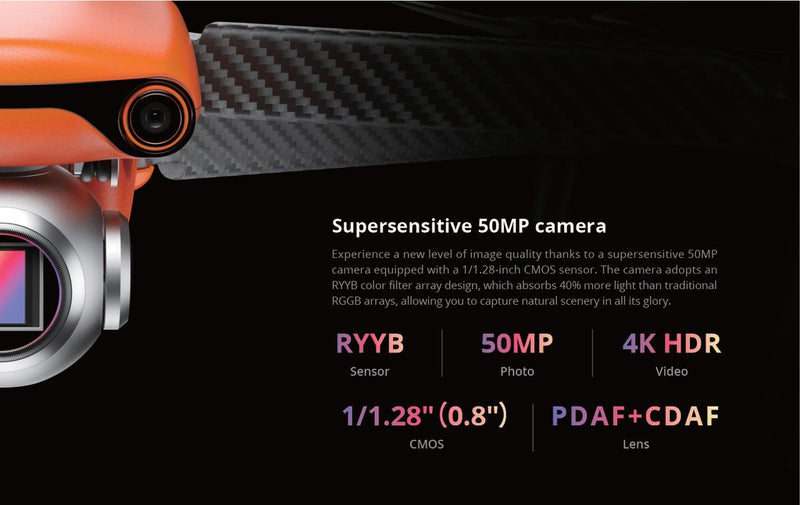 Camera - EVO Lite
Sensor
CMOS: 1/1.28 inch
Effective pixels: 50M
Pixel size: 1.22μm*1.22μm
Lens
FOV: 85°
Equivalent focal length: 23mm
Aperture: f/1.9
Focus range: 0.5m ~ ∞
Focus mode: PDAF+CDAF/MF
Shooting mode
Automatic mode (P gear): EV adjustable, ISO/Shutter automatic
Manual mode (M gear): ISO/Shutter adjustable, EV not adjustable
Shutter priority (S gear): Shutter/EV adjustable, ISO automatic
ISO range
Video: ISO100 ~ ISO6400
Photo: ISO100 ~ ISO6400
Night scene mode: ISO up to 64000
Shutter speed
Photo mode: 1/8000 ~ 8s
Other: 1/8000 ~ 1/frame rates
Portrait blur
Real-time image transmission portrait blur and photo portrait blur
Defog mode
Support
Zoom range
Digital zoom: 1 ~ 16 times
Lossless zoom: 4K: 2 times; 1080p: 4 times
Note:
4K: more than 2 times the digital, the following is lossless
1080P: more than 4 times the digital, the following is lossless
Photo format
JPG / DNG / JPG+DNG
Photo resolution
50MP:8192x6144(4:3)
12.5MP(default):4096x3072(4:3)
4K:3840x2160(16:9)
Photo shooting mode
Single shot
Burst shooing: 3/5
Auto exposure bracketing(AEB): 3/5 shots
Interval: 2s/3s/4s/5s (default)/6s/.../60s (DNG min 5s)
HDR imaging: 8192x6144/4096x3072/3840x2160
HyperLight: 8192x6144/4096x3072/3840x2160
Video coding format
H265/H264
Video resolution
3840x2160 p60/50/48/30/25/24
2720x1528 p60/50/48/30/25/24
1920x1080 p120/60/50/48/30/25/24
HDR:
3840x2160 p30/25/24
2720x1528 p30/25/24
1920x1080 P60/50/48/30/25/24
Max bitrate
120Mbps
Timelapse
Original image:3840*2160,JPG/DNG
Video:4K P25
Panorama
Horizontal/Vertical/Wide-angle/Spherical
Original image: 4096*3072,JPG/DNG
Supported file system
Fat32、exFat
Video format
MP4/MOV
WIFI transfer
20MB/s
Camera - EVO Lite+
Sensor
CMOS: 1 inch
Effective pixels: 20M
Pixel size: 2.4μm*2.4μm
Lens
FOV: 82°
Equivalent focal length: 29mm
Aperture: f/2.8 ~ f11
Focus range: 0.5m ~ ∞
Focus mode: CDAF/MF
Shooting mode
Automatic mode (P gear): EV is adjustable, Shutter/Aperture is not adjustable, ISO is automatic or adjustable.
Manual mode (M gear): ISO/Shutter/Aperture is adjustable, EV is not adjustable.
Shutter priority (S file): Shutter/EV adjustable, Aperture automatic, ISO automatic or adjustable.
Aperture priority (A gear): Aperture/EV adjustable, Shutter automatic, ISO automatic or adjustable.
ISO range
Video: ISO100 ~ ISO6400
Photo: ISO100 ~ ISO6400
Night scene mode: ISO up to 64000
Shutter speed
Photo mode: 1/8000 ~ 8s
Other: 1/8000 ~ 1/frame rates
Portrait blur
Real-time image transmission portrait blur and photo portrait blur
Defog mode
Support
Zoom range
Digital zoom: 1 ~ 16 times
Lossless zoom: 4K: 1.3 times; 1080p: 3 times
Note:
6K: Digital zoom
4K: more than 1.3 times the digital, the following is lossless
1080P: more than 3 times the digital, the following is lossless
Photo format
JPG(10bit) / DNG(12bit) / JPG+DNG
Photo resolution
5472x3648 (3:2,default)
5472x3076 (16:9)
3840x2160 (16:9)
Photo shooting mode
Single shot
Burst shooing: 3/5
Auto exposure bracketing(AEB): 3/5 shots
Interval: 2s/3s/4s/5s (default)/6s/.../60s (DNG minimum 5s)
HDR imaging: 5472x3648/3840x2160
HyperLight: 5472x3648/3840x2160
Video coding format
H265/H264
Video resolution
5472x3076 p30/25/24
3840x2160 p60/50/48/30/25/24
2720x1528 p60/50/48/30/25/24
1920x1080 p120/60/50/48/30/25/24
HDR:
3840x2160 p30/25/24
2720x1528 p60/50/48/30/25/24
1920x1080 p60/50/48/30/25/24
Max bitrate
120Mbps
Timelapse
Original image:5472*3076/3840*2160,JPG/DNG
Video:5.4K/4K P25