Simplify command and control of your Autel EVO II series drone with the Autel Smart Controller. Autel Robotics featuring a 2000-nit display, 4.5 hours of runtime, 128GB of internal storage and a customized Android operating system that allows for 3rd party apps to be downloaded and installed.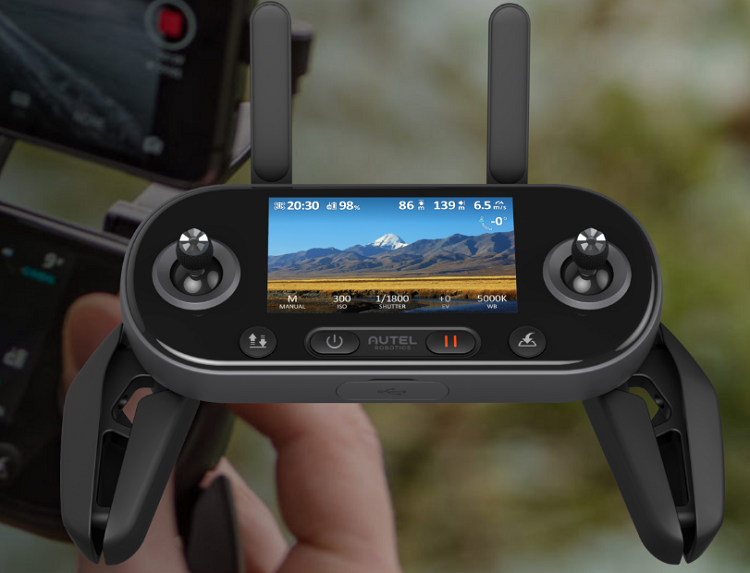 Autel Smart Controller Frequently Asked Questions:
Are the antennas detachable and can they be upgraded or attached to an antenna mast on a command vehicle?
Yes, the antennas are detachable and use an SMA connector. They can be upgraded with SMA compatible third party devices but users will be making third party upgrades and modifications at their own risk.
Is the Autel Smart Controller compatible with the EVO II?
Yes, It compatible with the EVO II 8K Drone, EVO II Pro 6K, EVO II Dual and EVO II RTK Series.
Can the controller connect to Wi-Fi and Bluetooth?
The controller can connect to Wi-Fi and mobile Wi-Fi hotspots, but it does not support Bluetooth.
How long does Autel smart controller last?
The 5800mAh Lithium-ion battery lasts up to 4.5 hours in continuous use and supports 2-hour fast charging. The Smart Controller is ready to meet your demands in aerial operation for those long days out in the field.
What is the operating temperature of the controller?
-20°C~40°Cworking temperature. Bigger heatsinks allow the Smart Controller to operate with a wider temperature range- giving extreme environments without overheating or freezing.
What is the resolution and max brightness of the screen?
Autel Smart Controller's built-in display is twice as bright as the next leading competitor and 4 screens. The 7.9-inch QHD display offers anti-glare coatings and provides easy visibility under direct sunlight.
Does the controller support external memory expansion?
NO. Ample internal storage allows more than enough space for media and flight logs without the need for external storage. Autel Smart Controller offers additional SD Card support for up to 1TB- more than enough for all your video and photo needs.
Image Transmission
Max Signal Transmission Distance, (No interference, No obstacles)
FCC:13 km (8 miles)
CE/ MIC/ SRRC:7 km (4.3 miles)
Wi-Fi
Protocol: Wi-Fi Direct, Wi-Fi Display, 802.11a/b/g/n/ac Support2x2 MIMO Wi-Fi
Working Frequency: 2.400- 2.4835GHz; 5.150-5.250GHz; 5.650 - 5.755GHz; 5.725-5.850 GHz; 9o2 -928MHz
Battery
Name: Intelligent Li-ion battery
Capacity: 580OmAh
Voltage: 11.55V
Battery Type: Li-ion
Battery Energy: 67 Wh
Charging time: 120 min
Operating Hours
~3h(Max Brightness)
~4.5h (50% Brightness)
Internal Storage
128GB
Video Output port
HDMI Port
USB-A Voltage/current
5V/2A
Operating Environment Temp
-4°F to 104 °F
Storage temperature
-4°F to 140°F (within a month)
-4°F to 113°F (between one to three months)
-4°F to 73°F (one year)
Charging Environment Temp
32°F to 104°F
*Supported Aircrafts
EVO II Series, EVOII RTK Series, EVO II Enterprise
Satellite Positioning Module
GPS +GLONASS +Galileo
Dimensions
303×190×87mm (with antenna folded)
303×273×87mm (with antenna unfolded)
Weight
2.53 lbs (without protection case)
2.75 lbs (with protection case)
The antennas are removable. That way one can upgrade antennas as desired without having to open up the enclosure. No doubt 4Hawks and Alientech will come up with mounting adapters The Smart Controller, What a terrific piece of equipment. Wise investment, no regrets just pure joy and being one of the few lucky users getting the first
Autel Evo 2 Smart Controller
.