Drone options are diversifying and competition is fierce, and today we're going to tell the difference between the Autel Robotics Evo II and the DJI Mavic Pro.
The Autel EVO II Pro Ultra HD camera features a 1-inch sensor with 6k 20MP resolution. Capture stunning detail previously impossible on an aerial platform of this size. Adjustable aperture from f/2.8 - f/11, HDR and intuitive camera controls make it the perfect choice for any aerial cinematographer or survey pilot.
The Mavic Pro drone has a 3-axis gimbal with a 12MP, 4K camera on the front. The optional plastic dome keeps it dry and safe, but if you find it distorts your image, go ahead and remove it. Above the camera is a pair of sensors that help prevent damage to your drone, providing obstacle recognition and avoidance.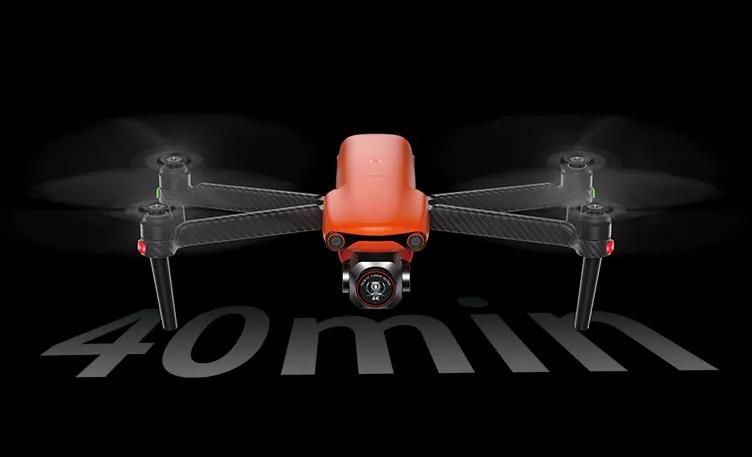 As far as we know, the Mavic Pro is a tiny supercomputer that fits on an airplane. The down-facing sensors complement the front-facing sensors, and combined with the cameras, this drone is equipped with intelligence, autonomous flight modes, self-landing capabilities, dual GPS radios for redundancy and absolute positioning accuracy, and more.
The Autel Robotics Evo II is another high-end drone that sells online for less than $1,500. Its whopping 8K video resolution beats most other drones, though, and you also get 40 minutes of steady, gimbal-assisted flight time. The drone has an impressive 5.5-mile range and all-round obstacle avoidance, making it one of the most capable drones out there.
There are dedicated buttons on the remote to quickly take a picture or start/stop recording a video. Photos are captured at 12MP resolution and have 2x zoom to complement full manual camera controls. In auto mode, simply tap the smartphone display to select the desired focus and exposure point, or press the rear left button on the remote to center focus, press the upper right trigger and enjoy your photos.
The upper right rotary wheel control allows quick changes in exposure levels. The rotating wheel on the top left tilts the camera up and down to help capture your target.
Next we're talking more about the Autel Robotics Evo II Pro drone, which not only has its own internal cooling fan to keep the computing electronics at an optimal temperature, but also has a remote control. This is not a toy. Finally, you'll find red LED lights under the front propellers and a headlight at the rear of the fuselage. This rear LED flashes different colors to let you know the status of the aircraft, remember that green is good.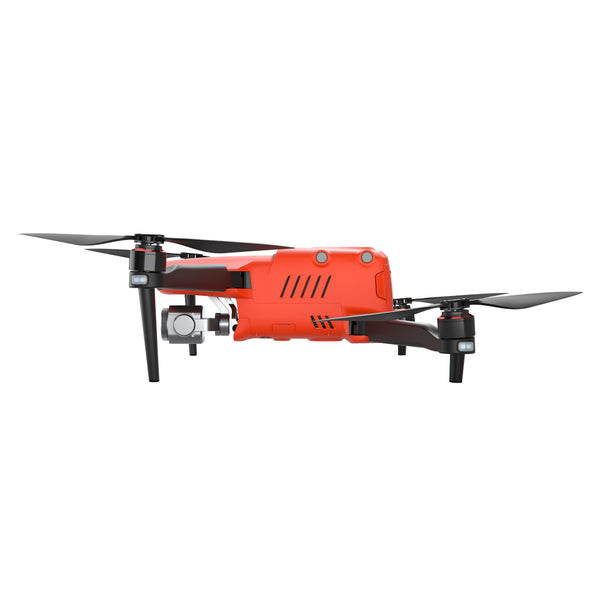 Autel Robotics EVO: Dynamic Tracking, Viewpoint, Orbit, Waypoint Flight, Rectangular Route and Polygon Missions.
Autel Robotics EVO II Pro: In addition to the functions provided by EVO, tripod rails, parallel rails, gesture control, precise flight, 360° obstacle avoidance and more.
The crux of the EVO II Pro, the shiny logo that Autel Robotics should be proud of, this drone is one of the most user-friendly tricopters around. The small size, quick folding setup and easy pairing of the remote and smartphone app will get you from the pack to the sky in no time.
The drone itself is set up in seconds, the remote itself may take more time, just flip the antenna and get ready to fly. The smartphone's optional connectivity may add some time, but its powerful camera capabilities make it the perfect choice for any aerial cinematographer or survey pilot.
Since the EVO II Pro is more likely to be considered a flying camera than a drone with a camera, we also had to judge the features and capabilities of photos and videos. they are very good.
The best camera drones, on the one hand, have a bit more complicated video recording controls, and otherwise offer the same one-touch operation with on-screen taps to select focus. Switching between video capture modes takes some time to configure, choosing between 1080P, 4K or 6K recording at various frame rate settings. I have to remember to take the camera out of 1080P at 90FPS before I go back. Slow motion is great, but I prefer HD 4K recording, just a preference.
Perfect shot to show off, I shoot everything in 4K now. Editing is a bit intensive and I found more color grading needed to be done, but it could still be 6K. It makes sense to have my lens future-proof.
It's worth mentioning that the EVO II Pro can fly almost on its own, a huge advantage over many other drones. The main feature that has the greatest impact on a successful flight is the EVO II Pro's ability to maintain a steady hover. If you accidentally drop the remote, the drone will stop and hover with great accuracy. Impressively, hovering is supported for a maximum of 35 minutes.
Autel EVO II Pro V3 Flight Performance
The chip on the EVO II Pro is the key to supporting the upgrading of drone technology. Chipsets take months to optimize properly. A chip or two could allow drones to act as tiny computers -- handling everything from encoding video, processing and transmitting footage, autonomous functions, obstacle avoidance, to keeping the plane afloat. So it takes a long time to switch from one chip to another.
As we enter 2022, the head of Autel Robotics said. "We will continue to develop the EVO II drone and possibly some enterprise drone platforms to make our ecosystem even stronger. The same goes for the Dronefish family and the multi-platform will continue to nurture. We have received requests from almost every direction to expand our product, but one big technology we're working on is autonomous systems. I'm particularly leaning towards autonomous drone swarm technology for security applications like border security, patrolling, field surveillance, etc."