Autel Robotics is shoring up its commercial fleet for professional missions with EVO II Enterprise drones. The company is bringing out two new products: EVO II Pro Enterprise with 6K ultra-HD video, and EVO II Dual 640T Enterprise that comes with a thermal imaging sensor in addition to a visual camera. Both drones are compatible with swappable accessories like a loudspeaker, spotlight, strobe, and an RTK module.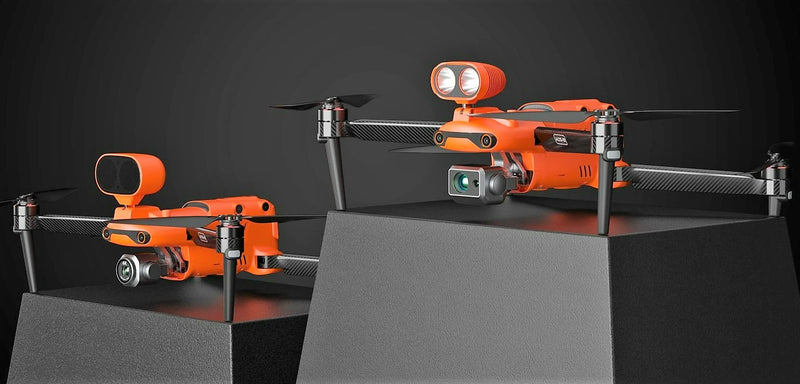 Autel says these new drones are its toughest EVO II yet. A new carbon fiber design and an enhanced transmission range (8-mile HD transmission) make the EVO II Enterprise drones suitable for a variety of applications, including public safety, firefighting, search and rescue, traffic supervision, power inspection, and mapping. The maximum flight time you will get is 42 minutes. Max wind resistance is 38 mph.


Safety focus
For enhanced safety, the drones have been equipped with ADS-B receivers, so they can get signals from nearby airplanes and helicopters and warn operators if they appear to be on a collision course. At the same time, 19 sets of sensors cover the airframe to provide 360-degree obstacle avoidance.
Specs and Price
Ideal for high-resolution imaging, Autel EVO II Pro Enterprise drone comes with a 1-inch CMOS sensor capable of capturing 6K videos and 20MP stills. Noteworthy that the camera has 3x lossless and 16x digital zoom capability, as well as an adjustable aperture range of f2.8 to f11.

Autel Dual 640T Enterprise drone offers a 640*512 thermal imaging sensor with a 48MP visual camera. Autel is providing multiple temperature measurement modes with this drone, including Spot Temperature Measurement, Regional Temperature Measurement, Isotherm, and Temperature Alarms. Meanwhile, in addition to 16x digital zoom, the EVO II Dual 640T Enterprise drone supports 4x lossless zoom.