Autel EVO MAX 4T won the 2023 Red Dot Award Design Award. This is the new commercial flagship drone launched by Autel Robotics. EVO Max 4T has excellent product industrial design, leading technical strength and a wide range of application scenarios. Here, we will conduct an in-depth analysis of the EVO MAX 4T drone.
EVO Max 4T is a new flagship industry multi-rotor drone released by Autel Intelligent in 2023. It has Autel Autonomy autonomous flight, GPS-free precise navigation, A-Mesh networking, "binocular fisheye vision + millimeter wave radar" Leading technologies such as multi-source sensor fusion sensing. Equipped with Fusion Light Camera 4T, it integrates an 8K 10x continuous optical zoom camera, a super-sensitive wide-angle camera, a thermal imaging camera and a laser rangefinder, empowering public safety, energy inspections, emergency management and other fields, and establishing an industry-leading UAV application A new benchmark.
The Red Dot Award is known as the "Oscar" in the design world. Together with the German IF Award and the American IDEA Award, it is also known as the world's three major design awards. It is a recognized international landmark award for creativity and design recognition. The selection criteria are quite strict. There are extremely high requirements for product screening and display qualifications.
The design of EVO Max 4T is inspired by the origami paper cranes used in daily life. The origami effect is used to express the overall outline characteristics of the drone and the concept of flying, highlighting simple and vivid design features.
The surface of the fuselage adopts spray paint treatment process, which fully reflects the texture and texture of the fuselage. It is a treatment process that has not been used on similar products on the market. The bottom shell uses a lightweight magnesium alloy molding process, which not only reduces the weight of the fuselage, but also plays a role in heat dissipation. With the spray painting process, the metal texture is stronger and the details are more refined.
EVO Max 4T uses a high-grade gray color scheme as a whole, and the motor uses brushed electrophoresis technology and high-gloss edge-trimming dioxygen technology to make the aircraft look more sci-fi and smart. The obstacle avoidance sensing camera in front of the drone's nose cleverly uses silk screen printing and binocular matching, just like bright eyes.
The design of the downward tilt angle of the front arm makes it difficult for the gimbal to land on the ground while maintaining the "head high" posture of the fuselage. At the same time, combined with the tilt angle of the tripod and fuselage, it creates a more convenient flying and industrial design aesthetic. The form of. After multiple rounds of version iterations, combined with product functions and actual application scenario requirements, the appearance of EVO Max 4T was finally determined and mass production was achieved.
View EVO MAX 4T Drone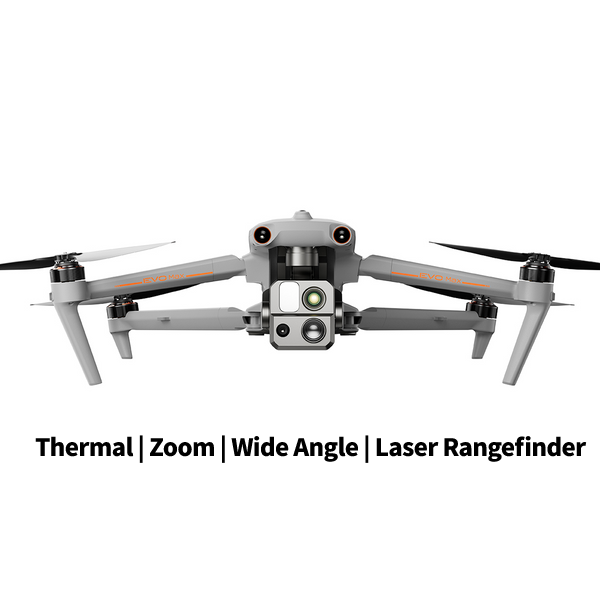 Autel EVO MAX 4T
8K 10x Optical Zoom
Thermal Camera
Wide Camera:
Zoom Camera
Laser Rangefinder
12.4 miles Transmission Range
720° Obstacle Avoidance
42 mins Max Flight Time
A-Mesh Mesh Networking Technology
View EVO MAX 4T