For the most part, Autel Evo 2 Pro is a great drone, with a truly stunning camera that easily beats the top tier drone cameras I own. In addition, the long flight time, range and luxury to fly anywhere, anytime certainly adds to it.
Autel Robotics EVO II Pro is Autel's first foldable 6K adjustable aperture intelligent drone for professionals and senior UAV players. 1-inch CMOS sensor and f2.8-f11 changeable aperture provide top quality images and videos. Still image at 8000x6000 (4:3),7680x4320 (16:9), 4000x3000 (4:3), 3840x2160 (16:9), Video at 6k 4k 2.7k or 1080p, with MP4 / MOV (MPEG-4 AVC/H.264, HEVC/H.265) formats all at your option, you can always find what you need for post-production.
EVO II Pro 6k Drone Quadcopter comes with adjustable f/2.8-f/11 aperture to create stills and videos with different depth of field and ISO range from 100- 12800 for photos and 100- 6400 for videos with professional results.
Autel Evo 2 Pro Camera Specifications
Image Sensor
1" CMOS
Pixels
20MP
Perspective
82°
Lens
EFL: 28.6 mm
Aperture: f/2.8–f/11
Focus Distance: 1m to any distance (with autofocus mode)
ISO Range
Video: 100-6400 (auto)
Photo: 100-12800 (auto)
Zoom
1-8x (Max 3x lossless)
Still Photography Modes

Single Shot
Burst shooing: 3/5 frames
Automatic Exposure Bracketing (AEB):
3/5 bracketed frames at 0.7 EV Bias
Timelapse:
JPG:2s/5s/7s/10s/20s/30s/60s
DNG:5s/7s/10s/20s/30s/60s
HyperLight:support (under 4K JPEG format)
Long Exposure: Max 8s
HDR imaging: (under 4K JPEG)

Still Photography Resolution
5472*3648 (3:2)
5472*3076 (16:9)
3840*2160 (16:9)
Video Format
MP4 / MOV (MPEG-4 AVC/H.264, HEVC/H.265)
Video Resolution
6K 5472*3076 p30/p25/p24
4K 3840*2160 p60/p50/p48/p30/p25/p24
2.7K 2720*1528 p120/p60/p50/p48/p30/p25/p24
1080p 1920*1080 p120/p60/p50/p48/p30/p25/p24
Max Bitrate
120Mbps
Superior image quality in low-and limited-lighting conditions
Supporting video resolutions up to 6K with greater dynamic range, and stronger noise reduction, the EVO II Pro uses the Sony's latest generation of supersensitive CMOS sensor to achieve impressive low-light photography.
Adaptability and versatility for every lighting environment
The EVO II Pro's advanced camera settings include an adjustable aperture range of f2.8 to f11 and a maximum ISO of 12,800 enabling the photographer to produce images of exceptional precision and sharpness.
Post-Production Flexibility

10-bit allows the EVO II Pro to record up to 1 billion colors. The EVO II Pro retains rich detail in shadows and highlights, allowing greater flexibility in post-production.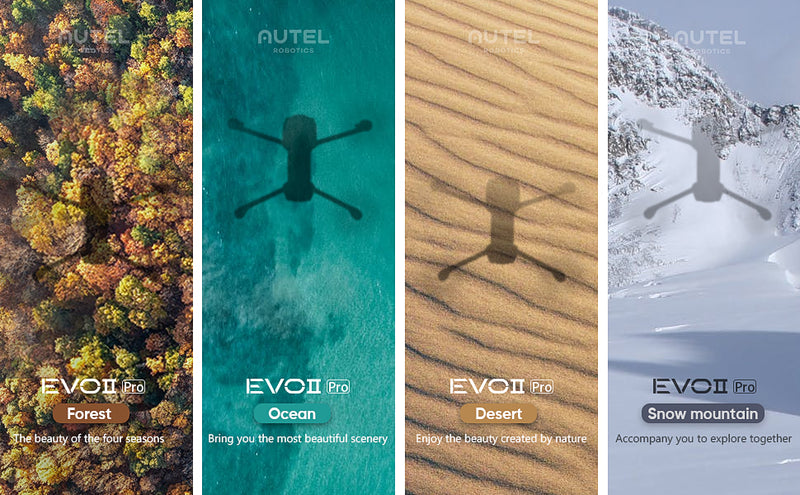 Autel Evo 2 Pro Additional Features
Single-band remote controller with a 3.3" OLED screen
Capture 20MP hi-res stills
Record HDR video at up to UHD 4K resolution
Get a clear image with phase detection autofocus
Capture action in dramatic 120 fps slow motion at up to 2K resolution
4x lossless in-camera zoom
Support for 10-bit A-LOG
Defogging mode
Foldable design for a compact and ultra-portable form factor
Battlock system to help prevent accidental battery ejections during hard maneuvers and landings
Radar feature for more environmental information while manually piloting with avoidance turned off
But no worries even if you are a green hand on drone. The in-bulit smart flight system can automatically switch between two flight modes (GPS Mode and ATTI Mode) depending on GPS availability and flying conditions.

Also, features like Go Home, Failsafe, Landing Protection will help you become a master in a short time. EVO 2 Pro Drone 6K An adjustable aperture, HDR and intuitive camera controls make this the perfect choice for any aerial cinematographer or mapping pilot.Get one and find yourself that flying a drone is really easy!