EVO 2/EVO 2 Pro Fly More Kit from Autel Robotics official includes a package of additional accessories for your EVO 2 or EVO 2 Pro drone. With these items at your disposal, you can extend the amount of time of flying and filming with the EVO 2/EVO 2 Pro/Dual without worrying about the battery issue.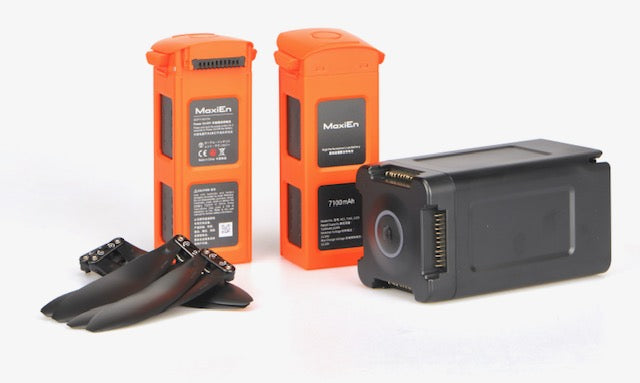 You will get 2 pcs of 7100mAh EVO 2 /EVO 2 Pro/Dual Intelligent Flight Batteries. Each battery can power your EVO 2/EVO 2 Pro for up to 35-40 minutes of flight time.
Autel Robotics EVO 2 Series Drones 4-in-1 Multi Battery Charging Hub in this kit allows you to charge 4 batteries simultaneously, and it provides Parallel & Sequential Charging Modes to best associate different charging needs.
We have also included 2 pairs of Low-Noise Propellers for you as back-ups.
NOTE: Please make sure you are using either full set of Old propellers or full set of New Low-Noise Propellers, don't use them interangled.
Autel EVO II Fly More Kit includes 2Pcs 7100mAh intelligent flight batteries, a battery charging hub, 2 pairs of low-noise folding propellers, and a shoulder bag to store and carry it all. This official fly-more kit will keep an EVO II drone in the air for longer, allowing you to make the most of your flight time whether it's to scope out some amazing scenery, take photos and videos, or just for flying fun!

Note: The EVO II Fly More Bundle compatible with EVO II Series only (8k/ Pro 6k/ Dual).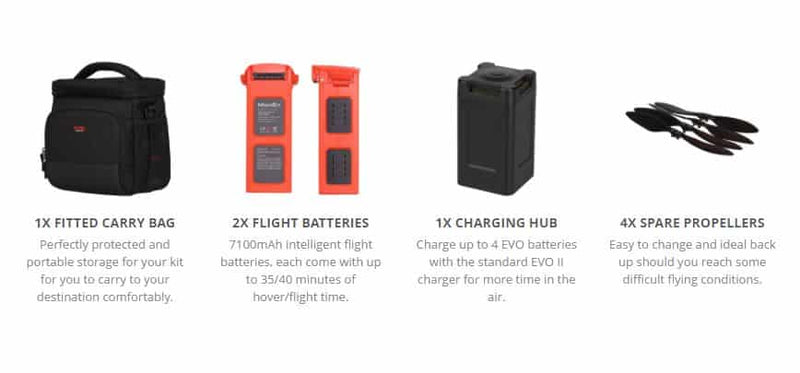 What's in the Box
1 x EVO II Shoulder Bag
2 x EVO II Flight Batteries
4 x EVO II Low-Noise Propellers (2 Pairs)*
1 x EVO II Charging Hub
Source:https://www.autelpilot.com/blogs/buying-guides/autel-evo-2-fly-more-kit-bundle